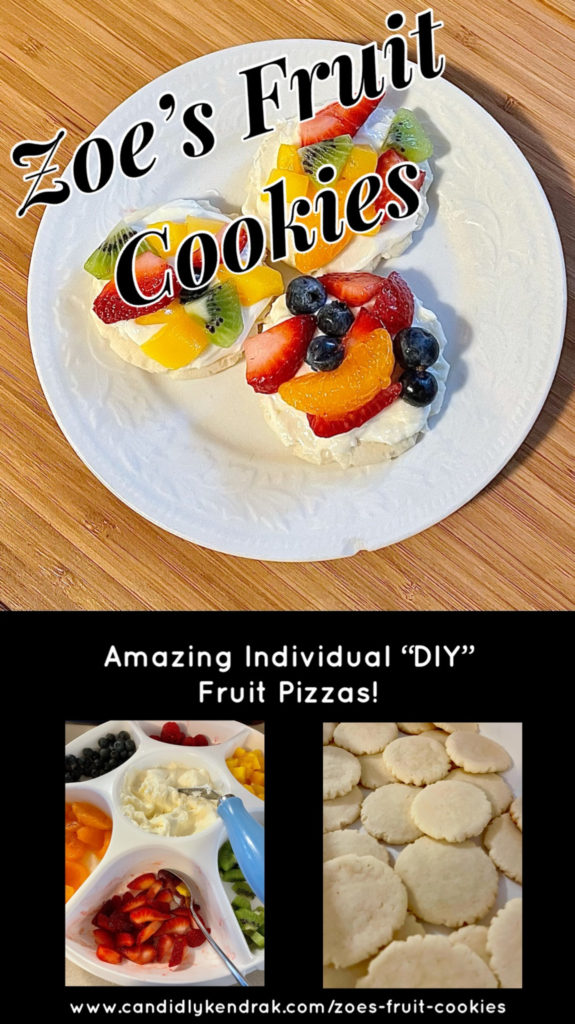 Wednesday was one of those days. I was a non-stop, logistical nightmare kind of day. Do you ever have days like that?
I was out of the house from 9:30am until 7:30pm (work + social get-together + football parents meeting) and when I finally arrived home the college group from our church would be there, expecting a snack and a coherent leader.
Could I pull it together? Nope.
So I texted Zoe.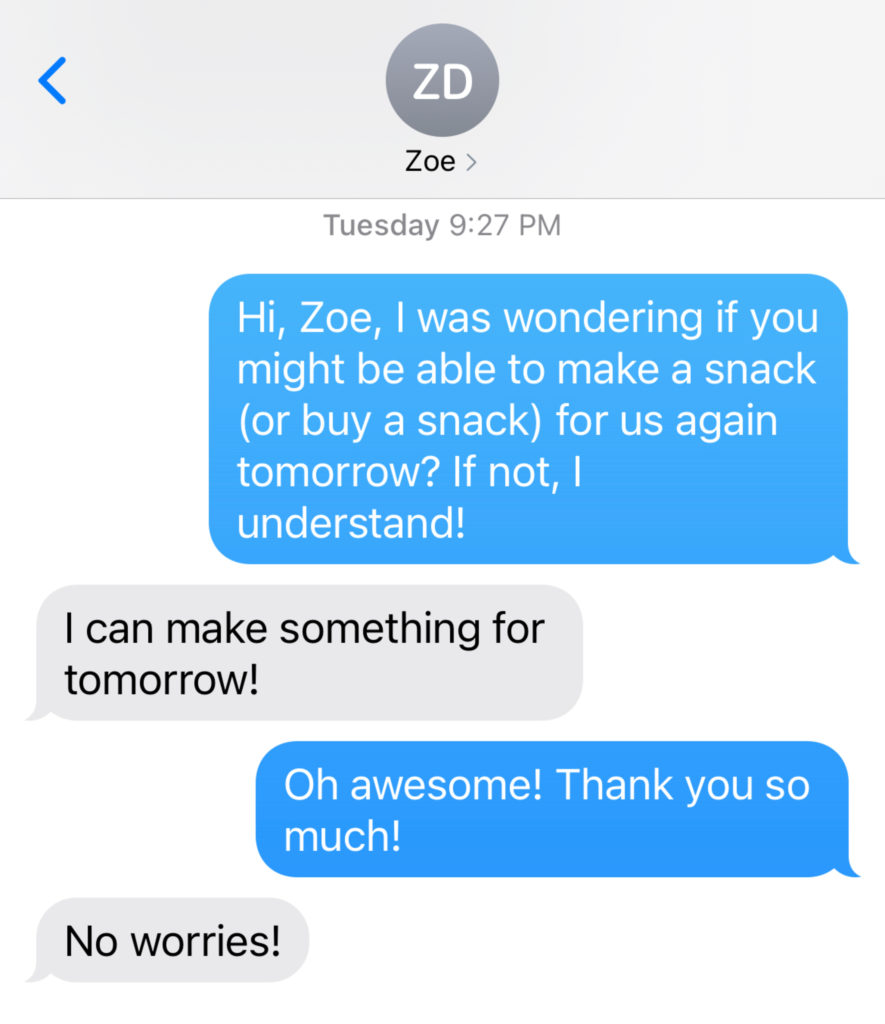 And boy did Zoe come through with an amazing snack for us!
She made these individual fruit pizza cookies. But she saved herself a ton of work by letting us "decorate" our own cookies with the frosting and fruit. Isn't that genius?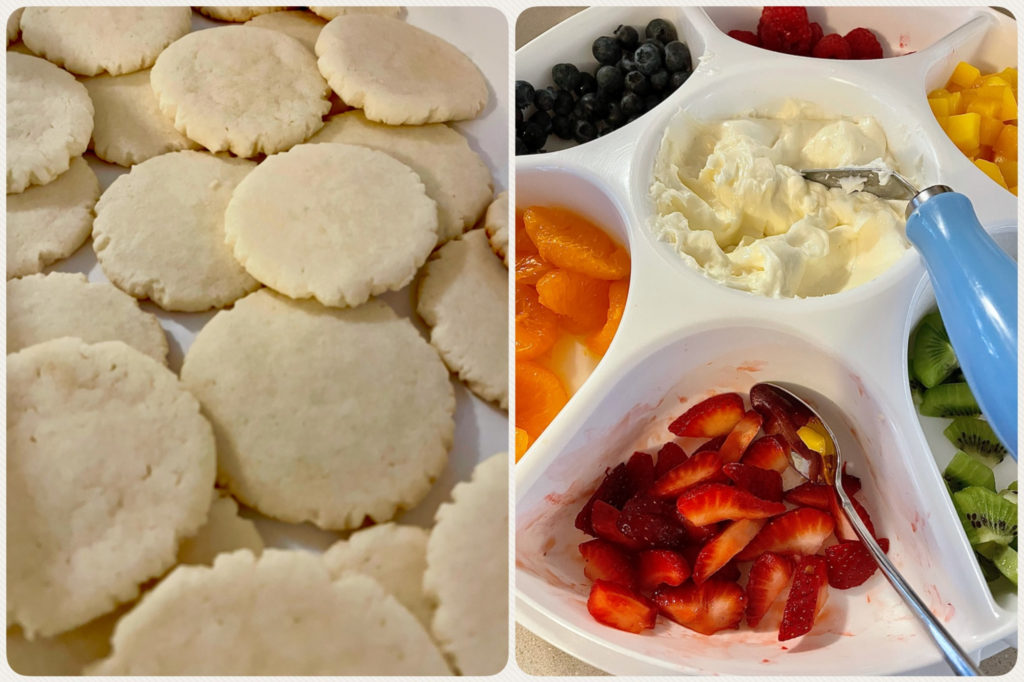 She loaded up a veggie tray with chopped fruits, and in the spot for veggie dip she put the sweet, creamy frosting. We dug in, putting mangoes here, and blueberries there, each making the "perfect" cookie, just the way we like it. I had so much fun I made six cookies (and ate them all at once the next day).
The sugar cookies are soft and delicious, topped with a cream cheese and marshmallow frosting. That sweet combo is the perfect match for ripe summer fruits: strawberries, mangoes, raspberries, blueberries, kiwi, and clementines.
Here's how you make them:
Zoe's Fruit Cookies Digest
Start with the sugar cookie dough. You can use premade sugar cookie dough, or make them extraordinary by using Zoe's recipe (which is a copycat of those amazing frosted sugar cookies from the grocery store): Sift together 2 3/4 cup cake flour, 2 tsp. baking powder, and 1/4 tsp salt. In a separate bowl, using a mixer, mix together 1/2 cup unsalted butter, 1/3 cup vegetable shortening, , and 1 1/4 cup sugar. Then add 1 egg and 1 egg white, 2 tsp. vanilla, and 1/2 tsp almond extract. Slowly add the flour mixture. Cover and chill for 3 hours. (The chill step is important!) Preheat the oven to 350 degrees. Line a baking sheet with parchment paper. Shape the dough into ping-pong-sized balls. Flatten them using the bottom of a glass. Bake for 9-11 inutes until the tops are set. Try to not let them brown around the edges.
For the frosting, mix together 8 ounces of cream cheese, 7 ounces of marshmallow fluff, a tsp of vanilla, and 1/4 tsp. salt.
Chop a variety of fruits into small pieces. Try strawberries, blueberries, mangoes, kiwi, raspberries, and mandarin oranges.
Allow your family and friends decorate the cookies with frosting and fruit themselves, according to their preferences. (You will want to supervise the little kids or you'll likely need about four times as much frosting!)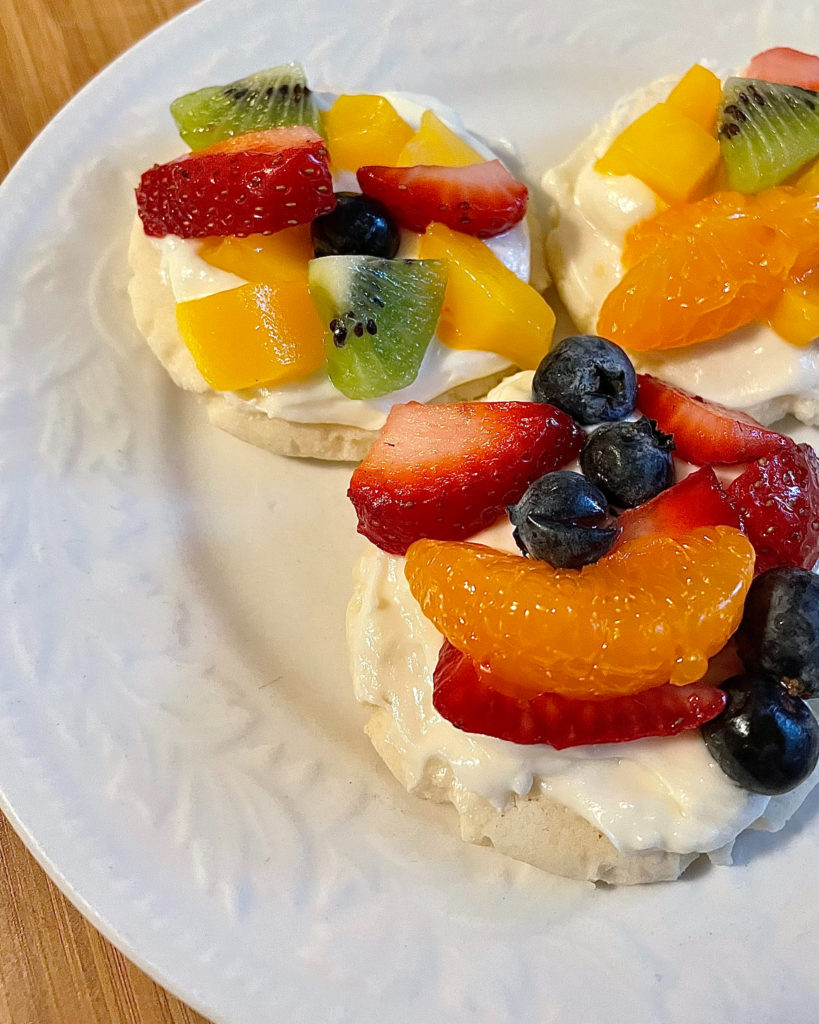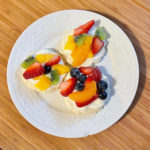 Print Recipe
Zoe's Fruit Cookies
Fun for a party! Let guests decorate their own cookies with frosting and fruit!
Ingredients
For the Cookies*
2 ¾

cup

cake flour

2

tsp

baking powder

¼

tsp

salt

½

cup

unsalted butter, softened

⅓

cup

shortening

1 ¼

cup

sugar

1

egg

1

egg white

2

tsp

vanilla

½

tsp

almond extract
For the Frosting
7

oz

marshmallow fluff

8

oz

cream cheese, softened

1

tsp

vanilla

¼

tsp

salt
For the Topping
1

cup

chopped strawberries

1

cup

blueberries

1

cup

raspberries

1

cup

chopped mango

1

cup

chopped kiwi

1

cup

drained mandarin oranges
Instructions
For the Cookies
Sift together the cake flour, baking powder and salt.

In a mixer bowl, combine the butter and the shortening. Cream together. Add sugar and mix until light and fluffy. Add egg and mix. Add egg white and mix. Add vanilla and almond extract and mix well.

Stir in about half of the flour mixture. Then add the remaining flour.

Cover and chill the dough for 3 hours.

Preheat oven to 350°. Line a baking sheet with parchment paper. Roll the dough into ping-pong-ball size. Place 2 inches apart on the baking sheet. Flatten each dough ball with the bottom of a drinking glass.

Bake for 9-11 minutes until set, but not browned. Cool completely.
For the Frosting
Mix together the frosting ingredients gently and thoroughly.
Assembly
Spread each cookie with frosting and top with chopped fruits.**
Notes
*To really simplify this recipe, use a packaged refrigerated sugar cookie dough. The presentation will still be beautiful. 
**It is highly recommended that you allow everyone to frost and decorate their own cookies. If you use a vegetable/dip tray for the fruits and frosting, the presentation is extra special and fun.
---
See Also
Show-Off Fruit Tart
This fruit tart (or fruit pizza) is a show-stopper! And it tastes as good as it looks!
Check out this recipe