I'm getting tired of the same-old, same-old snacks around here. Bananas? Yogurt? Ho-hum. Even the Easter candy is losing its appeal.
I'm not going to make a special trip to the store just to grab some Ben & Jerry's and a little COVID-19 on the side. So I find myself opening the refrigerator and standing, staring into its void, just to turn around and head back to Zoom, and then repeat fifteen minutes later.
But suddenly my eyes settled on the jelly rack in the door. Do you have one of those? The rack where half-used-up jars of jelly go to die? And it suddenly occurred to me that I could use their sweet jellied goodness to make a couple new treats for the family.
Enter Split Second Cookies and Jam-Filled Muffins.
Split Second Cookies are made from a simple buttery shortbread dough, shaped into a long log, and spread with any jelly or jam of your choosing. After you bake it, you slice it while warm into bars. They go great with tea!
Jam-Filled Muffins are just a basic sweet muffin dough, but there is a surprise of jam in the center. Use any flavor you like! Or anything you have left in the fridge. You can top them with an icing or just a simple sprinkle of sugar. Or give sprinkles a try!
Let me know if you give one (or both) of these a try!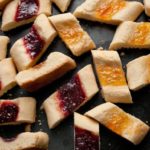 Print Recipe
Split Second Cookies
These cute little cookies go great with your tea party!
Servings:
4
dozen cookies
Ingredients
2

cups

flour

2/3

cup

sugar

1/2

tsp

baking powder

3/4

cup

butter (1 1/2 sticks), softened

1

egg

2

tsp

vanilla

1/2

cup

jelly or jam, any flavor
Instructions
Stir together the flour, sugar, and baking powder in a large bowl. Add butter, egg, and vanilla, and combine well.

Divide the dough into 4 equal parts. Shape each part into a long cookie (13 inches x 3/4 inches). Place each on an ungreased cookie sheet (or cookie sheet lined with parchment paper). Make an indentation down the center of each long cookie. Fill that depression with jam or jelly of your choosing.

Bake for 15-20 minutes. Cut each diagonally into 12 cookies while still warm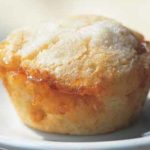 Print Recipe
Jam-Filled Muffins
Perfect for a slow Saturday afternoon with your hot drink of choice.
Ingredients
1 3/4

cup

flour

1/2

cup

sugar

1 1/2

tsp.

baking powder

1/2

tsp.

salt

3/4

cup

milk

3

tbsp

butter, melted

1

egg

1/2

cup

jelly or jam, any flavor
Instructions
Combine the flour, sugar, baking powder, and salt.

In a separate bowl, combine egg, milk, and melted butter.

Gently stir the milk mixture into the flour mixture. Mix carefully, trying not to overmix, but not leaving dry bits either.

Grease a muffin tin, or use muffin papers. Put 1 scoop of batter into each muffin cup. Add 1 tsp jam on top of the batter in each muffin cup. Then put remaining batter into each cup to cover the jam. Sprinkle with sugar, if desired.