Click below to listen to this post about the crucifixion of our beautiful Savior on the Candidly Kendra podcast: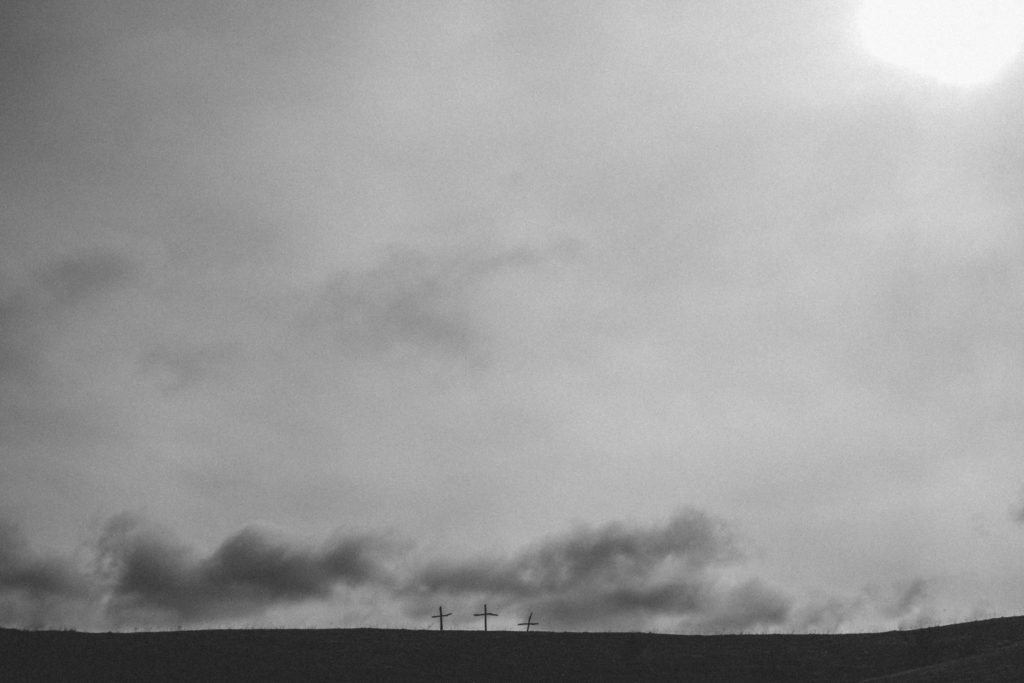 This week our family is going to spend Spring Break at our family cabin in the mountains outside of Westcliffe. I know I've told you about our cabin before (yesterday) – I even filmed a video there – and I know I mentioned that it's rustic. But did I mention that there is no running water? That's right. Do you understand what that means? It means that we can bird-watch while we go to the bathroom. It also means that I have to boil the broccoli along with the pasta (on our two-burner propane stove), conserving water as much as I can because it's always difficult to pack enough water in for a family of five for four days!
It's interesting how much I take water for granted on a day-to-day basis. I walk to the sink, move the handle and take what I need. It's there for me whenever I need it. It's so readily available that I forget to marvel at it (unless I've spent a few days at the cabin).
I'm ashamed to admit that I do the same thing with Jesus.
I have known about his love for me for as long as I can remember. My parents taught me about Jesus as I sat on their laps during Bible study. It's a beautiful spiritual heritage that I received from them, but unfortunately it also means that when someone marvels at our Beautiful Savior I shrug and say, "He's always been there."
I feel this disturbing reality most often around the holidays.
Christmas is so much fun! Oh yeah, and Jesus came.
Easter brunch! Oh yeah, and Jesus came back.
Lord Jesus, let me see your beauty.
For this reason I search him out every Easter as an antidote to my apathy.
Our Beautiful Savior, Crucified
This year I've been meditating on the story of his crucifixion.
And about the ninth hour Jesus cried out with a loud voice, saying, "Eli, Eli, lema sabachthani?" that is, "My God, my God, why have you forsaken me?"
Matthew 27:46 ESV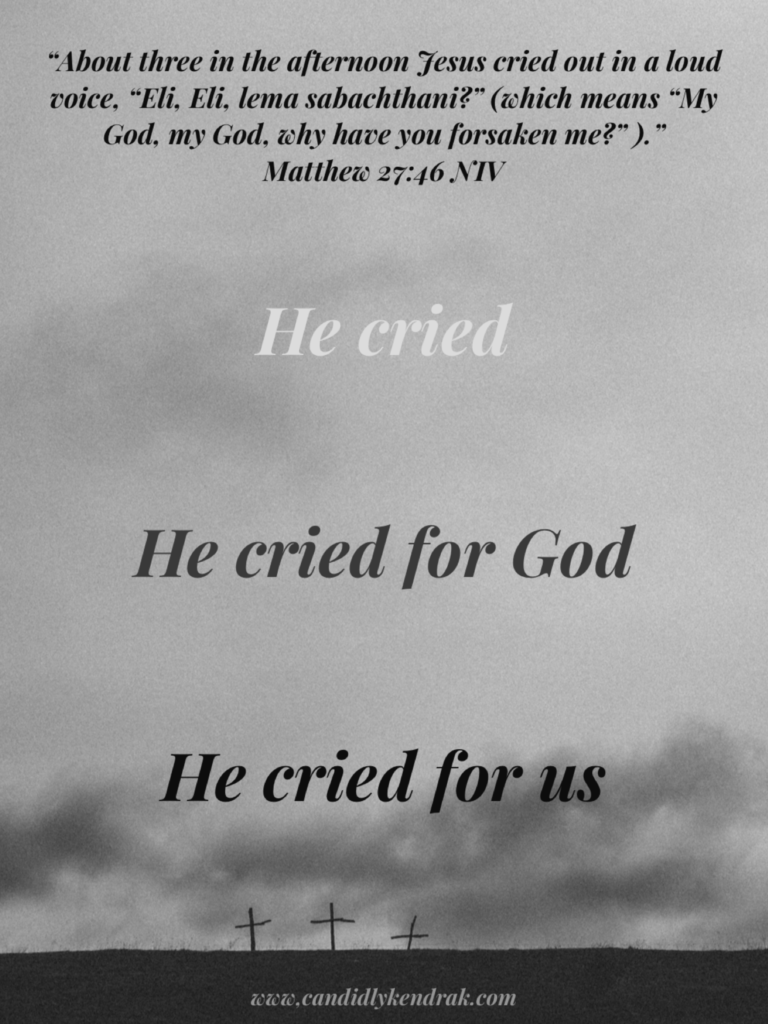 1. He Cried
Our God cried. Imagine that! A God who cried.
Would you rather serve a stoic God? Would you rather serve a God who knows all and feels nothing? I am so thankful for a God who knows – firsthand – that the world hurts.
"Since then we have a great high priest who has passed through the heavens, Jesus, the Son of God, let us hold fast our confession. For we do not have a high priest who is unable to sympathize with our weaknesses, but one who in every respect has been tempted as we are, yet without sin. Let us then with confidence draw near to the throne of grace, that we may receive mercy and find grace to help in time of need."
Hebrews 4:14-16 ESV
So when I feel beat down by the world. When it hurts and I wonder how I can go on, I can cry out to God. He doesn't roll his eyes and say, "Oh, come on, Kendra, have faith! If you knew what I know, you wouldn't cry." That might be true, that if I knew the whole story I would settle down and rest in confidence. But even still, Jesus understands our need to cry! He experienced the pain of life and loss, and he suffered most of all at the crucifixion.
---
---
2. He Cried For God
When Jesus cried out he didn't say, "My head!" or "My side!" Instead he said, "My God!"
I was struck by this truth because I know that in my pain my attention typically goes straight to my problem. I go into problem-solving, make-a-plan, bootstraps mode. Then, if I can't fix it myself, I have a tantrum. I tell Steve and all my friends, and finally, maybe I'll take it to God.
Jesus gives us such a beautiful example of the priority of his relationship with God when he took his pain to God first at the crucifixion.
Imagine, then, the incredible depth of pain he must have experienced to discover that God wasn't there. God had removed himself from Jesus's presence. He had forsaken his One and Only Son!
Why would he do that? How could he do that to the Son he loved? For us.
---
Subscribe Here For Candidly Kendra's Free Ebooklet "A Christ-Centered Seder For Your Family"
Wondering why Christians would celebrate Passover with a Seder? Learn more here.
---
3. He Cried For Us
Jesus had a perfect relationship with his Father. Every need was met in that perfect relationship. A perfect relationship, in a perfect place – perfection and wholeness for all eternity.
Why, for the sake of all that's holy, would he ever leave that perfection and come to this armpit of the universe? What did he possibly want that he didn't already have in Heaven?
Us.
You. Me. That guy over there.
The only thing he didn't already have was us. He came for us. Our Rescuer!
Christ made a single sacrifice for sins, and that was it! Then he sat down right beside God and waited for his enemies to cave in. It was a perfect sacrifice by a perfect person to perfect some very imperfect people. By that single offering, he did everything that needed to be done for everyone who takes part in the purifying process.
Hebrews 10:12-14 MSG
God created us because he is a God of love and he wanted to share his love with us. But we rejected him. Every time we chose our own way instead of his. Every time we chose his way because of what we wanted to get out of it. The very nature of our beings rejects God over and over. But he loved us. So Jesus left the perfect community of Heaven, came here and cried – suffering the immeasurable, unimaginable agony of having had communion with God and losing it. So that we could be brought into that relationship. Not perfect, but perfected by his perfection.
This isn't an automatic entry for everyone in the world. It's not enough to nod along and say, "Well, I'm glad that's taken care of." We need to individually receive this gift of communion with God by faith. And we can express that faith by saying something like, "I need you, God! I mess it all up every time I try to do it my own way. Please forgive me for the ways I've rejected you. Thank you that Jesus came to bring me back! I want you, Lord. Please make me yours."
Yet to all who did receive him, to those who believed in his name, he gave the right to become children of God.
John 1:12 NIV
He cried for you. Can you believe that?
That's what Easter is all about.
---
Did you like this post? Want to hear more about this idea from someone who is way smarter than me? This post was based on a sermon by Tim Keller, called The Crucifixion, which you can listen to here.
---
---