I have good news for you, friends! Fall is coming!
Fall means chunky sweaters, cozy blanket scarves, and mugs of steaming chai. Glorious!
And you know what else?
No more beach bodies!
Pumpkin spice lattes…apple crisp…maple cookies…creamy chai…
Bring it on!
My Favorite Fall Recipes
1. Chocolate Wave Zucchini Muffins
I discovered this recipe last fall after I received several large zucchinis from friends. Boy, did they become a favorite fast!
If you still have zucchini to use up, or friends are still anonymously dropping their bounty at your front door and ding-dong-ditching, then I'm your new best friend.
Make these muffins and your children will rise up and call you blessed.
2. Chocolate Chocoate Chip Pumpkin Muffins
When the zucchini stopped magically appearing on my doorstep from desperate friends, I realized I needed to move on. Besides, a new craving was taking its place…
Pumpkin.
Our culture and Starbucks has trained us that when the weather cools down and the nights start to come earlier, pumpkin is what we need.
And I'm nothing if not suggestable.
So I used the zucchini muffin recipe as a template to adapt my Mom's old pumpkin bread recipe (did you get that? Read it again if you have to) to make these Chocolate Chocolate Chip Pumpkin Muffins.
Pumpkin is great. Pumpkin and chocolate is even better!
Go ahead and buy all the cans of pumpkin because…
3. Pumpkin Pancakes with Butterscotch Syrup
Do you ever do something so amazing that you just want to sing a song about it? No?
Well, I made these pancakes last week and they were so good that I'm telling you, I wanted to sing a song.
Nowhere else in town can touch the perfection of these pancakes. Skip your hunt for the best pancakes in town and just park it at your own kitchen table with a plateful of these. You can thank me later.
4. Maple Butter Monkey Bread with Amaretto Spiked Cream Cheese Frosting
Fancy restaurants have taught me that the best foods have the longest names. Now I know that must be true.
If you're sick of the pumpkin spice craze (gasp!) then I highly recommend you take some insulin and treat yourself to this delightful mapley goodness.
I admit that this recipe is a bit time consuming if you go the homemade dough route. If you aren't in the mood for that, please avail yourself of the "cheater instructions."
By the way, this Amaretto-Spiked Cream Cheese Frosting is great on everything: cinnamon rolls, pumpkin pancakes, toast, fruit…
Speaking of which…
5. Grandma's North Dakota Caramel Rolls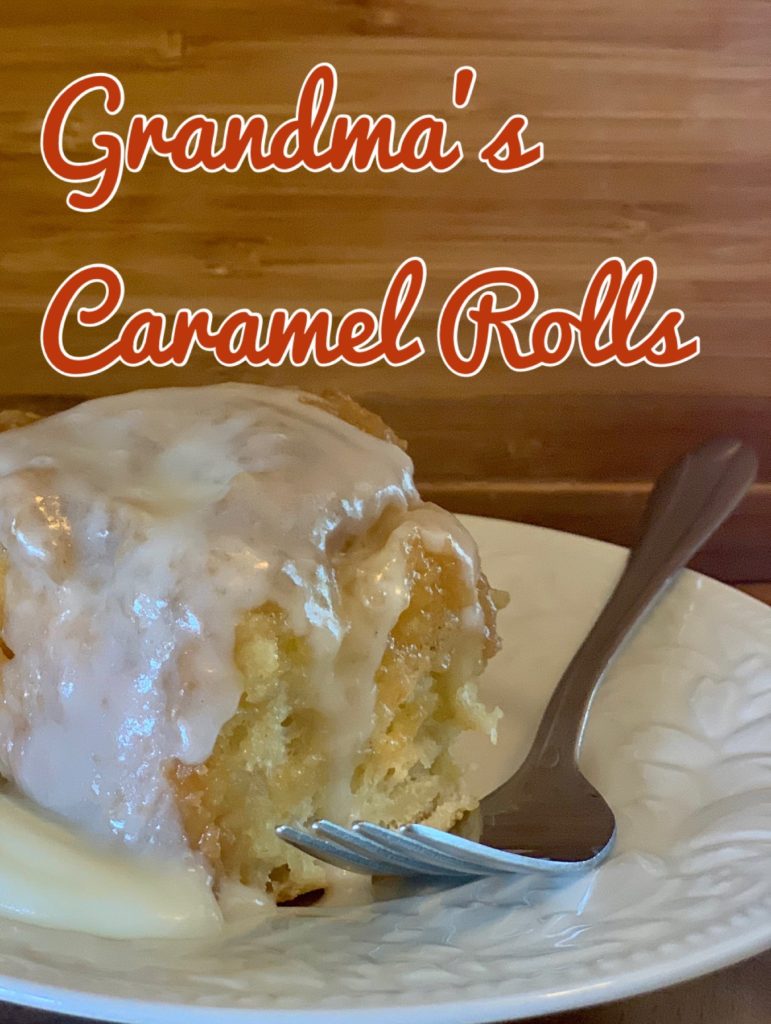 My apex as a cook. The recipe on my website that gets hundreds of hits a day. My very own grandma's caramel rolls.
Except I doubled the caramel. (My grandma would have approved.)
When the nights get chilly and the leaves start changing I get a little spring in my step because I know that these are coming.
By the way, you can wrap them individually in press n seal wrap and freeze them for later. They reheat perfectly!
What are your favorite fall recipes? Please share in the comments! Links are welcome.