Click below to listen to this post about steamed artichokes on the Candidly Kendra podcast: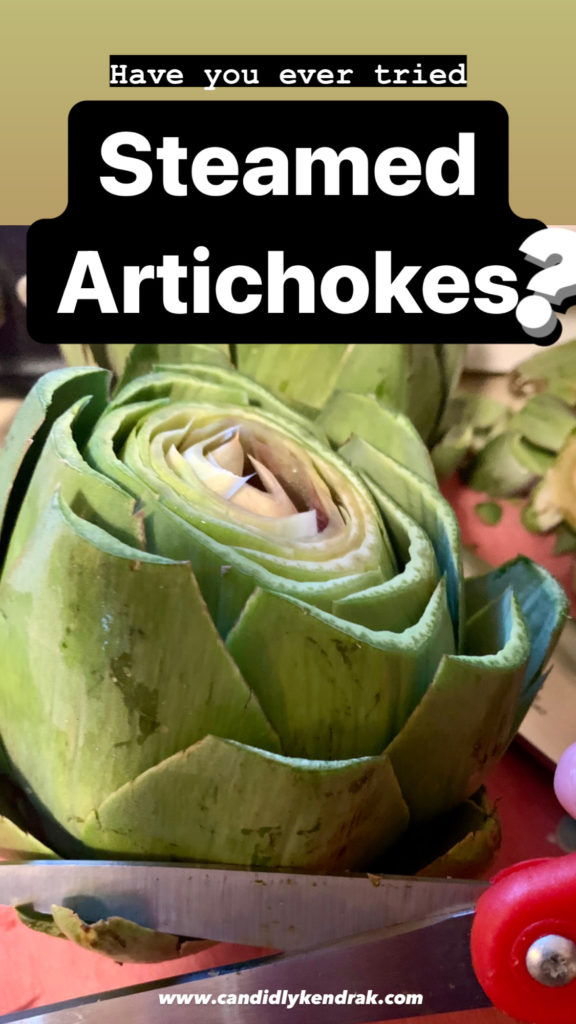 Who do you suppose first looked at an artichoke and thought, "I want to eat that"?
Have you ever eaten an artichoke that didn't come from a can? Steamed artichokes are exactly the kind of vegetable that I never would have tasted except under duress…that is, until I needed to impress a boy.
It was Steve who introduced me to steamed artichokes. He pulled off a leaf and scraped it with his teeth. He said mmm and this is so good and I thought what a weirdo. But he was cute and I wanted him to like me so I followed his lead and tasted my first artichoke.
I liked it! I mean, we dip it in butter and salt, so basically the artichoke is a antioxidant-rich delivery system for butter into my mouth and I'm all about that.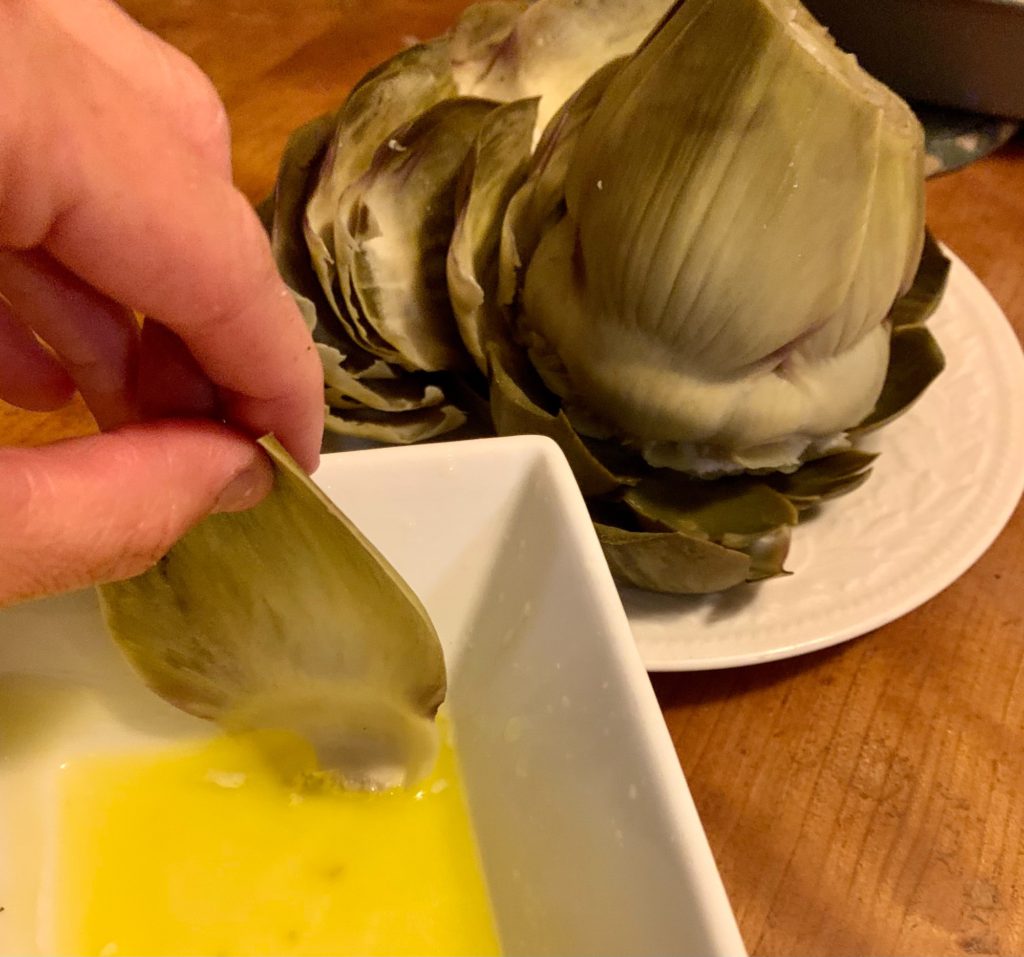 To eat a whole artichoke, you pull off a leaf, dip it in butter, then scrape the inside with your teeth. If you have cooked them well, you will get a bit of the inside and bottom of the leaf. After you reach the papery inside leaves, you pull them off and discard them. Then scrape the fuzzy "choke" away, and now you have reached the prize – the artichoke heart! The bottom of the artichoke (which is called the heart) is so tasty! Slice that heart into bites, dip them in butter, and eat away!
When I cook them for my family, everyone gets their own artichoke, except for Kai, who doesn't properly appreciate vegetables, because he is young and clueless.
What Do I Eat Artichokes With?
I have good news! Artichokes and Mississippi Pot Roast (in an instant pot) and baked potatoes cook for the same amount of time.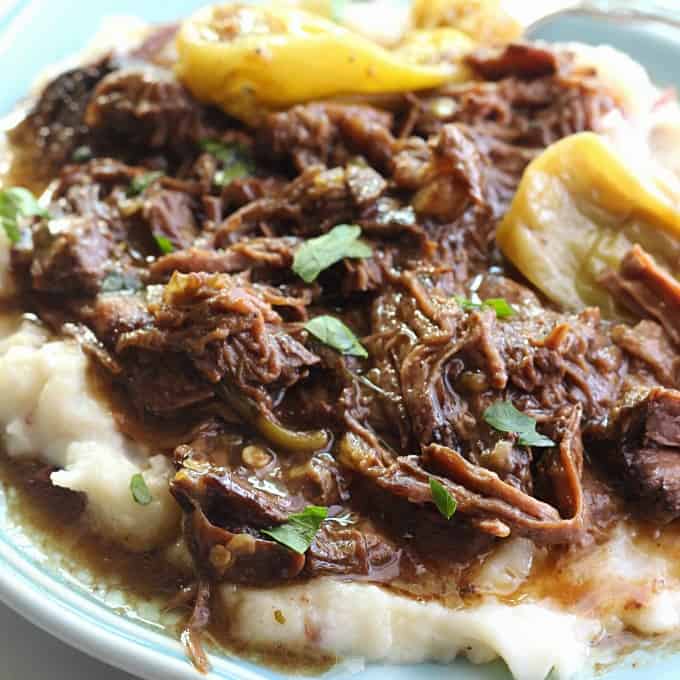 Start your roast in the instant pot. Add 1 cup of water. Set it for 75 minutes Manual Pressure Cook if you live at high altitude like I do. When the roast is done, release the pressure using quick pressure release, and then let it rest using the "Keep Warm" function until you're ready to eat.
Next, rinse a few Russet potatoes. Prick them with a fork several times and throw them into a 350 degree oven. Test them by squeezing (with an oven mitt!); if they're soft they're done!
And now you're ready to start your artichokes.
Here's how you prepare and cook a whole artichoke:
Steamed Artichokes Digest
Slice off the top inch of each artichoke with a very sharp chef's knife.
Slice the stems off the artichokes right at the base.
With scissors, cut the sharp tip off of every leaf.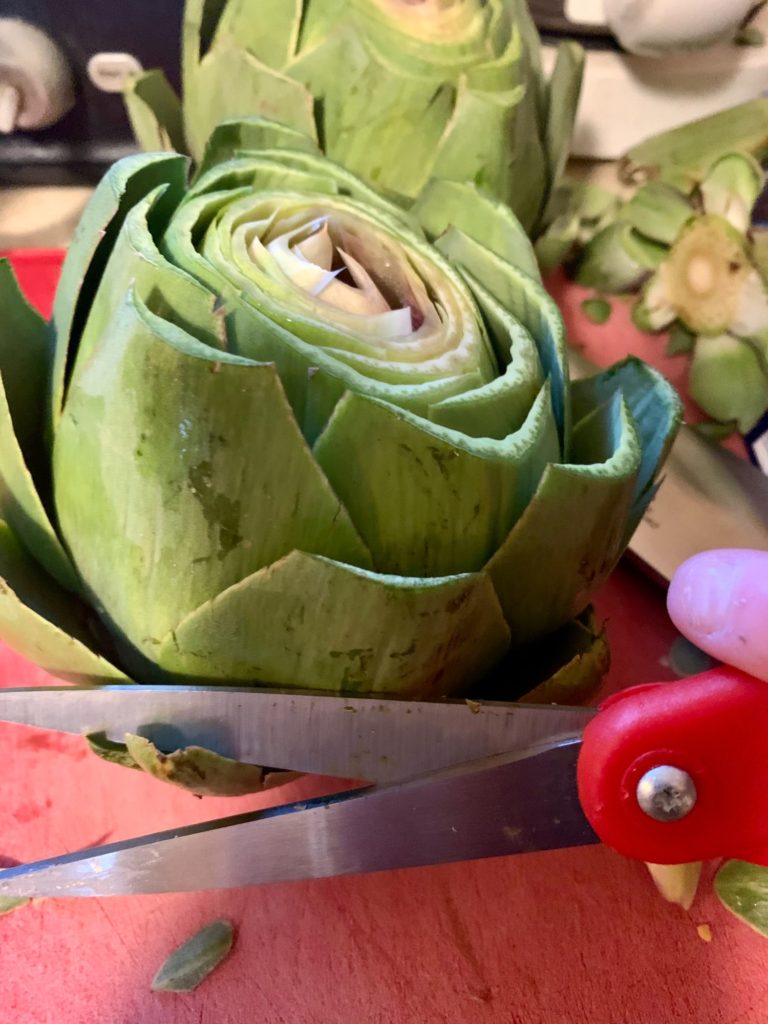 Rinse the artichokes under water to clean them.
Place the artichokes in a large pot. Fill with water about halfway up the sides of the artichokes. Salt them generously.
Cover the pot and bring to a boil over high heat. Then reduce heat to medium high and cook for about 1 hour. The artichokes are done when you can easily pull a leaf out.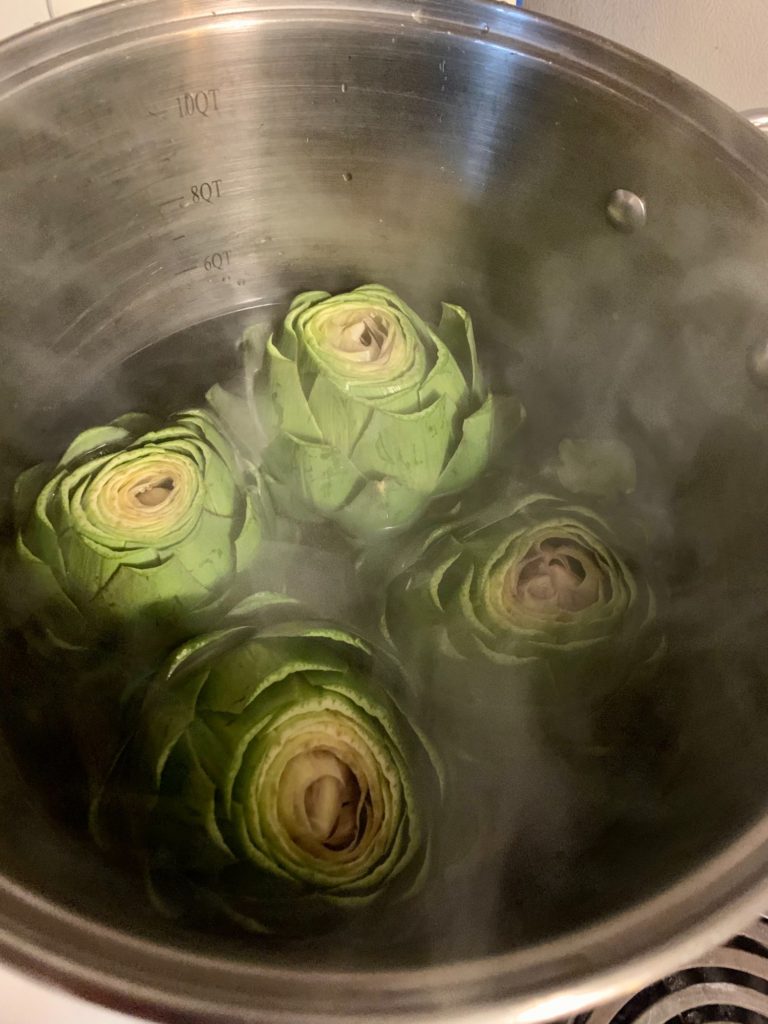 Serve the artichokes with salted melted butter. Try other dips if you'd like to. Some people like to use mayonnaise. Others mix lemon juice into their butter. We prefer them with salt and butter.
Enjoy!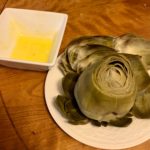 Print Recipe
Steamed Artichokes
These are your favorite vegetable. You just don't know it yet!
Ingredients
4

artichokes

2

sticks

butter

salt, to taste
Instructions
Prepare the artichokes by cutting one inch off the top of the artichoke with a sharp knife. Cut the stems to the bottom of the artichoke. Then, using scissors, cut the sharp tips off of each leaf. Wash the artichokes under cold water.

Place the artichokes in a large pot. Fill with water about halfway up the sides of the artichokes. Salt well. Cover and bring to a boil over high heat. Reduce heat and cook on medium-high for about an hour. The artichokes are done when you are easily able to pull out a leaf. (I use tongs to test pulling out a leaf.)

Melt the butter in four different small cups. Salt each cup of butter. Each person gets an artichoke and a cup of butter.

Eat the artichokes by pulling out the leaves, dipping them in the salted butter, and scraping the inside and bottom off with your teeth. When you reach the papery inner leaves, pull them out to discard. Then scrape the fuzzy choke off the bottom of the artichoke. Cut the remaining heart (the bottom of the artichoke) into small pieces. Dip and eat.
Notes
*Instead of butter, dip the artichokes in whatever you like: ranch dressing, Italian dressing, mayonnaise, lemon-butter, chick-fil-a sauce…