Click below to listen to this post about Steve's patty melts in a cast iron skillet on the Candidly Kendra podcast: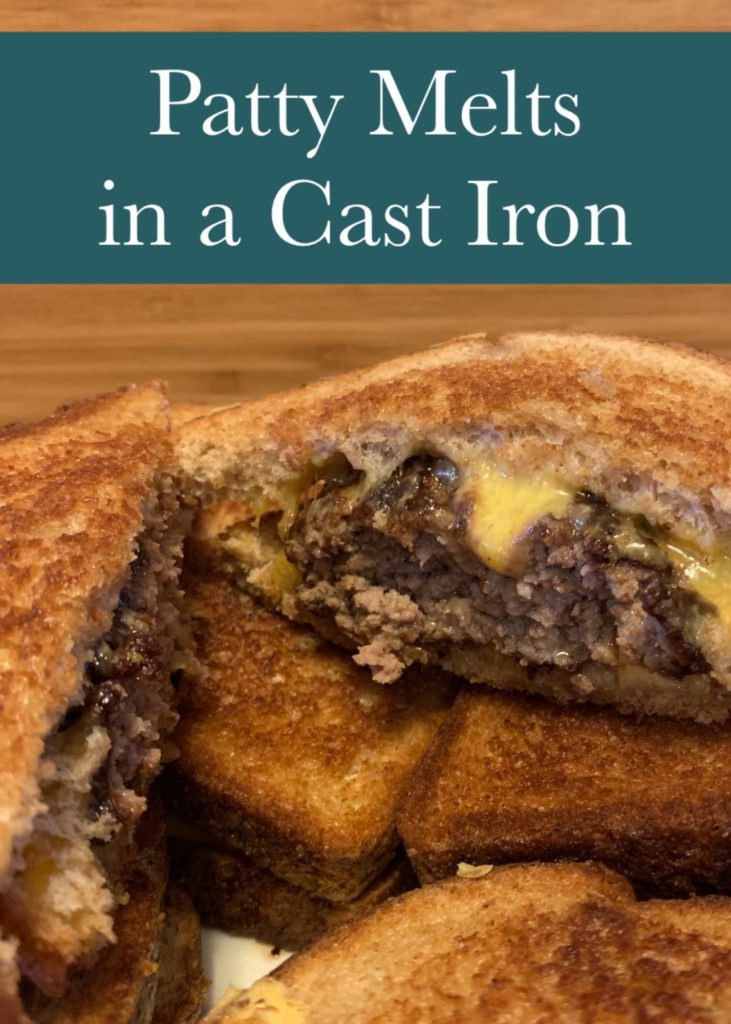 Have you ever followed a YouTube trail that started with a cute dog and ended with scientists playing with sulfur hexafluoride? You know how deep that rabbit trail can go.
So when my husband came to me after following the YouTube trail's twists and turns and told me that he wanted to make patty melts for dinner, I was worried. What do you think I said to him?
I said, "Heck, yeah! You cook!"
And that's the story of how we discovered these amazing patty melts.
I used to order patty melts at Bennigan's. (Do you remember Bennigan's? Do they still exist?…Hey, look, they do exist! ) I really wanted to like them, but they were always too greasy and too heavy for me.
But Steve's patty melts were just right. Not exactly diet food, if you know what I mean, but not as over-the-top greasy as the restaurant version.
These patty melts are a juicy, seasoned burger patty sandwiched between two golden grilled slices of bread with melted American cheese to finish it perfectly! Some people might like a slice of tomato on their patty melt, but I like them simple – meat, cheese, bread, like God intended it.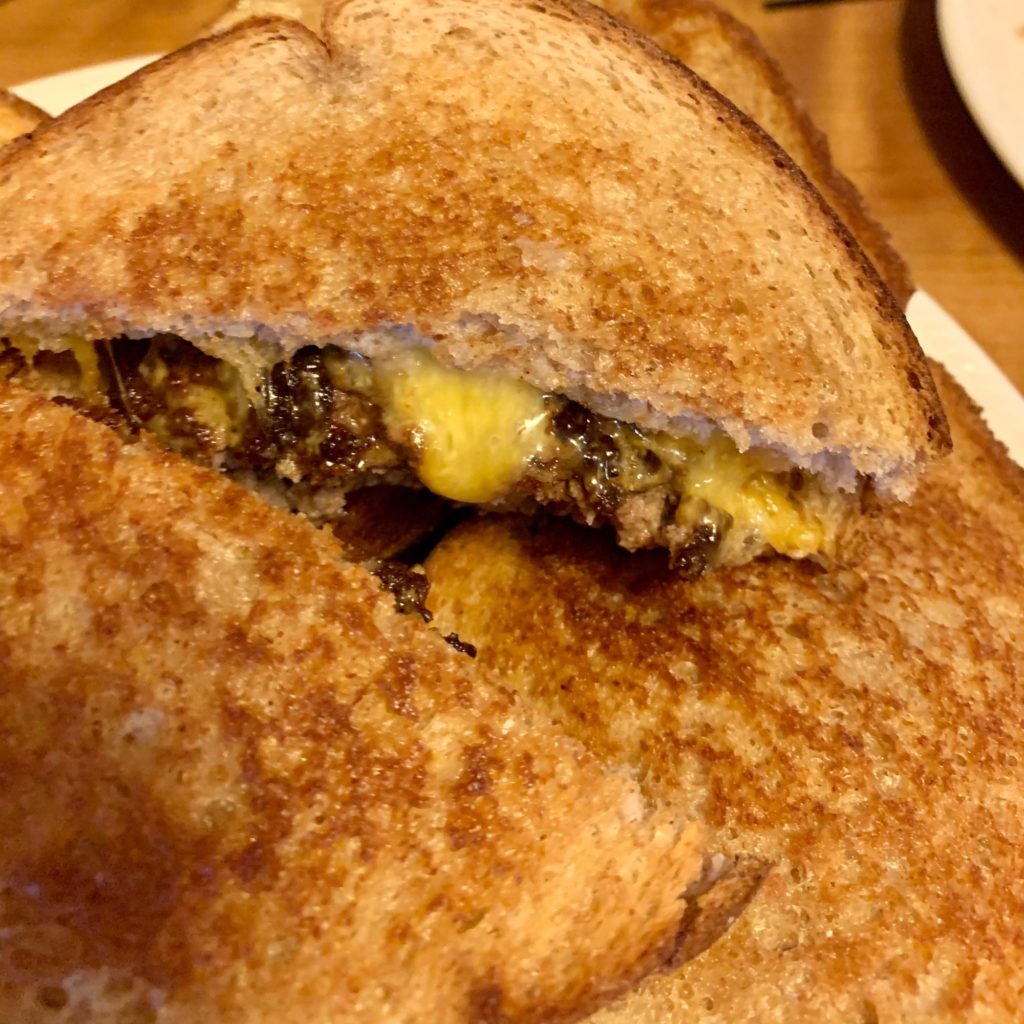 Patty Melts Digest
Warm up a griddle to medium (325 degrees).
Meanwhile, shape two pounds of ground chuck into six patties. Make them thinner than you think you should; they will puff up while cooking. Leave those to rest.
Butter 12 slices of bread on one side. Place the bread, butter-side-down, on the griddle to toast. Place a slice of American cheese on every slice of bread.
Then heat one tablespoon of oil (we used olive oil) in a large cast iron skillet over high heat. When it is hot, add two tablespoons of butter. Add the beef patties. Sprinkle generously with seasoned pepper.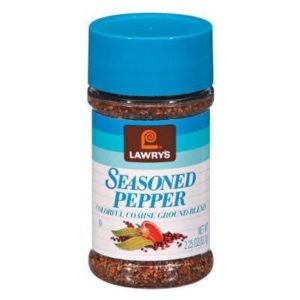 Cook the burgers for 1-2 minutes on high, then reduce heat to medium-high. Cook for about 3 minutes longer. Flip the burgers, season again with seasoned pepper, and cook until they are how you like them. Steve cooks them about four minutes more for medium-well.
By this time, the toasted bread should be just about right. Place the burgers on the slices of bread, and then top with remaining cheesy toast slices.
Serve with fries!
If you find it hectic to keep an eye on the toast and the burgers at the same time, enlist a buddy to watch the toast for you, who can turn the griddle off or down when the bread looks right. (The perfect job for a kid…or a kitchen-challenged spouse.)
Here's the recipe!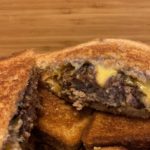 Print Recipe
Patty Melts in A Cast Iron
These come together quickly with minimal fuss! But they are way better than a restaurant!
Ingredients
12

slices

bread

8

tbsp

butter, softened, divided

12

slices

American cheese

1

tbsp

olive oil

2

lbs

ground chuck (80% fat)

seasoned pepper
Instructions
Shape the ground beef into 6 patties. Make them thinner than you would expect (½ inch).

Preheat a griddle to medium heat (325°).

Set aside 2 tbsp. butter. Spread the remaining butter on each slice of bread and place, butter-side-down, on the hot griddle. Top each slice of bread with a slice of American cheese. Allow to toast until the bread is golden and the cheese is melting. If it starts to get too brown, turn the griddle off and leave the bread while you cook the burgers.

Meanwhile, heat oil in a large cast iron skillet over high heat until hot, but not smoking. Add 2 tbsp. butter, which you had set aside. Add the burger patties to the pan. Season well with seasoned pepper. Cook over high heat for 1-2 minutes. Reduce heat to medium-high and cook for about 3 more minutes. Flip. Season again, and cook for about 4 more minutes for medium-well.

Place the burgers on the toasted bread. Top with remaining bread slices.
---
Other Main Dishes from Candidly Kendra
Easy Chicken Chili
This recipe gets rave reviews! Eat it your way with chips, cheese, sour cream, or avocado…or all the above!
Check out this recipe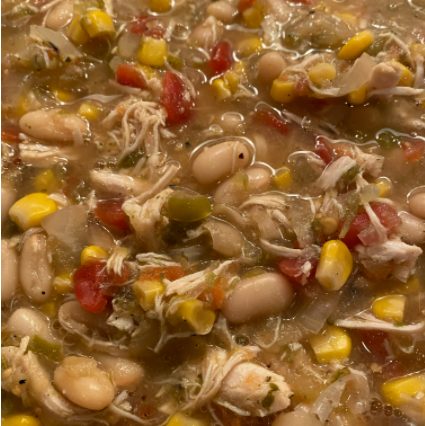 Throwdown Meatballs
These meatballs are baked, which makes them incredibly easy! They are great in spaghetti and subs!
Check out this recipe

Alexandra's BBQ Chicken Sandwiches
These sandwiches have the perfect tangy-sweet barbecue flavor and are great for crowds!
Check out this recipe