Click below to hear about Chicken Tikka Masala on Naan on my podcast:
I think there's a possibility that you don't know yet how much you like Indian food. Particularly Chicken Tikka Masala. This creamy, exotic chicken dish tastes like Heaven on a plate. And the perfect thing to dip into that heavenly goodness to make sure that no amazing flavor is left untasted? My Quick Skillet Naan!
The original recipe for the Chicken Tikka Masala called for garam masala, a spice blend that you can buy in the store. But when I made it I had a cupboardful of spices but no garam masala. I developed this blend of spices to use in its place, and I loved it so much that I will never buy a garam masala blend! The cinnamon and cloves may seem strange, but as soon as you smell them warming in the skillet you'll know that you're on the right track.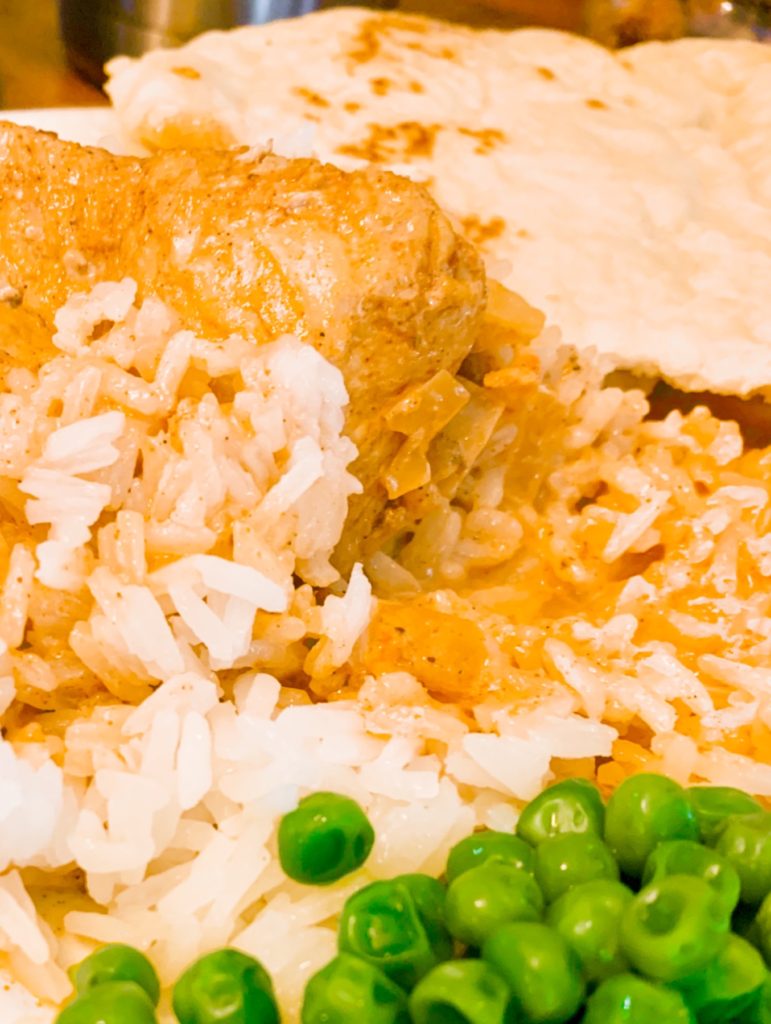 This recipe was tailor-made for an instant pot. If you got one for Christmas last year, like the rest of America did, I highly recommend that you dust it off for this recipe. You can throw it together in a minute, and 30 minutes later, voila! You can even use frozen chicken!
If you haven't jumped on that bandwagon yet, don't worry! The traditional stove-top recipe won't disappoint you.
And a quick note about the whipping cream in this recipe. You're going to be tempted to use a healthier substitute. You can do that if you want. You can use coconut milk or light whipping cream or half and half. But the whipping cream blows all those out of the water when it comes to the flavor and creamy texture of the sauce.
Speaking of sauce, this recipe leaves a lot of extra sauce on your plate. You're going to want to lick your plate. But then your mother-in-law will judge you. Don't worry, though, I have the solution for you. Make some homemade naan so you can sop up that golden goodness in polite company.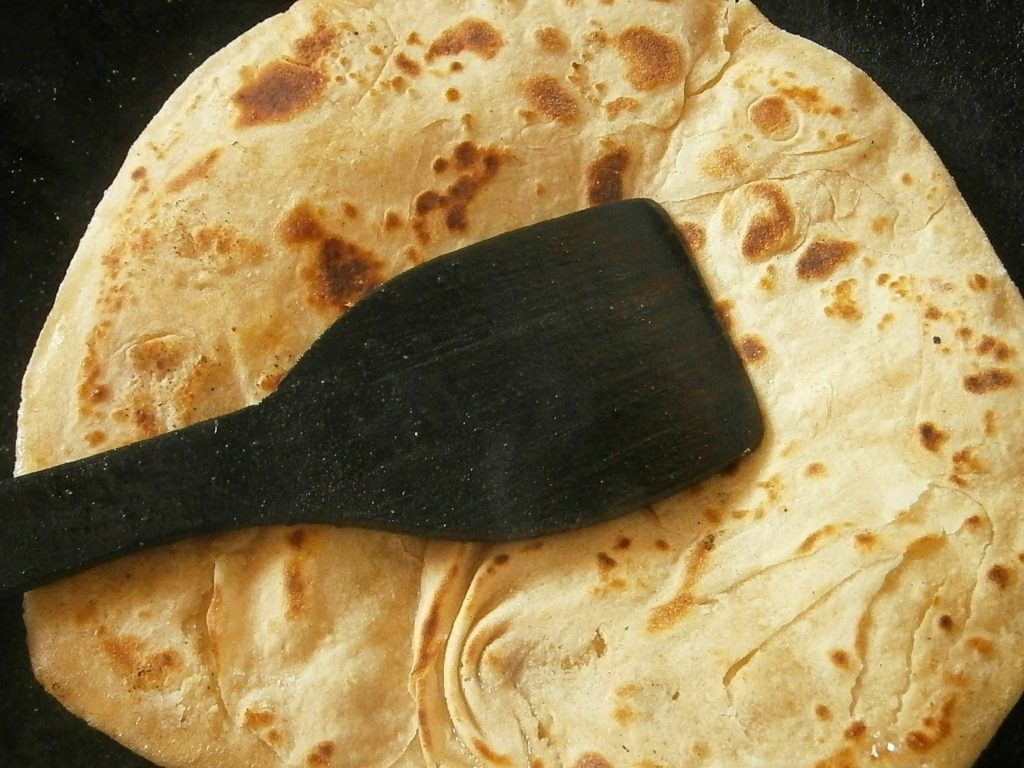 The naan dough comes together incredibly quickly. Don't bother to let it rise or even rest – we have families to feed! Just mix it up, then cut off lumps of dough, press them flat, and cook them in a hot skillet. (I even use scissors to cut my dough.)
We like the naan best brushed with butter and sprinkled with salt.
And at the end of the meal, if you have any naan left, try it Kai's way, dipped in honey!
Enjoy!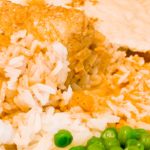 Print Recipe
Chicken Tikka Masala
This mild-flavored Indian recipe will win over your whole family!
Ingredients
1

tbsp

olive oil

6

small chicken breasts (or 9 chicken tenderloins)

½ inch

peeled ginger root, minced

2

cloves

garlic, minced

2 ¼

tsp

ground coriander

1 ⅓

tsp

ground cumin

1

tsp

paprika

1

tsp

cinnamon

½

tsp

salt

dash

black pepper

dash

ground cloves

dash

cayenne (use ¼ tsp. or more for a spicier dish)

2

tbsp

lemon juice

8

oz

tomato sauce

½-1

cup

water (+ 1 cube bouillon) or chicken broth

1

cup

heavy whipping cream

½

cup

chopped cilantro (optional)

6

servings

cooked white rice

6

servings

cooked peas
Instructions
Traditional Stovetop Instructions
Heat the oil in a skillet over medium-high heat. Meanwhile, slice chicken into smaller chunks if using chicken breasts. (If using tenderloins, you may leave them whole.)

Add chicken to the skillet and cook until lightly browned on both sides. Add ginger, garlic, and spices. Reduce heat. Cook and stir for 3-5 minutes to soften the onion.

Add lemon juice, tomato sauce and ½ cup water (plus a bouillon cube) or chicken broth.

Bring to a boil over high heat. Reduce heat to medium-low, cover, and cook for 10-15 minutes until the chicken is cooked through.

Add whipping cream. Heat to warm. Sprinkle with cilantro before serving.

Serve over rice along with peas and naan. Pass with additional cayenne pepper, if desired.
Instant Pot Instructions
Heat oil in the instant pot on the "Saute" function. Add chicken (frozen chicken is fine). Cook for 5 minutes to brown the chicken just a little. (Sometimes I skip this step and it's still amazing.)

Add the ginger, garlic, spices, lemon juice, tomato sauce, and 1 cup water (plus a bouillon cube) or 1 cup chicken broth. Stir a little bit. (Imperfection is encouraged.)

Cook on "Manual" as follows: Frozen chicken breasts – 15-20 minutes; frozen tenderloins – 10 minutes; thawed chicken breasts – 10 minutes; thawed tenderloins – 8 minutes.

When the instant pot beeps, use manual pressure release. Immediately check the doneness of the chicken. If it needs more time, fix the sealing ring on your pot lid, replace the lid, and cook on "Manual" for another 3-5 minutes.

Add the whipping cream and stir to combine. If desired, you may cut the chicken into smaller pieces before serving. It will be very tender.

Serve over rice with peas and naan. Pass with cilantro and additional cayenne pepper, if desired.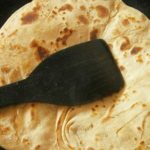 Print Recipe
Quick Skillet Naan
Naan is a must-have accompaniment to your Indian meals. It's perfect for dipping in the sauce!
Ingredients
2-2¼

cups

flour

1

tbsp

baking powder

2

tbsp

olive oil

1

tsp

salt

1

cup

warm water

butter (appx. 1 tbsp.)

salt
Instructions
Combine 2 cups flour, baking powder, salt, oil, and water in a medium bowl.

Knead with oiled hands for 2-3 minutes until dough is uniform. If it is very sticky, add flour. It's okay if it sticks a little.

Warm a nonstick skillet over medium high heat.

Meanwhile, cut off a piece of dough that's about the size of a lemon. (Don't stress about this.) Spray a plate with nonstick cooking spray. Pat the ball of dough into a flat circle on the plate. (I press the ball of dough flat, flip it over, and continue pressing into the shape of a circle, more or less. I'm not overly particular about the shape.)

When the skillet is warm, spray it with nonstick cooking spray. Carefully peel the dough off the plate with two hands. Place the dough in the hot skillet. Cook for 3-5 minutes on one side, then flip it over. Rub the top with a stick of butter and sprinkle with salt. When the other side is done, remove the naan to a plate, covered with towels, to stay warm.

While the naan is cooking, prepare the next ball of dough on the greased plate. And repeat until all the pieces are cooked. Grease the plate and the skillet each time.