Today I discovered why instant pots were invented. You see most of us thought they were invented for pot roast. But, no.
It's risotto. (Well, that and hard boiled eggs.*)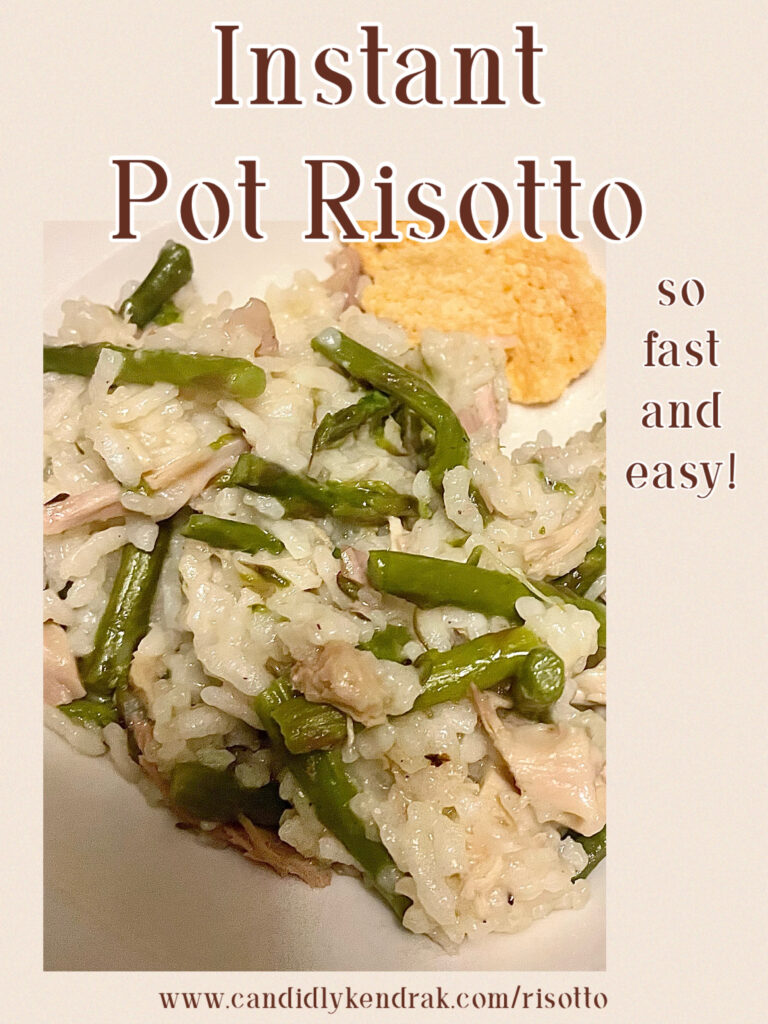 Now listen, I wasn't always a fan of the instant pot. My mom got me one a few years ago because everyone else was asking for one and she thought I should jump on that train, too. After all, I like to cook …and I like new technology!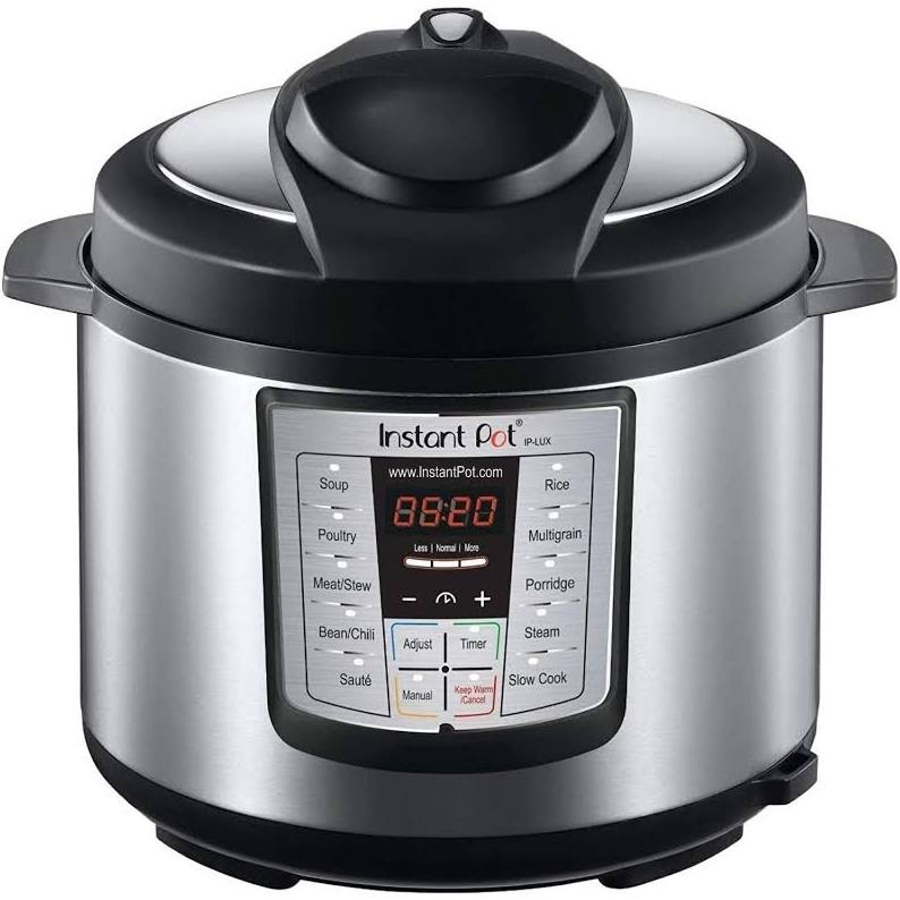 My first order of business with my brand-spanking-new instant pot was to go to Pinterest. Pages and pages (endless scrolling!) of melt-in-your-mouth tender beef, creative chicken dishes, and even desserts for the extra-adventurous. The recipes made promises like, "35 minutes to fork-tender pot roast!" and "fall-off-the-bone ribs in 10 minutes!"
I can't even begin to tell you how annoyed I was to realize that it was all lies! My foods were taking too long and still coming out undercooked.
So, I did what any good American woman would do…I ranted about it on Facebook.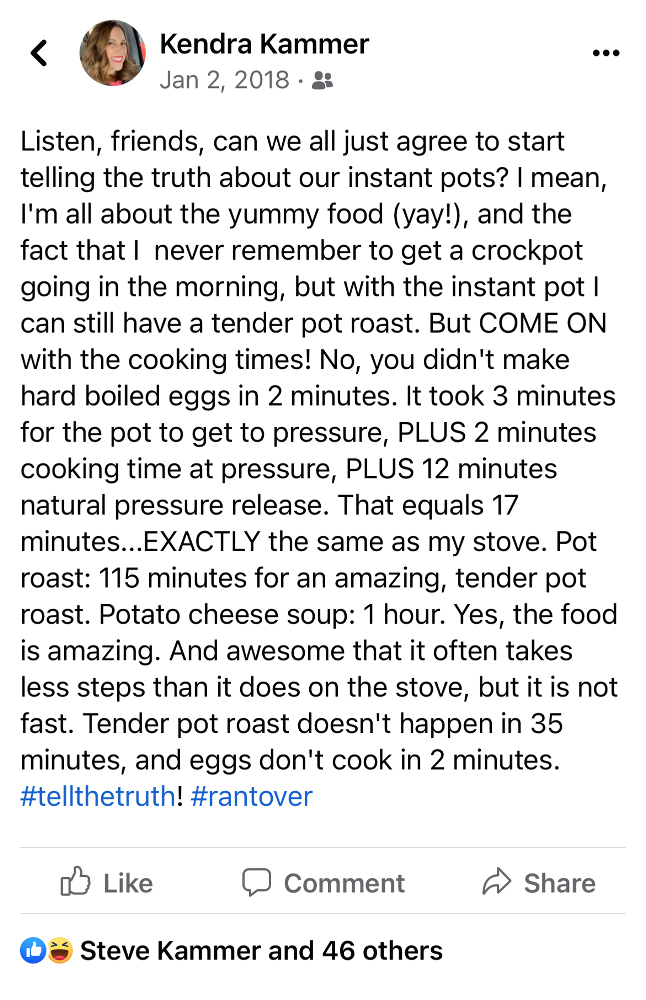 My friend replied, "I'm happy for you that this appears to be your greatest frustration right now." God bless her. She had a point.
So then I pulled up my birg girl panties and got to work making sense of this darn new contraption.
Here's what I learned:
For high altitude, add 40% more cooking time. (Something about air pressure and boiling point and photosynthesis or something.)
Count on 10-30 minutes for the instant pot to get to pressure and begin its countdown. (The exact time depends on the volume and temperature of what you're cooking.)
The delay start function is great for busy days.
Use it for risotto …and hard-boiled eggs.*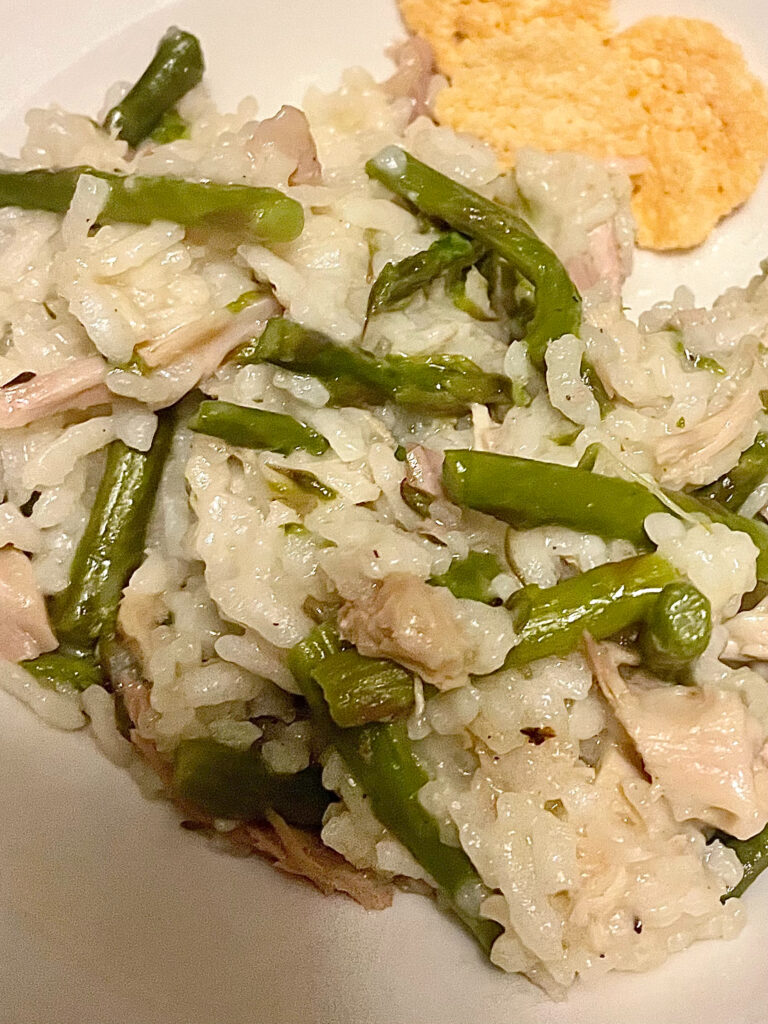 For the Everyday Cook
Risotto used to be a dish that only the foodiest of foodies would bother to make. It requires standing at the stove for 30 minutes, painstakingly stirring hot chicken broth into rice one ladleful at at time.
And then the family just… eats it. They don't applause or anything, even after all that work.
But with the instant pot? A little bit of this and that, and then set it and forget it! Eight minutes later – well, no, more like 15 – you have creamy risotto perfection.
Here's how I made it! (Painstaking stovetop recipe included in the recipe notes below.)
---
Subscribe for My Free Christmas Cookies eCookbook!
---
Instant Pot Risotto Digest
First chop up some leftover Thanksgiving turkey. I used about 3 cups. Of course, cooked chicken would work just as well.
Next chop up some asparagus. I used about 3 cups (two bunches). Again, another veggie would be just as good. I think diced butternut squash would be great!
Warm 4 cups chicken broth over medium-high heat. If it boils, turn it down. (I don't know what happens if you skip this step. I felt like it might be important for the quality of the dish, so I did it.)
In your instant pot, on the saute setting, melt 2 tbsp. butter. Add 2 cloves garlic, minced, and 1 tsp. thyme. Cook and stir until soft and fragrant, about 1 minute.
Add 2 cups arborio rice. This is important. You need to use a short-grain rice to make risotto creamy, as it's meant to be. Cook and stir it for about 2 minutes.
Add the turkey and the asparagus. Cook and stir for one minute. Season to taste withf salt and pepper.
Add about 1/4 cup of white wine (chicken broth is fine) and stir to deglaze the bottom of the pot. Turn off the saute setting. Then add the 4 cups chicken broth and stir.
Pressure Cook using "Manual" for 5 minutes. (I did 8 minutes because of high altitude. It was perfect.) Then quick release.
Finally, stir in about 6 ounces of swiss cheese. I used slices that I chopped before adding. Parmesan would be great, as well.
Serve with leftover cranberry sauce, especially if you bought the King Soopers cranberry sauce from the deli.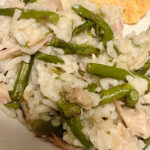 Print Recipe
Instant Pot Risotto
This risotto turns out so well in the instant pot. Incredibly easy, but still creamy and gourmet!
Ingredients
4

cups

chicken broth

2

tbsp

butter

2

cloves

garlic, minced

1

tsp

dry thyme (or 1 tbsp. fresh thyme)

2

cups

arborio rice

3

cups

chopped asparagus

3

cups

cooked turkey or chicken

¼

cup

dry white wine (or chicken broth)

6

oz.

swiss or parmesan cheese
Instructions
Warm the chicken broth over medium high heat on the stove.

In your instant pot, on the saute setting, melt the butter. Add minced garlic and thyme. Cook, stirring, for 1 minute, until fragrant.

Add rice. Cook and stir for 2 minutes. Add the turkey (or chicken) and asparagus. Cook and stir one minute more. Pour in wine to deglaze the pan. Stir well. Season with salt and pepper. Turn off the saute function.

Add the chicken broth all at once. Turn the instant pot to manual pressure and cook for 5 minutes. (At high altitude cook for 8 minutes.) Use quick pressure release when the time is done.

Stir in the swiss or parmesan cheese.
Notes
Traditional stovetop cooking:
In a medium pot, warm chicken broth over medium-high heat.
In a large pot, melt the butter. Cook garlic and thyme in butter for 1 minutes. (If using fresh thyme, add it at the end with the cheese.) Add rice and cook for 2 minutes. Add turkey or chicken and asparagus. Season with salt and pepper. Add wine to deglaze the pan. Stir constantly until the wine is absorbed. 
Add 1 cup of the warm chicken broth to the rice mixture. Cook and stir constantly over medium heat until the broth is absorbed. Continue adding broth 1 cup at a time, waiting until it is absorbed before adding more. Stir constantly.
When the rice is tender, add the cheese and stir until melted.
---
*Hard-Boiled Eggs in an Instant Pot: I put them in the pot on the rack and add 1 cup water. Cook for 2 minutes, then natural pressure release for 14 minutes. Perfectly peelable eggs every time!