Click below to listen to this post about garlic bread on the Candidly Kendra podcast: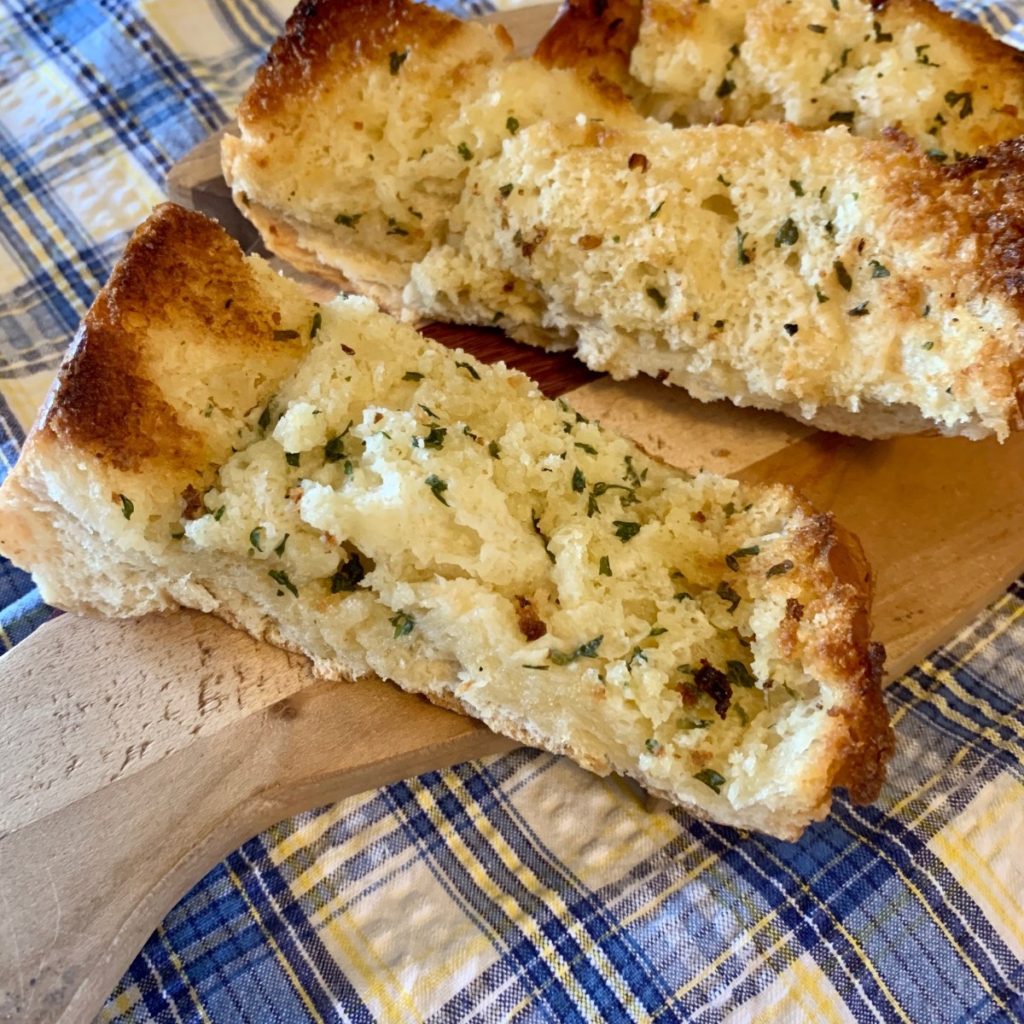 I'm not sure that there's anything better than great garlic bread. When you bite into it and it's perfectly crispy and buttery with the tang of garlic and the right amount of saltiness, there is nothing to beat it with a plate of spaghetti and meatballs. And maybe a salad on the side to help you feel better about yourself.
I know garlic bread isn't really first date material, and isn't that just the saddest thing? In fact, single friends, do yourselves a favor and marry someone who loves how you smell when you eat garlic. You can thank me later.
For years I bought frozen loaves of garlic bread that you heat in your own oven. I liked them. They weren't amazing, but they were fine. But then I thought it was time that I figured out how to make it with fresh ingredients, even more buttery and perfectly crispy than the frozen stuff.
So here you go, friends! This one's for you!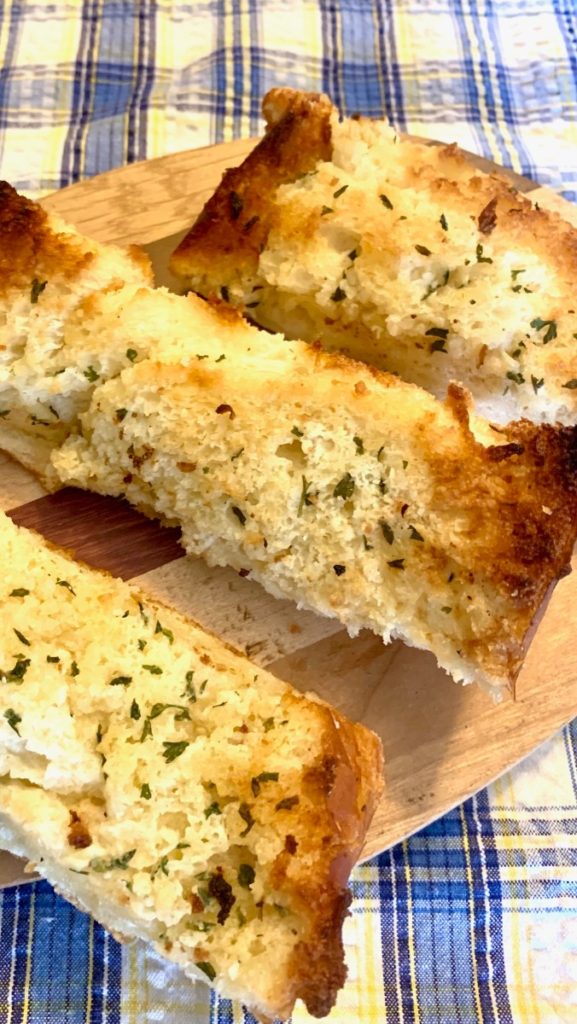 Garlic Bread Digest
Take a fresh loaf of French or Italian bread from your grocery store. You can pick whatever shape you prefer, but I wouldn't recommend a baguette. I think they would be too crispy – too much crust and not enough soft inner bread to soak up the butter.
Cut the loaf across the middle lengthwise, so that you have a top half and a bottom half. and separate the halves onto a baking sheet, cut-side-up.
In a bowl, stir together a softened (not melted) stick of salted butter, one clove of garlic, minced, 1/4 tsp. salt, and 1/2 tsp. of dried parsley. Spread this mixture over both halves of bread, on the cut sides. (I love this garlic press to mince garlic easily!)
Preheat your broiler to 450 degrees. (Did you know that you can set the temperature on the broiler in the oven? Mine automatically turns on to 500 degrees, but I find that turning it down a little bit helps the tops of the bread get perfectly crispy without over-browning.)
Broil your garlic bread for 3-5 minutes. Keep an eye on it. And pay attention to how it smells; that will help you know when it's crisping up. When it starts turning brown in small spots, remove it from the oven.
Cut the bread into strips and serve it with your favorite spaghetti…or lasagna!
Enjoy!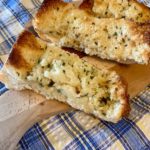 Print Recipe
Garlic Bread
This garlic bread has just the right amount of garlic and butter on a crispy slice of bread.
Ingredients
1

loaf

Italian or French bread (not a baguette)

1

stick

butter, softened

1

clove

garlic, minced

½

tsp

dried parsley

¼

tsp

salt
Instructions
Preheat the broiler on your oven to 450°.

Slice the bread in half lengthwise, leaving a top and a bottom half. Separate the halves, cut side up, on a large baking sheet.

In a bowl, stir together the butter, garlic, parsley, and salt. Spread this mixture over both sides of the loaf.

Heat the garlic bread in the broiler for 3-5 minutes, until it is just starting to brown. (You need to watch it carefully; check it often the first time you make it.)

Remove the garlic bread from the oven. Slice it into strips.