Click below to listen to this post about this lemon cake with blueberry frosting on Candidly Kendra Eats: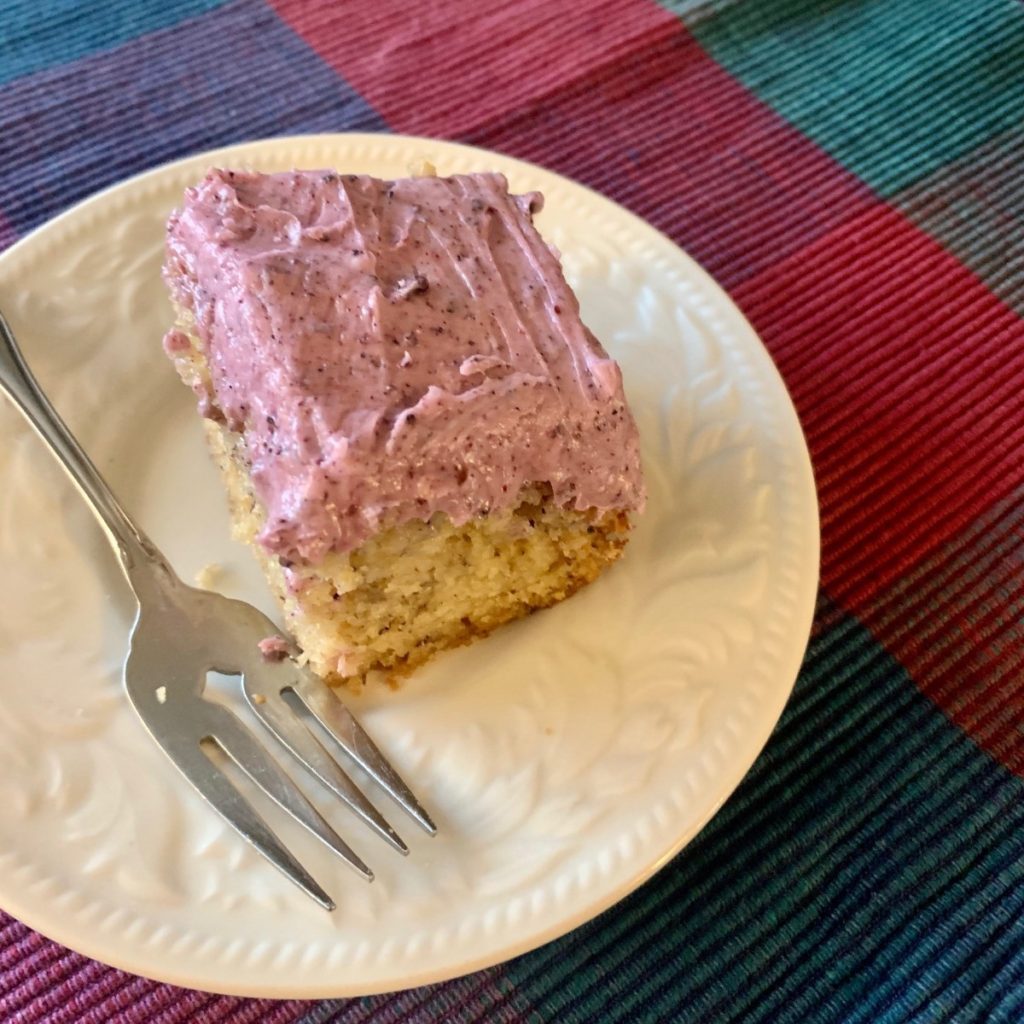 How much does the weather affect what foods you crave? Have you ever thought about that?
In the heat of summer a beef stew sounds…painful. Strawberry shortcake seems strange in January.
But today I'm confused. I don't know what I want! Because it's early in September – still summer by most accounts – but it's snowing! I want chili! I want pumpkin spice! But I also want berries and lemon and barbecue ribs.
Maybe I should look on the bright side: This week I can eat anything! Everything!
For those of you still craving the tastes of summer, today's Blueberry-Frosted Lemon Cake will be just the thing! This unique recipe uses a fine powder made from freeze-dried blueberries to color and flavor a cream-cheese frosting. That luscious, creamy frosting is the perfect topping for a light lemon cake.
I always make sheet cakes to simplify my life, but these would make beautiful cupcakes!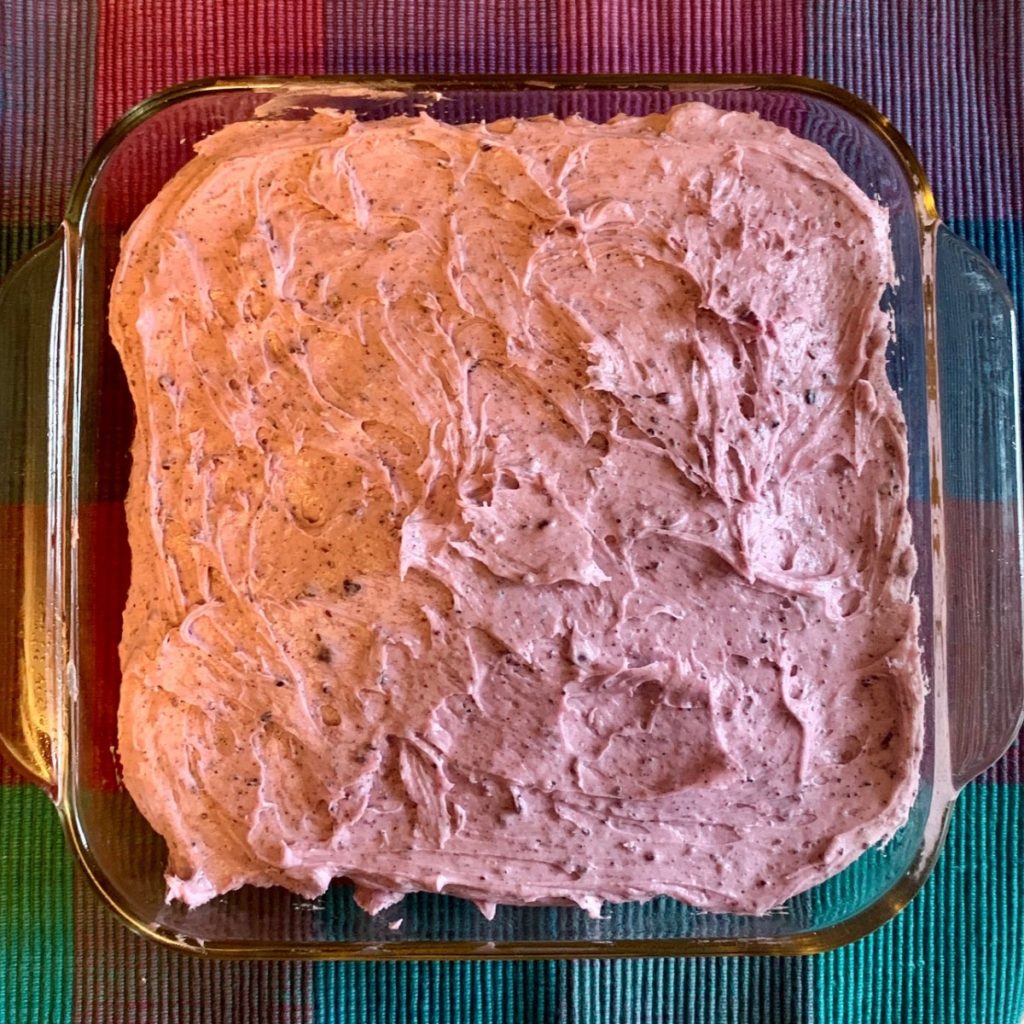 Blueberry-Frosted Lemon Cake Digest
Use a lemon cake mix to bake a cake according to package directions. If you're at high altitude, be sure to include high altitude directions. Then cool the cake.
Blend a package of freeze-dried blueberries (Target carries these) into a fine powder. It's okay to leave some larger crumbs, but I prefer the powder to be as fine as possible.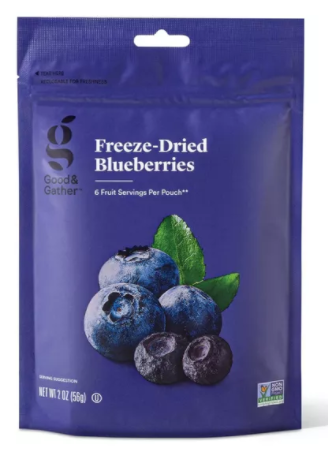 For the blueberry frosting, combine 1/4 cup softened butter, 4 oz. softened cream cheese (Neufchatel cheese works great as well), one teaspoon vanilla extract, one teaspoon lemon juice, one 2 oz. package freeze-dried blueberries, 2 cups powdered sugar, and 1/2 cup milk. Beat these ingredients together well. This frosting is so tasty – and it's a beautiful blue-purple color. (Note: My cake in these photos has a more pink color because this time I used a cherry-blueberry mixture, since that's all the store had this time.)
Spread this frosting on the cooled cake. Refrigerate until serving.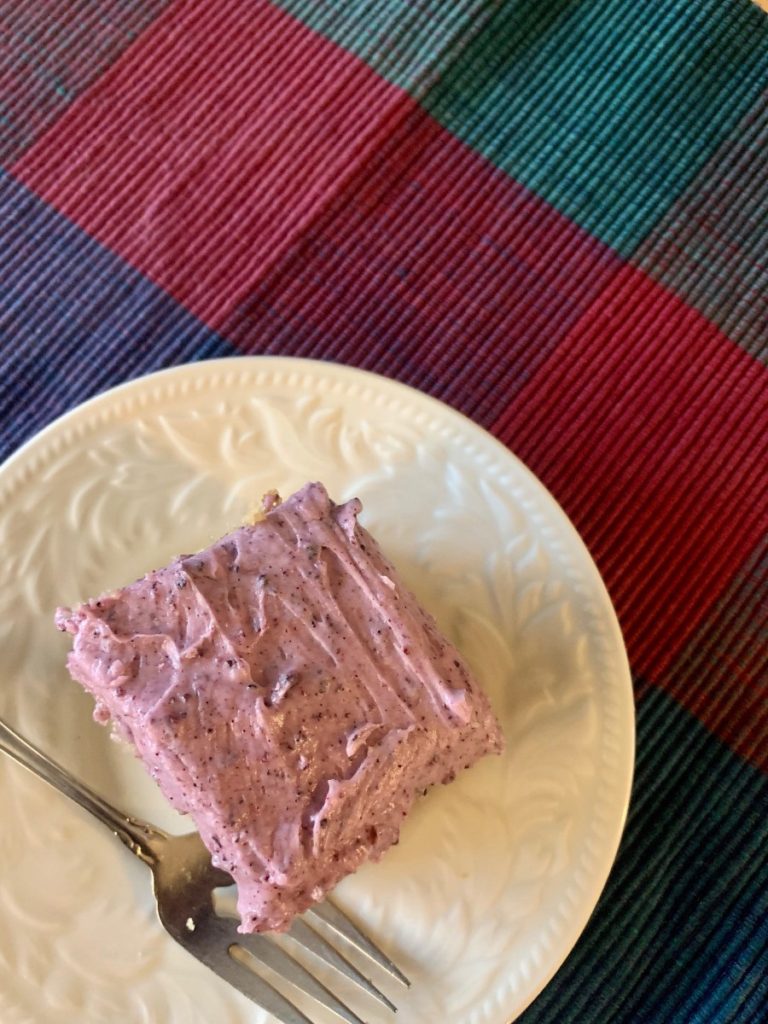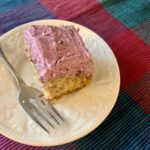 Print Recipe
Blueberry-Frosted Lemon Cake
Lemon and blueberry pair perfectly in this tasty cake with an unexpected frosting.
Ingredients
1

box

lemon cake

½

cup

vegetable oil

3

eggs

¼

cup

butter, softened

4

oz.

cream cheese, softened

1

pkg.

(7 oz.) freeze dried blueberries

1

tsp.

vanilla

1

tsp.

lemon juice

2

cups

powdered sugar

½

cup

milk

½

cup

fresh blueberries, optional
Instructions
Bake the cake using oil, eggs, and water, according to package directions. You can make cupcakes or a 9 x 13 cake. Leave the cake to cool.

Pulse the freeze dried blueberries into a fine powder in a blender.

In a medium bowl, combine butter, cream cheese, blueberry powder, vanilla, lemon juice, and powdered sugar. Add milk to get the frosting to a spreadable texture.

Frost your cooled lemon cake or cupcakes with the blueberry frosting. Decorate with fresh blueberries, if desired.
---