Click below to listen to this post about enchiladas on the Candidly Kendra podcast: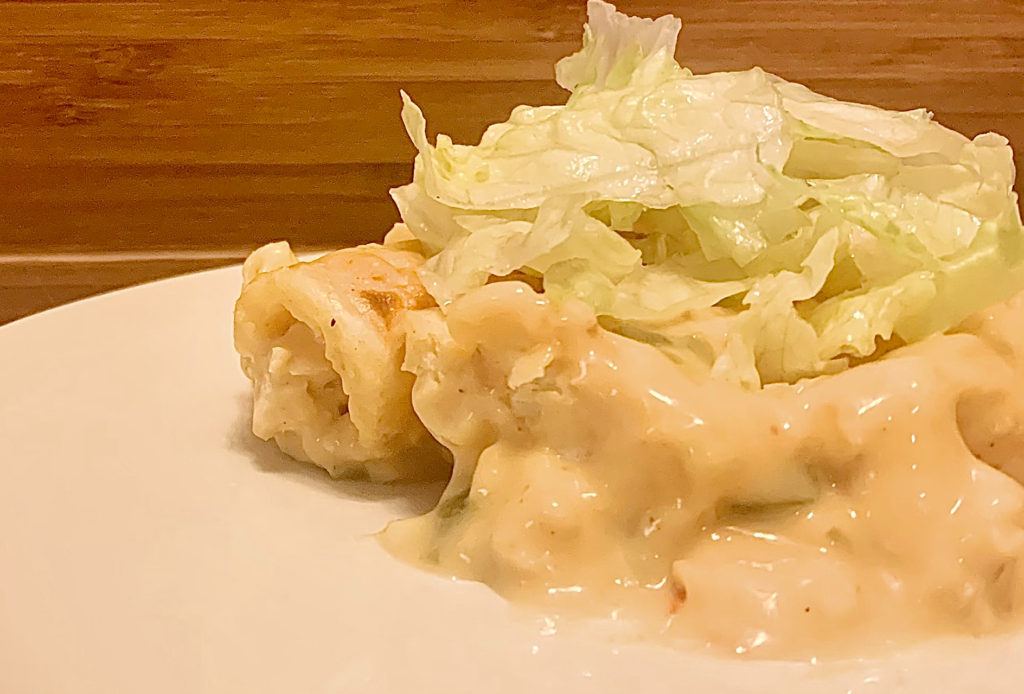 Do you love chicken enchiladas? I do!
And fortunately this is something my family likes as much as I do. (Unlike corn…and romantic comedies. And lipstick.)
In fact, yesterday when I asked my scattered family if those of us who were home should eat without them, Owen replied, "Never eat chicken enchiladas without me."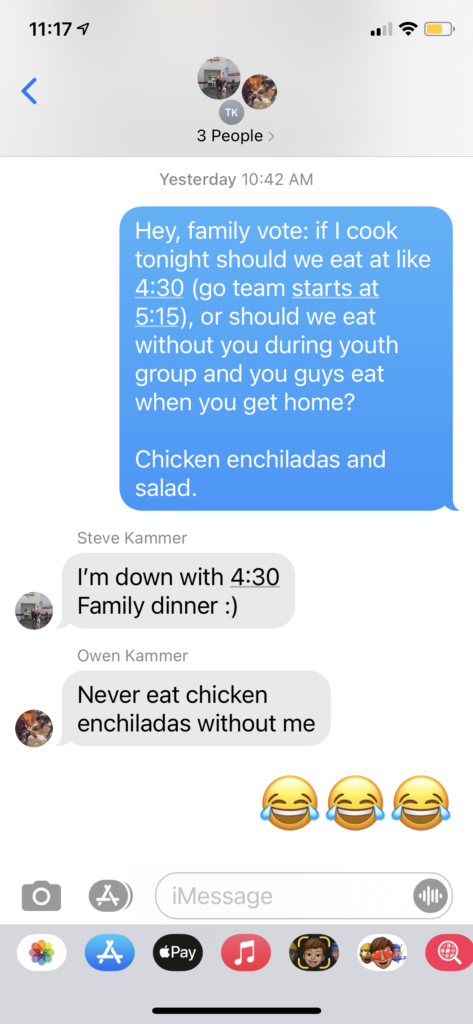 The good news is that my family loves chicken enchiladas any way I make them. Whether I work for hours over the hot stove making the perfect cheese sauce, or if I just throw cans of chicken soup and handfuls of cheese together with rolled up tortillas and chicken, they're happy.
And that, my friends, is the story of how I've discovered the best fancy chicken enchiladas, the best easy chicken enchiladas, and the best super easy chicken enchiladas.
Fancy Chicken Enchiladas
My favorite chicken enchiladas when I have time to really pour my heart into this dish are Pioneer Woman's White Chicken Enchiladas.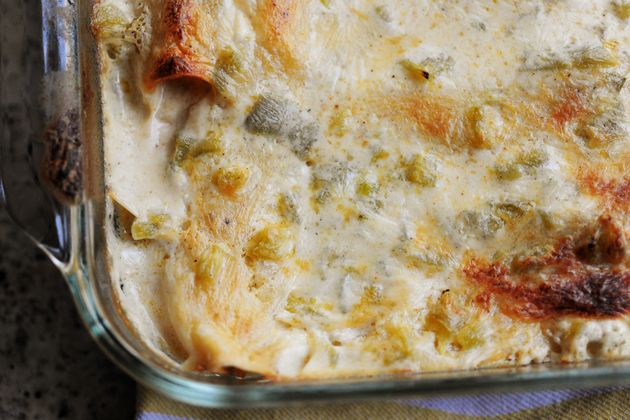 The showstopper of this recipe is the from-scratch queso sauce, made the old-fashioned way, with a roux (flour and butter cooked together), chicken broth, and handfuls of cheese. Then add a good sprinkle of paprika to give the sauce a beautiful golden color.
Pioneer Woman uses corn tortillas, which the purists say are the only tortillas you can use for enchiladas. (They say enchiladas with flour tortillas are really just smothered burritos. Who are "they" you may ask? Well whoever they are, they seem to care a lot more about enchilada purity than I do.)
She also uses a little bit of heavy cream in her chicken mixture, and the result is a decadent, in-law worthy, bubbling pan of cheesy deliciousness.
Check out her recipe here and pat yourself on the back.
Easy Chicken Enchiladas
The easy recipe that I love to make for my family is a recipe that made the rounds through our church when I was a newlywed.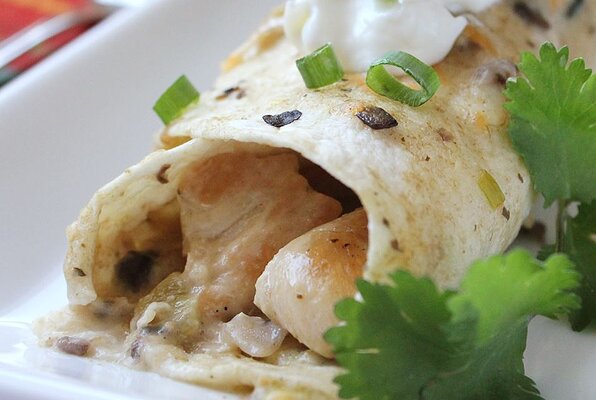 For this recipe you simplify the sauce using a can of cream of chicken soup. The recipe still calls for some stovetop cooking to perfect the sauce, but it isn't quite as from-scratch as the Pioneer Woman's recipe.
It is slightly more kid-friendly with flour tortillas.
Here is the recipe: Chicken Enchiladas II from Allrecipes.com
Super Easy Chicken Enchiladas
And now, my friends, let me make your dinner prep even easier by introducing you to my own Super Easy Chicken Enchiladas.
To save time we don't cook the sauce. Don't worry, it will get plenty hot when the enchiladas bake in the oven.
The sauce is made from cream of chicken soup, sour cream, mild green chilies, chicken broth, and shredded cheddar cheese. Add a few spices: paprika, cumin, garlic powder, salt and pepper.
Then you'll combine cooked chicken with a little of the sauce. You'll roll that chicken mixture up into flour tortillas. And pour the rest of the sauce over the enchiladas in the pan. Bake for 30 minutes, then top with more cheddar cheese.
I think you'll love these – maybe even as much as Owen does.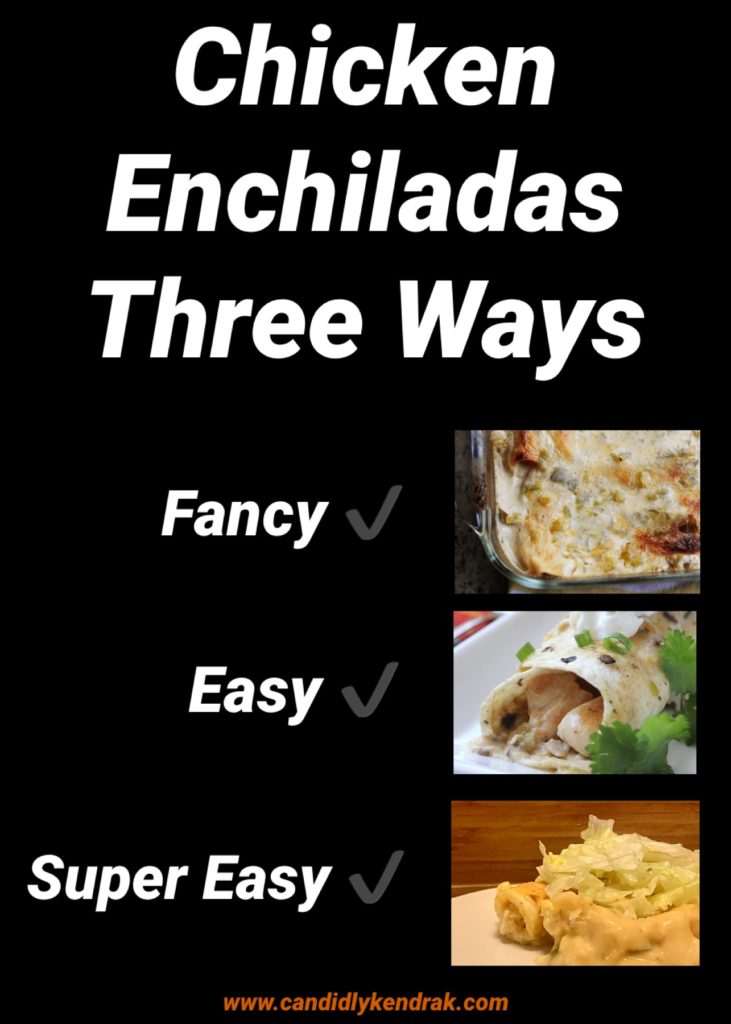 Cooking Chicken for Enchiladas
You have some options for the chicken side of this recipe:
Cook frozen tenderloins in an instant pot. Put 1 cup chicken broth in your instant pot. Place 9 frozen chicken tenderloins on the rack in the instant pot along with a little salt. Set to Manual – 6 minutes. When it's done, quick pressure release. Chop your cooked chicken and use the remaining broth in your sauce. (Difficulty level 4/10. Flavor 7/10.)
Cook thawed chicken on your stove. Place chicken pies in a large shallow pan along with some salt. Bring to a boil. Cover and reduce heat to medium-low. Cook for about 15-20 minutes (depending on thickness of the chicken) until cooked through. Chop your cooked chicken and save 1 cup broth for your sauce. (Difficulty level 5/10: may require thawing. Flavor 7/10.)
Saute your chicken. Cut thawed chicken into bite-sized pices. Pour 1 tbsp olive oil into a large non-stick skillet. Heat the pan over medium-high heat. Add the chicken and the spices from the sauce recipe. Cook and stir until cooked through, about 10 minutes. (Difficulty level 7/10. Flavor 9/10.)
Use canned chicken. Open 3 12.5-ounce cans of chicken. Drain. Use a spoon or your hands to break apart the pieces of chicken. (Difficulty level 1/10. Flavor 5/10)
Use rotisserie chicken. Use your fingers to pull the meat off of one rotisserie chicken. Do not use the skins for this recipe. Chop the meat into bite-sized pieces. (Difficulty level 3/10. Flavor 10/10.)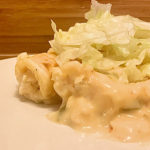 Print Recipe
Super Easy Chicken Enchiladas
You didn't know enchiladas could be this easy and taste this good!
Ingredients
For the Cheese Sauce
1

can

cream of chicken soup

½

cup

sour cream

1

cup

chicken broth

1

can

(4 oz.) diced mild green chilies

¼

cup

salsa (red or green)

½

tsp

paprika

½

tsp

cumin

¼

tsp

garlic powder

1½

cups

shredded cheddar cheese
For the filling
2

cups

chopped cooked chicken

sauce, above
Additional
10

small (6-8 inch) flour tortillas

1½

cup

shredded cheddar cheese

1

avocado, sliced

½

head

lettuce, chopped and rinsed

olives, tomatoes, as desired

salsa, sour cream, as desired
Instructions
Make the Sauce:
In a medium bowl, combine all of the sauce ingredients.
Make the Filling:
Mix chicken with 1 cup of the sauce.
Assemble & Bake Your Enchiladas
Preheat oven to 350°.

Fill each tortilla with ¼ cup filling down the center. Roll up and place seam-side down in a greased 9×13 baking dish.

Pour the remaining sauce over the enchiladas.

Bake the enchiladas for 30 minutes.

After baking, top the enchiladas with 1½ cup cheese.

Serve with avocado, lettuce, olives, tomatoes, salsa, and sour cream, as desired.
Notes
*See post for tips on cooking chicken