Click below to listen to this post about Alexandra's Classic Chili on the Candidly Kendra podcast.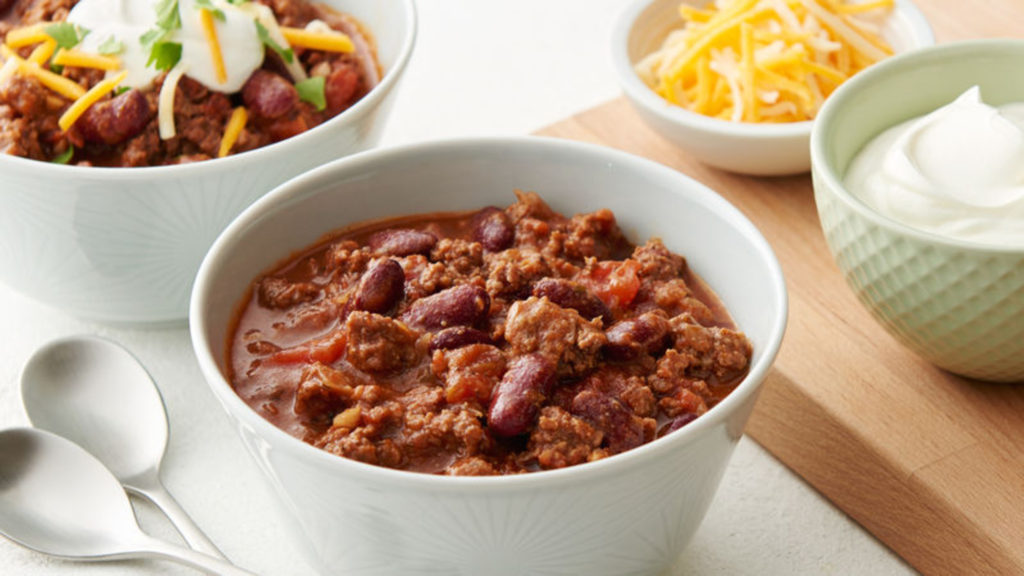 I love to go to Alexandra's house. For one thing she lives out in a small town nearby that I really enjoy visiting. Sometimes it's just nice to get out of the hustle and bustle of the city and pretend that life can move more slowly.
But for another thing, Alexandra is a great cook. I always enjoy whatever meal she serves us.
The last time we visited she served this classic chili recipe. We piled on the chips and cheese and avocado – our favorite chili toppings – and it was mouthwatering. Steve asked for the recipe, which Alexandra always gives out willingly, and I've made it almost weekly for the past six weeks.
Seriously, we can't get enough of this chili!
We like it mild, but you can adjust the spices according to your own preference.
This recipe comes together in about 30 minutes, but, like all great chilis, it tastes even better if it sits longer, so save your leftovers!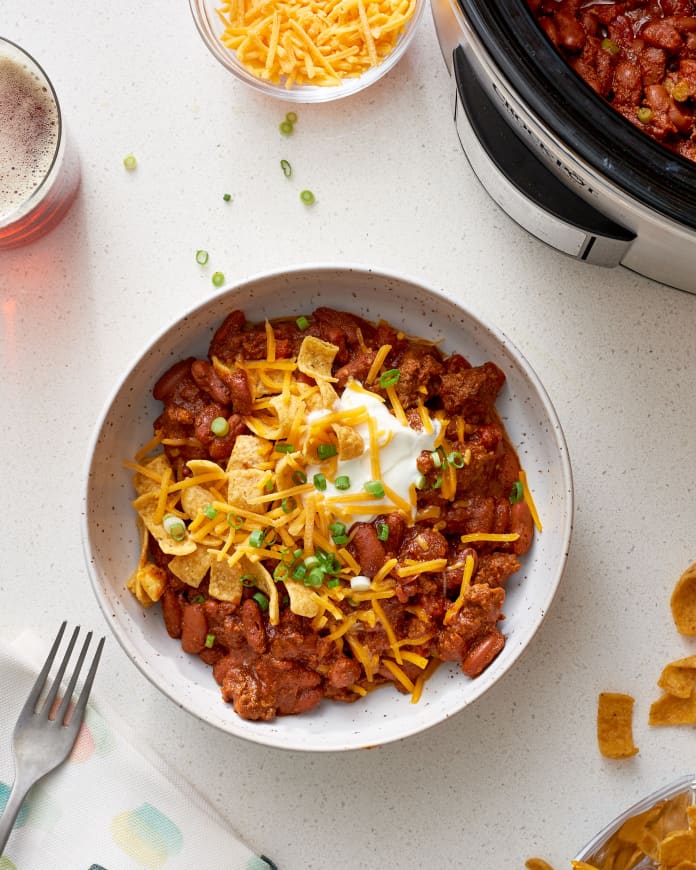 Alexandra's Classic Chili Digest
Start by browning one pound of ground beef and half of an onion, chopped, in a pot. Drain the beef when it is cooked through.
Add 1 tablespoon chili powder, 1 teaspoon salt, 1/4 teaspoon garlic powder, 1/4 teaspoon black pepper, 1/8 teaspoon cumin, and 1 tablespoon white vinegar.
Next, stir in a can of tomato sauce and 2 cups of water.
And finally, add 1 can of drained and Ranch style beans
Simmer the chili for 20-30 minutes over medium heat, stirring often, to thicken it up.
Alexandra's recipe says to serve the chili with slices of apple, slices of cheddar cheese, and cornbread. Which makes me wonder, what do you serve with cornbread in your home?
I like Fritos best on top of my chili.
Steve likes tortilla chips.
The kids, on the other hand, major in the Fritos. They put a little chili over the top of their chips, add a lot of cheese, and melt it in the microwave.
I'm glad that chili is a meal that we can each appreciate in our own favorite way!
Here is the recipe for you and your family to enjoy!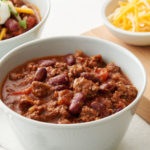 Print Recipe
Alexandra's Classic Chili
This classic red chili comes together quickly for a chilly winter evening. Serve it your way with the toppings and sides that you like best!
Ingredients
1

lb

ground beef

½

onion, chopped

1-2

tbsp

chili powder*

1

tsp

salt

¼

tsp

garlic powder

¼

tsp

black pepper

⅛

tsp

cumin

1

tbsp

vinegar

1

can

(15 oz.) tomato sauce

1

can

ranch style beans, drained

1

cup

water

chips, cheese, avocado, sour cream, etc., for topping
Instructions
In a large pot, cook ground beef and onion over medium high heat on the stove, stirring constantly, until cooked through. Drain.

Add spices and vinegar and stir well.

Add tomato sauce, beans (drained), and water.

Bring to a boil over high heat. Then reduce the heat to medium-low and simmer for about 30 minutes, stirring occasionally, until thickened. Add more water as it cooks if it starts to get too thick.

Serve with chips, cheese, sour cream, and avocado.
Notes
*Note: We like our chili mild. We use 1 tbsp. chili powder. Increase the chili powder according to your own preference.
**Other interesting toppings include: corn, grated dark chocolate, cilantro, jalapenos, chives, and crumbled cornbread.
---
Other Great Recipes for A Winter Evening