Click here to hear about this recipe for chicken chili on Candidly Kendra Eats:
When I needed to serve lunch to forty women during an offsite women's retreat without the use of a kitchen, guess what I made?
When I needed to serve dinner to my extended family after spending the entire day at the lake, and I didn't want to miss the fun while cooking, guess what I made?
If you guessed that I made my Chicken Chili recipe, you would be right!
I was pointed to this recipe by a friend who served it to our family a couple years ago. She mostly followed this recipe from Allrecipes.com. But she made a few substitutions.
Then, following the procedure of most cooks, I took that recipe and ran with it, further making it my own. I simplified it even more, so that I could throw together a meal for about 20 people in just about 5 minutes. Literally. …Well, five minutes plus heating time (which depends on the style of heating you use. Keep reading to see what I mean).
This recipe is simply a mishmash of chicken, tomatoes, corn, and beans with a base of salsa verde and chicken broth. When I make it, everything comes from a can. That's why it's so easy to serve to a crowd. But don't let that scare you. Everyone loves it! And everyone makes their bowl of chili in their own special way:
I crumble lots of chips and cheese over the top, and add sour cream and a few chunks of avocado.
Steve adds avocado and cheese and dips his chips in the chili one at a time.
My teenagers make a a plate of nachos, and this chili is the topping.
And Kai makes a plate of nachos and skips the chili altogether, because he's nine and he's picky. (I don't mind because then we have lots of leftovers and I eat it all week and I never get tired of it.)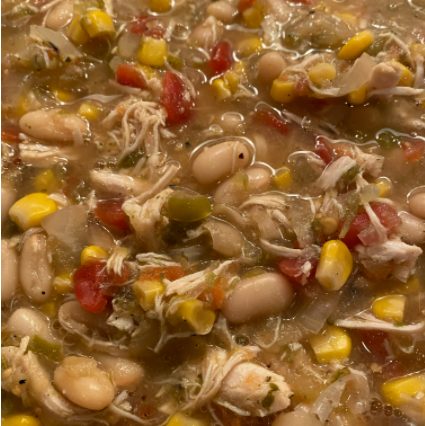 My Chicken Chili Digest
First of all, choose how you will cook your chili.

If you have 4 or more hours, use a crockpot.
If you have 1 hour, use the stovetop.
If you have 30 minutes, use an instant pot.

Set a large colander in your sink. Into the colander, dump a can of cannelini beans and rinse them. Then add a can of corn and two cans of chicken (12.5 ounces each). (Personally, I like to break up the chicken with my hands.) Dump that all into your crockpot, a large pot for the stove, or your instant pot.
Add one can of diced tomatoes, a 16 oz. jar of salsa verde, a can of chicken broth, 1/2 teaspoon of oregano, 1/2 teaspoon of dried minced onion, and a sprinkle of pepper.
Heat it up and let those flavors blend.

Crockpot: 4 hours on high; or 6-8 hours on low
Stovetop: Bring to a boil, then reduce heat and simmer for 45 minutes
Instant pot: Manually set for 2 minutes pressure cooking. After timer goes off, release pressure manually.

Serve it up with chips, shredded cheese, avocado chunks, salsa, and sour cream.
If you prefer you can use chicken breasts. Use your crockpot and lay chicken breasts over the top of the other ingredients. After the cooking time is up shred the chicken and return it to the pot before serving.
To add some spice, substitute diced tomatoes with green chiles for the regular diced tomatoes, and serve with slices of jalapeno.
How do you think you'll eat it?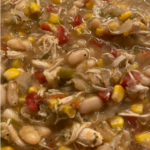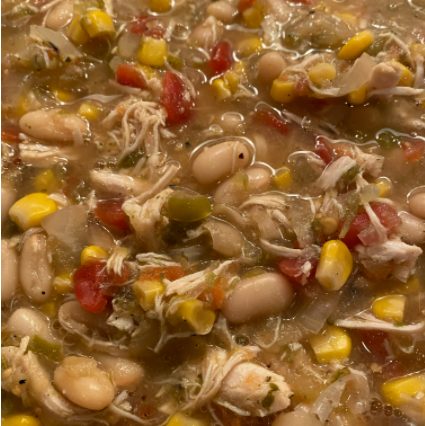 Print Recipe
Easy Chicken Chili
This recipe gets rave reviews! Eat it your way with chips, cheese, sour cream, or avocado…or all the above!
Ingredients
1

can

(15 oz.) cannelini beans, drained and rinsed

2

cans

(12.5 oz. each) canned chicken, drained and chunked into smaller pieces*

1

can

(14 oz.) corn, drained

1

can

(15 oz.) diced tomatoes**

1

can

(14.5 oz.) chicken broth

1

jar

(16 oz.) salsa verde (green salsa)

½

tsp

oregano

½

tsp

dried minced onion

¼

tsp

pepper
Toppings (optional)
tortilla chips

shredded cheddar cheese

sour cream

diced avocado

salsa
Instructions
Add all the ingredients to the cooking pot that you would like to use. (See below)

Cook in crockpot: 4 hours on high, or 6-8 hours on low.

Cook on stovetop in a large pot: Bring to a boil, cover and simmer 45 minutes.

Cook in instant pot: Pressure cook manually for 2 minutes. (Allow for approximately 15 minutes to come to pressure.) Release pressure manually.
Notes
*To use chicken breasts, use a crockpot. Place 2-3 chicken breasts on top of the other ingredients. Before serving, remove chicken, shred it, and return to pot.
**For additional spice, use diced tomatoes with mild green chiles. Serve with jalapeno pepper slices.