Click below to listen to this post about bring a friend on the Candidly Kendra podcast: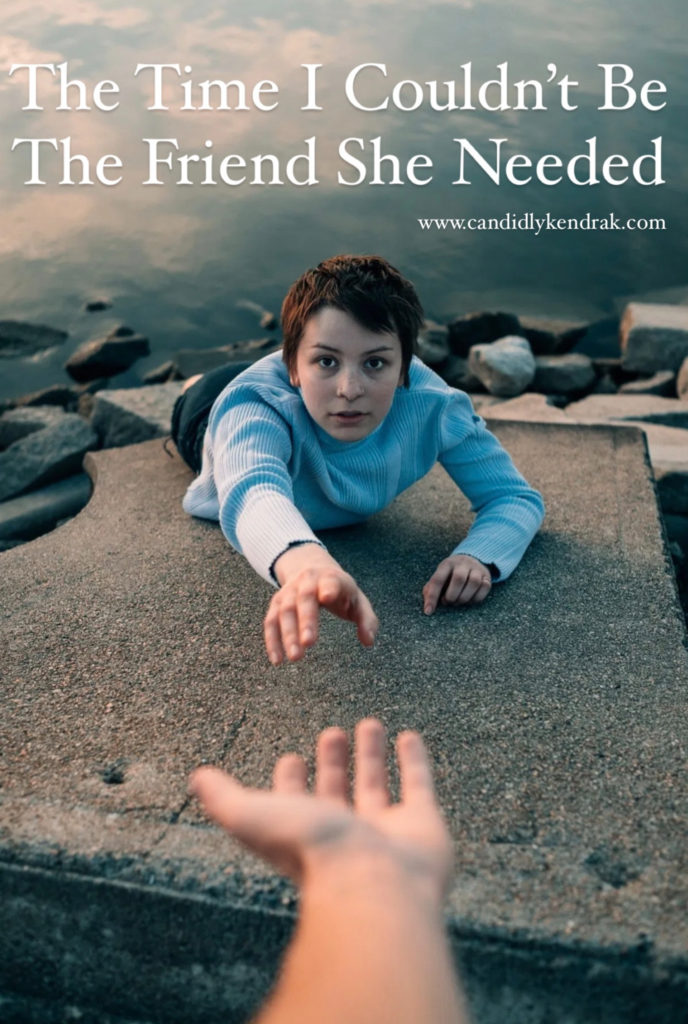 She wrote me because she trusted me. She was a friend from a few years back. We had met many times over coffee to talk about our lives and our struggles, our hurts and our joys. I watched her fall in love and get married. It was an honor to be her friend and a trusted confidante.
When she moved away to a new life with her new husband we became Facebook friends. Does it sound like I'm saying that with air quotes? I don't mean it that way. I still loved her, though I was watching her life from afar.
She is one of those unicorns on Facebook who is very honest about her struggles, and she had many. She endured the loss of lives that meant the world to her, and I saw how badly she hurt. She admitted that she was struggling mightily with mental illness, and I began to pray for her, though not as often as I wished I would. And then she admitted that she was angry at God.
No, wait, I think that's wrong. She said she was angry at the church. My church. The church where I met her.
She is a gifted writer and she started a blog, sharing her heart with the world. The venom of her anger at my church twisted like a knife every time I read her words. Her animosity took my breath away.
I admit freely now that I could hardly separate her anger with the church from her anger at God. She fought ferociously with the mighty pen against the spiritual doctrine I held dear. Every attack on that doctrine felt like an attack against God, and an attack against me.
And then she wrote me a letter.
She asked me to walk with her through some of her questions about the biblical doctrine she had grown up learning at our church. I was honored that she trusted me with this task and I prayed for wisdom and gentleness. We talked for several days in messages back and forth. I realize now that in her own way she was testing me. She was introducing me to the depth of her thoughts a little bit at a time to see if I was a safe person.
One day she released those thoughts in a torrent of weighty words. I read her message. Then I read it again. There was so much feeling. There was so much hurt in her words. I wanted to honor her by answering well. I said to myself, I'll answer her tomorrow.
And I didn't. I didn't answer her that day, or the next. Or the next.
I took my mom to chemotherapy appointments, and made medication lists to help my dad, and I completely forgot to write to my beloved friend.
…Four Months Later…
One day while I was reading a book I thought of my friend. I thought, she would love this. It was a book about Madeleine L'Engle, who was described in ways that spotlighted her sincere, yet untraditional faith. (A Light So Lovely, The Spiritual Legacy of Madeleine L'Engle, Author of A Wrinkle in Time by Sarah Arthur)
Completely unaware of the way I had hurt my friend, I wrote her again. (I had so completely forgotten the thread of our former messages that I thought she was the one who never answered. Guys, I can be so clueless sometimes.)
First she expressed to me how much it had really hurt her when I never responded to her heartfelt message. I apologized and she graciously accepted my apology, and our conversation resumed.
But this time my heart wasn't in it. As she tried to dive in and explain her scars and wounds from the church, this time I myself was wounded and scarred.
I had just heard that my mom's cancer had returned. She wouldn't be pursuing any treatment. She wouldn't live much longer.*
And Steve and I had just been betrayed by someone very close to us in a way that would change the trajectory of the future we had hoped for. Our dreams were crushed. In a very real way it felt like our lives were ruined.**
Unconscious of these things, my friend bitterly attacked the only thing I felt like I had left: my faith. At first I put on my customer service persona and tried to mollify her.
Well, she's too smart for that.
So then I let her have it. I told her about the ways I thought she was wrong. And I didn't do it well. I just dumped my opinions on her, like an immature internet troll.
She was angry. But worse, once again she was hurt by a Christian. And that Christian was me.
She stopped writing me.
Where's The Happy Ending?
Well, it hasn't ended yet. I still hurt every day and still don't feel like I have the mental energy and spiritual strength to stand up against her mighty pen.
I haven't apologized yet. We haven't made up because this isn't a sitcom where everything is tied up with a bow in 21 minutes plus commercials.
But I think about her almost every day. I love her.
I know she didn't mean to hurt me. And I'm so sorry I couldn't be the friend she needed.
Heavenly Father, please be the friend to her that I have failed to be.
Bring It Home
Have you ever been hurt by a friend who couldn't give you the care you needed? What did you do then? Where did you turn next for help?
Have you ever failed to be the friend someone needed?
Is there someone you need to apologize to? How will you respond if they choose not to accept your apology?
Do you need to ask God for forgiveness for the way you sinned against a friend? Do you need to forgive yourself?
---
*It's been two months since that news, and so far mom is doing very well. Please pray for her!
**This is still difficult for Steve and I. Please pray for us!
---
Subscribe Here To Keep Up With Candidly Kendra's New Posts!
---
Related Posts: