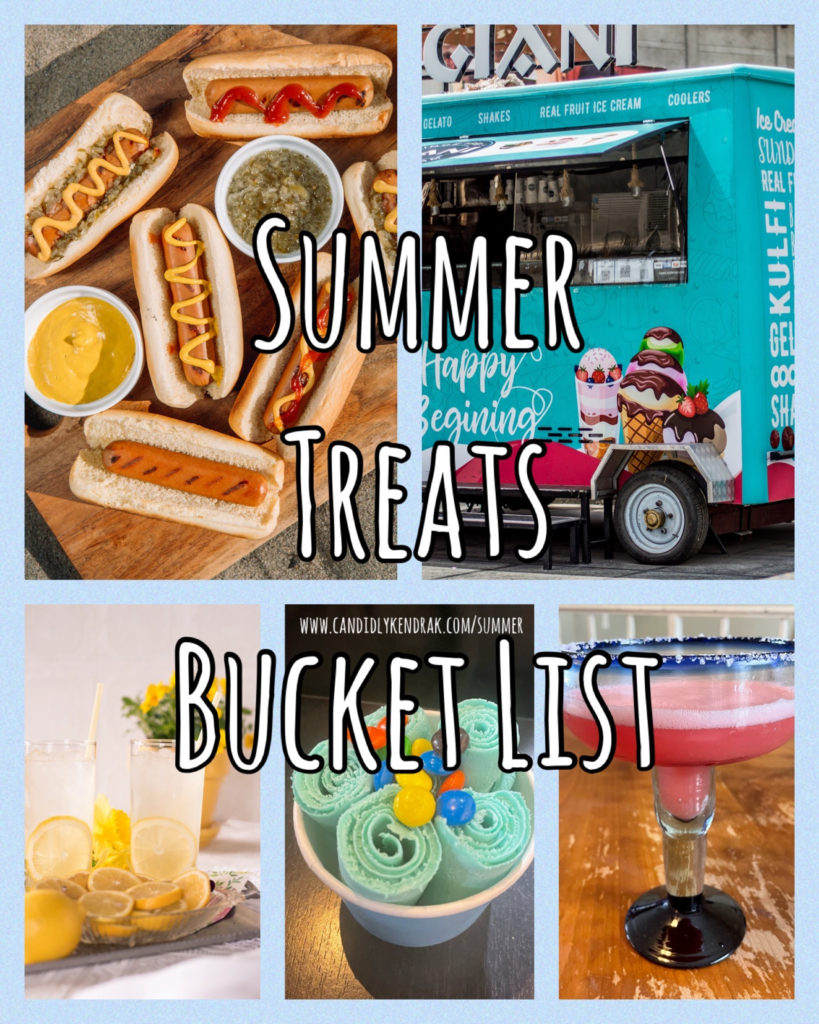 We all remember the delight of summer.
No more pencils,
No more books!
No more teachers' dirty looks!
Mornings to sleep in. Days to wander the neighborhood with our friends. Pool parties! Cookouts! Popsicles!
Twenty-five years after my last last day of school, the summer still holds its magic. My favorite way to capture the magic of any season is through its flavors.
This summer I've created a bucket list of summer flavors:
1. Ice Cream – Thai Rolled Ice Cream ✅
It's a summer miracle! I've been lactose intolerant since I was 16 years old. And suddenly…I'm not! I have no idea what is going on, but…bring on the Ben & Jerry's! Baskin Robbins, here I come! And when in Heaven's name will someone reopen Michelle's downtown ice cream shoppe?
This summer, if you are looking for a new ice cream treat to enjoy, do yourself a favor and find some Thai rolled ice cream. A liquid cream mixture is poured onto a frozen board, then kind of stir-fried with whatever toppings you love and spread thin to freeze into ice cream. Finally, it's scraped off of the frozen board in such a way that it rolls up, gets topped with your favorite toppings, and served with a spoon.
Fun to watch and so yummy!
2. Something Fresh and Fruity✅
I remember the day I ate a perfect plum. When I bit into that juicy red plum it was a thing of delicious beauty. Every plum since has been held up to that standard.
Summer fruit is its own food category. Entree, side dish, dessert, and summer fruit.
It calls to you from the farmers market booths, the tantalizing smells leading you by the nose. Peaches and plums. Pineapples and cuties. Watermelon and cantaloupe.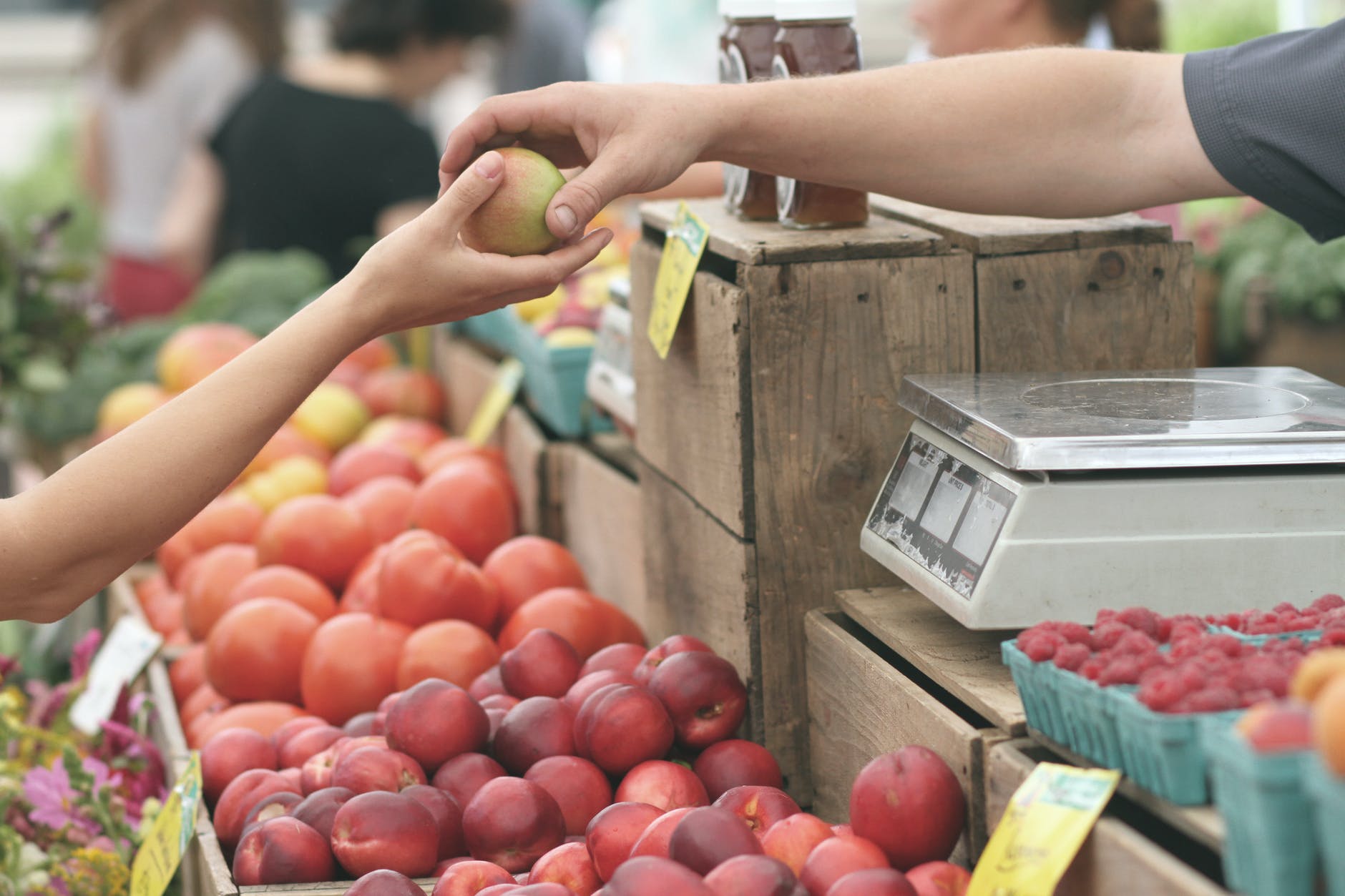 Most of the year I like to make fruit salad. I stir in yogurt or cool whip or sugar. But in the summer I usually eat fruit as fresh an unadorned as I can.
Or I make something surprising, like this Watermelon Margarita.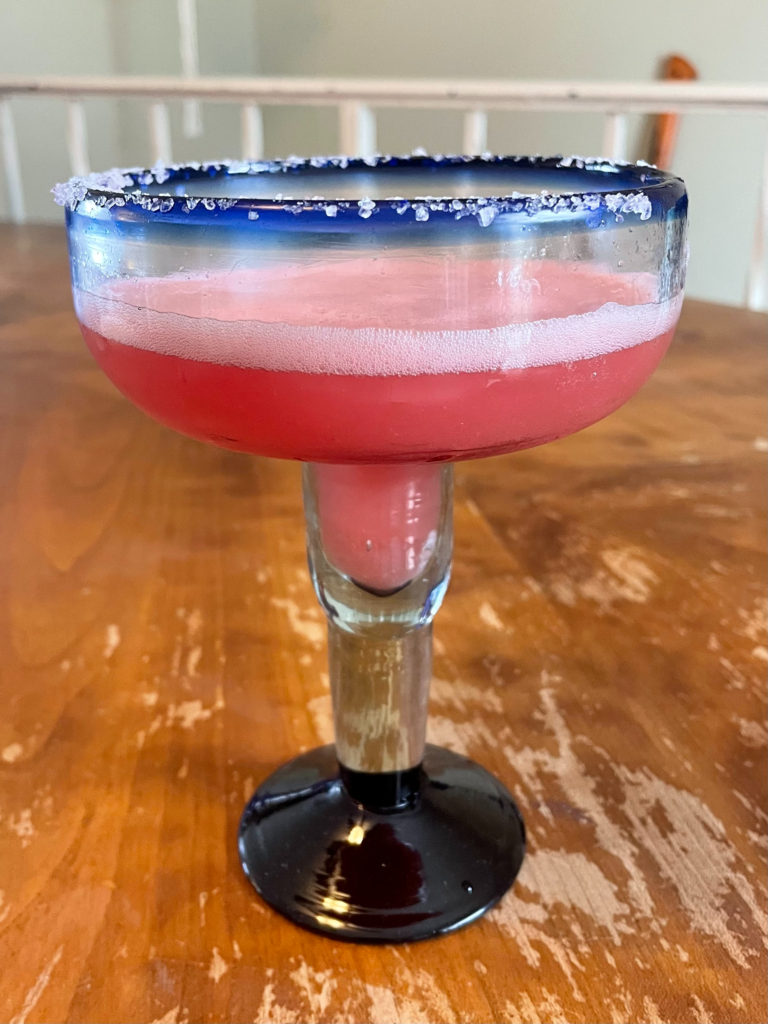 3. Popsicles From An Ice Cream Truck
Last year Kai had one unchecked box on his bucket list. We never found an ice cream truck! I hope in these post-COVID days that our ice cream trucks haven't gone the way of the dingo.
We will be on the lookout for an ice cream truck this summer so we can get something ridiculous like a Spongebob popsicle or the classic bomb pop.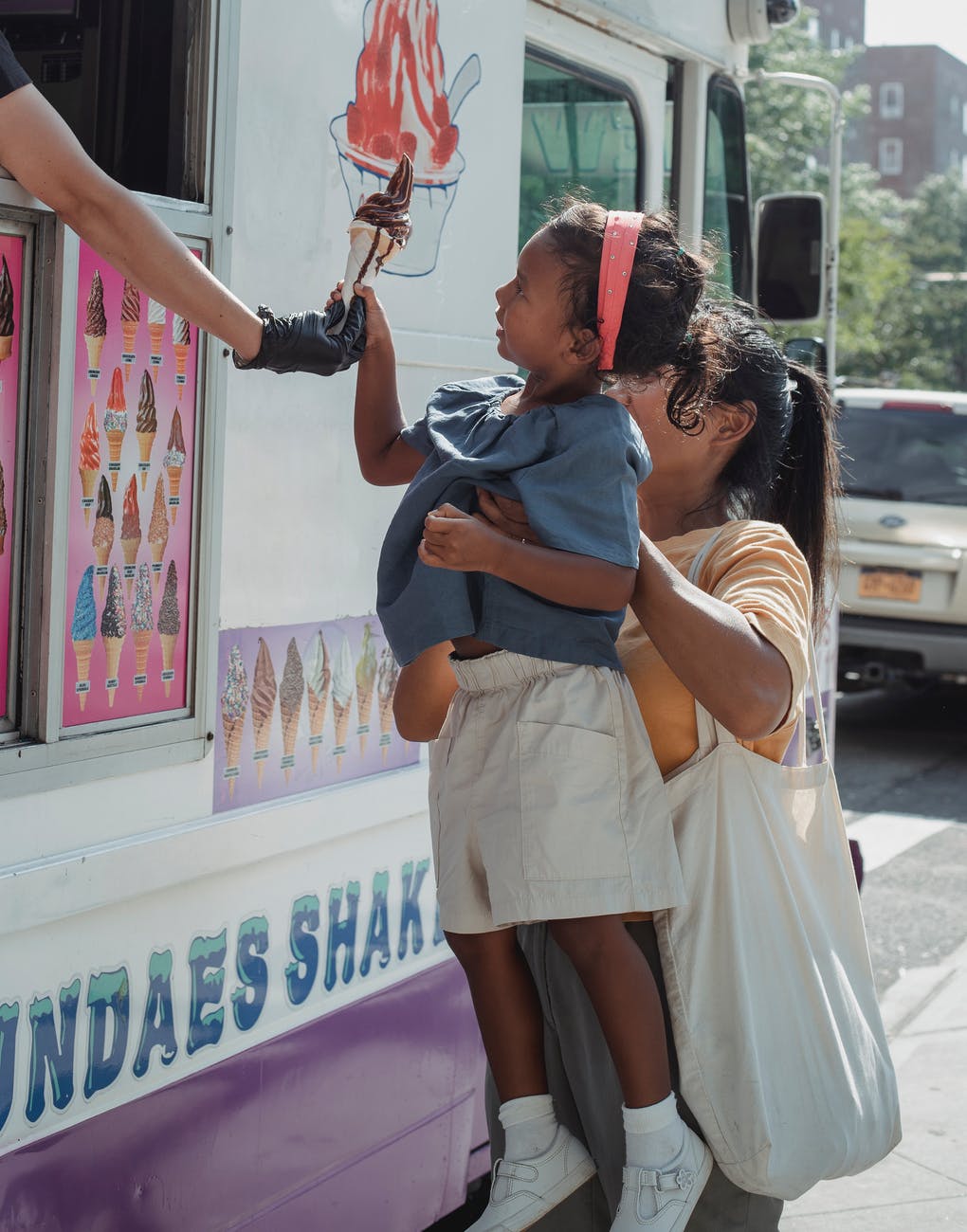 What would you get from an ice cream truck?
4. Sweet Lemonade
There is something so delightful about a cup of fresh-squeezed lemonade.
Don't get me wrong – I'm a Coca-Cola girl, through and through, but when the birds are chirping and the sun is shining I start to crave a drink that matches that mood.
That's when I break out the fresh-squeezed lemonade.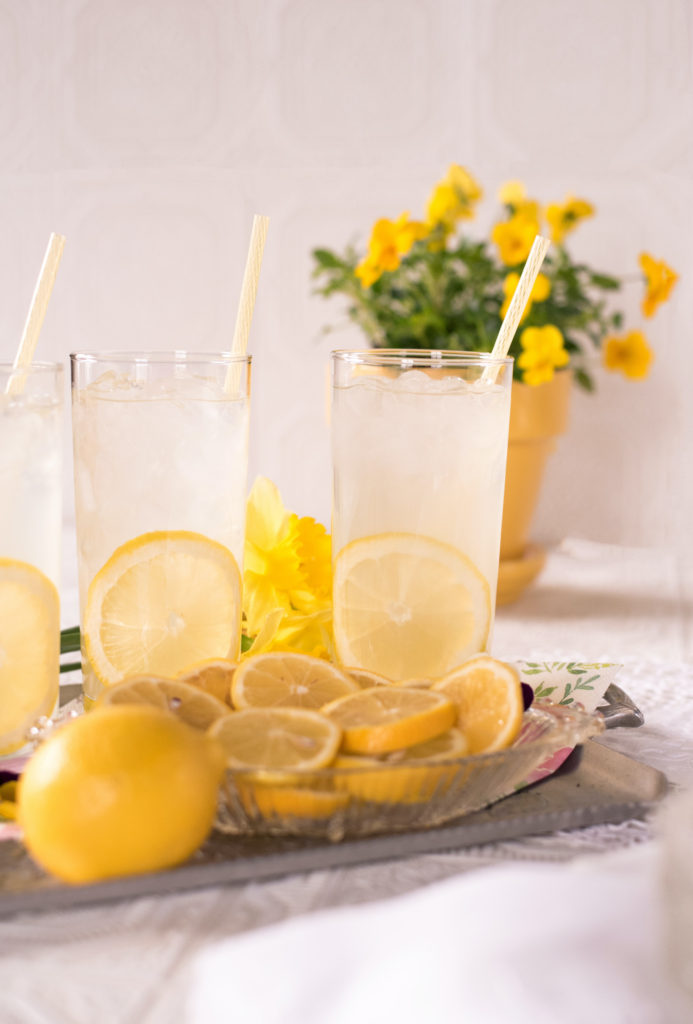 Here's how I make it: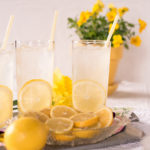 Print Recipe
Fresh-Squeezed Lemonade
Such a great way to appreciate the little things in life – things like pretty yellow lemons and summery pitchers of cool, refreshing beverages.
Ingredients
⅓

cup

fresh-squeezed lemon juice (appx 2 large lemons), strained

½

cup

sugar

ice

4

cups

water
Instructions
For best results, mix the sugar with ½ cup of water. Microwave for 1 minute, and then stir well until the sugar is dissolved to make a simple syrup.

Fill a 2 qt. pitcher halfway with ice. Add lemon juice. Then add the simple syrup. Finally add 3 1/2 cup water. Stir well.
Notes
Consider blending your drink for a tasty frozen lemonade.
For a special touch, garnish your drink with lemon slices and fresh mint leaves.
5. A Backyard Cookout✅
What would summer be without a backyard cookout and a game of cornhole?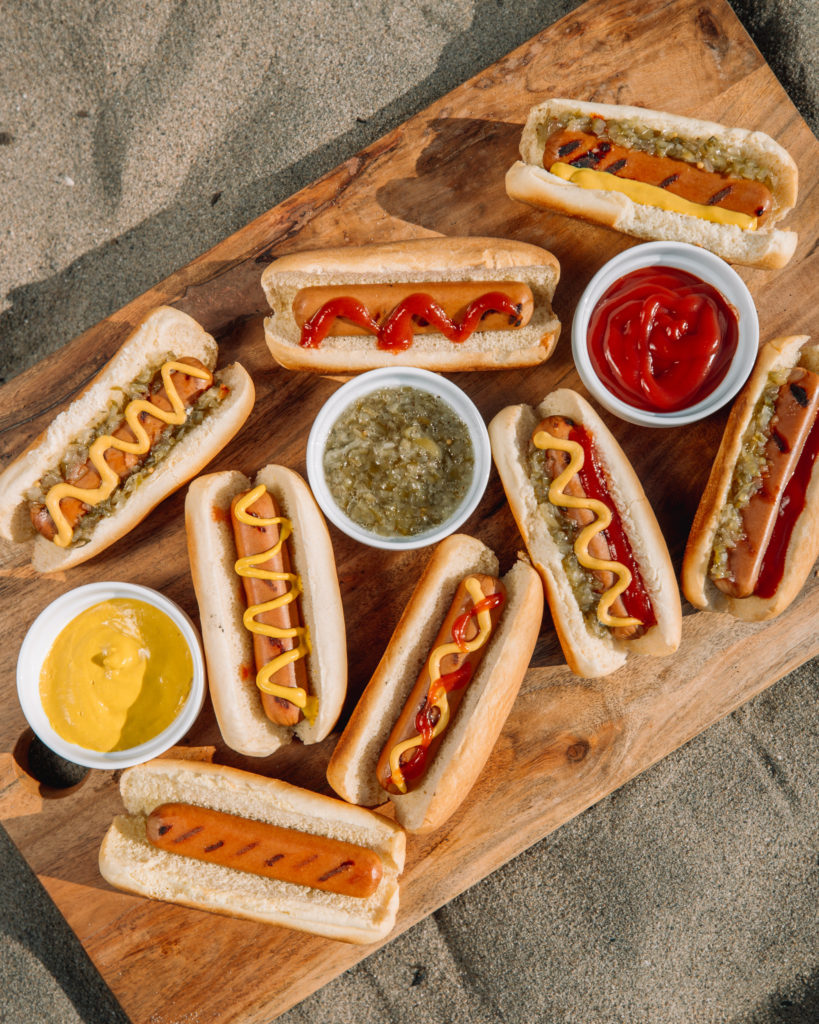 This summer my bucket list included a creative hot dog bar. We offered hot dogs and buns with a variety of toppings for our guests to make their own favorite creation.
We offered these suggestions:
The Ballpark Dog: ketchup, mustard, relish
The Chili Dog: chili, chopped onions, shredded cheese
The Nacho Dog: nacho cheese, jalapenos
The Chicago Dog: mustard, relish, chopped onions, sliced banana peppers, tomato slices, pickle spear, celery salt.
Which one would you try? Or would you color outside the lines and make a new creation?
My favorite was the Chicago dog. I'm not sure mine was entirely authentic, but it was incredible! Now I may be beginning to understand why they are so popular!
The runaway hit of the party, though, was the Nacho Dog!
Chips, watermelon, and lemonade rounded out that summertime cookout.
Your Summer Treats Bucket List
What am I missing? What else is on your summer treats bucket list?