Click below to listen to this post about the things that help us remember God on the Candidly Kendra podcast: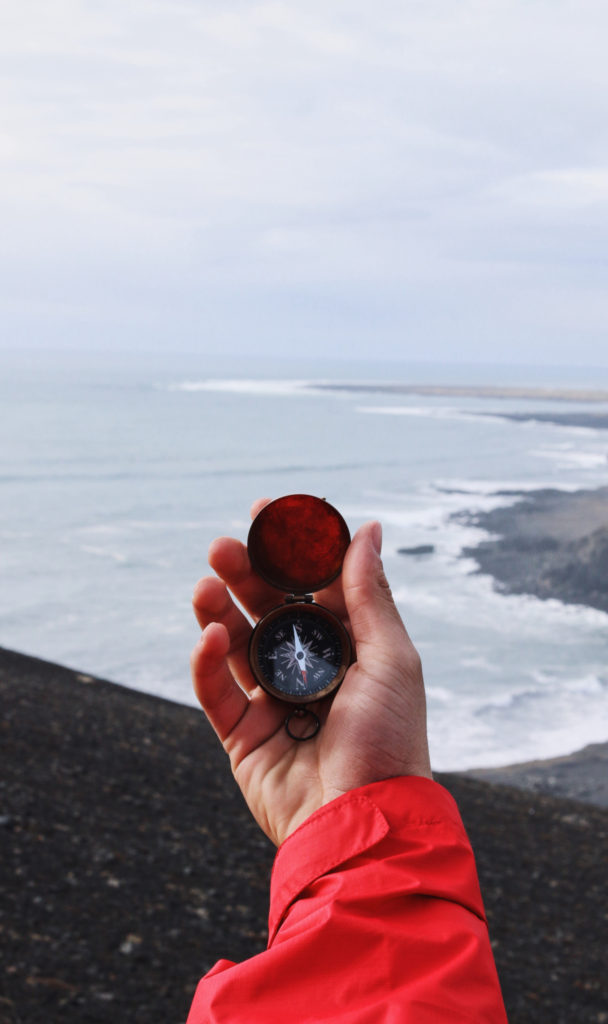 I have a terrible memory. When I meet a new person I'm apt to forget what they looked like. I hate it, but it's true. What that means is that I may meet you and like you and have a wonderful conversation with you, but the next time I see you I may walk on by as though we'd never met.
Have you ever heard of "prosopagnosia"? Maybe I have that. I wish I did, because at least then I'd have an excuse.
I don't think I'm the only forgetful one. I know I'm not, actually. The reason I'm so sure of that, in fact, is that the Bible is full of God's commands to remember:
Because of my terrible tendency to forget, and because I really don't want to hurt my new friends' feelings, I have to make a serious effort to remember.
Often, after making a new friend, I'll write their names down along with a description that will help me remember. Usually just that small effort to remember is all I need. Once I write: "Sarah – curly, glasses" I remember. I rarely even need to refer back to those notes.
God knows that we forget. He knows that we need to have reminders built into our spiritual lives so that we won't forget. Or that when we do forget with the help of the Holy Spirit (John 14:26) and healthy spiritual practices we'll remember again.
Reading the Bible helps us remember the bigger picture. The sacraments, such as the Lord's Supper, help us remember what Jesus did for us. Prayer helps us remember that God is in control.
But another practice I have found that helps me remember how God has worked in my life is to build mental memorials – signposts to remind me of God's presence and love for me. Something to remind me that "God was here."
---
Subscribe Here to Keep Up With Candidly Kendra's New Posts!
---
"God Was Here"
God's presence was with his people as they crossed over the Jordan to enter the land that he had promised to them. He told them to build a memorial to remember that he had been with them.
"So when the people broke camp to cross the Jordan, the priests carrying the ark of the covenant went ahead of them. Now the Jordan is at flood stage all during harvest. Yet as soon as the priests who carried the ark reached the Jordan and their feet touched the water's edge, the water from upstream stopped flowing. It piled up in a heap a great distance away, at a town called Adam in the vicinity of Zarethan, while the water flowing down to the Sea of the Arabah (that is, the Dead Sea) was completely cut off. So the people crossed over opposite Jericho. The priests who carried the ark of the covenant of the Lord stopped in the middle of the Jordan and stood on dry ground, while all Israel passed by until the whole nation had completed the crossing on dry ground.

"When the whole nation had finished crossing the Jordan, the Lord said to Joshua, "Choose twelve men from among the people, one from each tribe, and tell them to take up twelve stones from the middle of the Jordan, from right where the priests are standing, and carry them over with you and put them down at the place where you stay tonight."
So Joshua called together the twelve men he had appointed from the Israelites, one from each tribe, and said to them, "Go over before the ark of the Lord your God into the middle of the Jordan. Each of you is to take up a stone on his shoulder, according to the number of the tribes of the Israelites, to serve as a sign among you. In the future, when your children ask you, 'What do these stones mean?' tell them that the flow of the Jordan was cut off before the ark of the covenant of the Lord. When it crossed the Jordan, the waters of the Jordan were cut off. These stones are to be a memorial to the people of Israel forever."
Joshua 3:14-4:7 NIV
Have you ever taken the time to remember the most important ways that God has worked in your life? If you start to feel discouraged; if you begin to wonder if he cares; if you worry about the future…those are the best times to review your mental memorials.
Do the good work of remembering.
One way of remember is to create a mental memorial map of God's work in your life.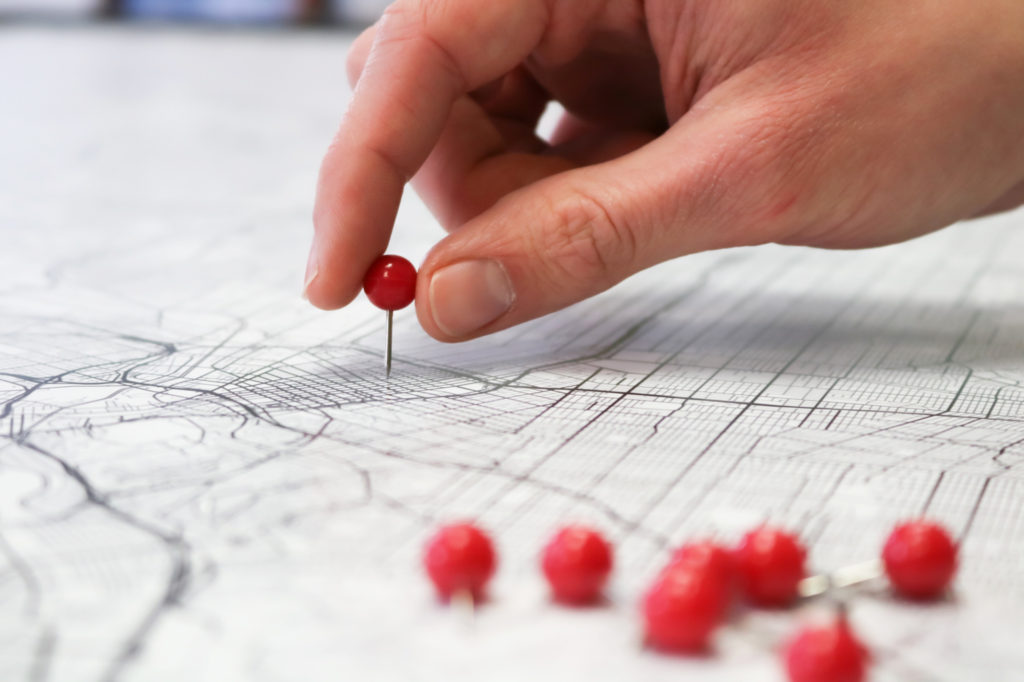 My Mental Memorial Map
Calabasas, California
This is where Mrs. Thompson taught me about the love of God using her felt board during children's church. This is where I learned about the love of the Christian community. My years in Calabassas were foundational as God taught me that he loved me as his beloved child. This is where I told him I believed.
Where did God begin the process of building a spiritual foundation in your life?
Hopeful Dr., Colorado Springs, Colorado
As a teenager I was struggling with split loyalty. Whereas my soul belonged to God, my flesh longed for what I considered freedom. I wanted to walk my own path. But I was unhappy. I was angry, but I didn't know why. I was uncomfortable with the duality of living for myself when my heart craved God. One day I went with a friend to a Bible study at a church that was different from my own. They prayed for me, and I felt God release my desperate grasp on my flesh. Suddenly I gave up. And it felt amazing. I let go of my own desires and let me heart follow what I really craved, God Himself. I felt lighter. I felt free!
I still drive past this church on Hopeful Dr. almost every day when I take my kids to school, and when I do I thank God for the work he did in me at that church.
Where did God use someone's prayers to make a difference in your life?
Where did God turn you away from a wrong path and set you on His path instead?
YMCA Camp of the Rockies, Estes Park, Colorado
When I was 18 years old, God met with me in Estes Park. I was there to attend a conference with Campus Crusade for Christ. I had been looking forward to it for months, but God reached me there in a way I never expected. In His wisdom, he took away all the confidence I'd had in him since childhood. He led me to reexamine what I really believed. Is there a God? Why am I so sure? If there is a God, would he care about me? Is the idea of a Suffering Savior just wishful thinking?
He led me out to the wilderness and then back to the River of Life again.
This examination over the course of the weekend was painful, but fruitful. At the end of those few days, I remember standing with my face raised in the auditorium, singing along with 500 other college students:
Amazing love, how can it be
That you, my King, would die for me?
(by Chris Tomlin*)
And I meant every word.
Where did God give you renewed confidence in Him?
And there are more – so many more places where God worked in my life. My childhood home, where I learned to be secure in his love; that part of I-25 where Steve and I decided to work with God in Barcelona, Spain; our apartment in Spain, where I learned that God would always be with me; and that patch along South Carefree Circle, where I discovered I could question God and he would still love me, as much on my worst day as he did on my best.
God was there. He was always there.
What would your mental memorial map look like? If you've never done so, take some time to remember how God has worked in your life over the years. You'll be encouraged to see how God has always been with you in his loving sovereignty.
*https://www.lyrics.com/sublyric/5243/Amazing+Love