Click below to listen to this post about pain and growth on the Candidly Kendra podcast:
"Nothing is so painful to the human mind as a great and sudden change."
― Mary Wollstonecraft Shelley, Frankenstein
How has your world changed over the past year? Twenty-twenty has brought unexpected changes to nearly everything we took for granted. The way we do our jobs. Stopping for coffee for a quick pick-me-up. Celebrating a special occasion. Working out at the gym.
But life goes on. The Coronavirus doesn't stop the world from turning. Beautiful things continue to happen.
Lovers get married, though it my look different from what they had expected.
Football teams win the big game, though there are fewer people in the stands.
Babies are born, though mom and dad are wearing face masks.
But as the world continues to turn, change comes into all of our lives, as it always has. Sometimes that change is painful. And painful change, like medicine, is difficult to swallow no matter how beneficial it may be.
Grieving Difficult Changes
In 1967 psychiatrists Thomas Holmes and Richard Rahe conducted a very insightful study showing the correlation between illnesses and stress. As a result, they discovered that the difficulty of certain changes in life may lead to health problems.
Based on their findings, Holmes and Rahe created a scale to indicate how likely it is that certain events will affect our health. In other words, they created a scale that seems to indicate how stressed we will feel when facing various trials.
The highest stressors are:
death of a spouse (valued at 100 points)
divorce (73 pts.)
imprisonment (63 pts.)
death of a family member (63 pts.)
personal illness (53 pts.)
Some of the lower-impact stressors are major holidays (12 pts.), changes in eating habits (15 pts.), and minor loans (17 pts.).*
Where do you think you would land? Would your score be extremely high? Somewhere in the middle?
Check out the Holmes-Rahe stress scale and take the stress assessment here. Here is my score:

Regardless of whether that stress scale indicates your feelings accurately or not, I appreciate that it accounts for the pain of change, whether those changes are good things or bad.
The Strange Pain of Good Change
When I was a brand new mom with a brand new sweet baby boy, living in Barcelona, Spain, I delighted in his fuzzy red hair. I delighted in his warm snuggles and in his baby giggles. But, boy, the change from being "free as a bird" to being on a three-hour-long tether to my son was difficult. (He couldn't take a bottle and I was the only one who could feed him.)
I was aware every day of the living, breathing gift of my son, but it was a change. And even good change can be painful.
So if you're living in the pain of good change; and if you're walking in guilt that you aren't feeling more joyful, I hope that you understand that you aren't alone.
Growth From Painful Change
Have you ever experienced a painful change that you can confidently now look back on and say, "That was a good thing. I'm better off because it happened"?
Perhaps you were comfortable in your job, but God had a new opportunity for you that you would have missed if you hadn't suddenly lost your job on that difficult day.
Perhaps you loved living near your family, but you never would have met your best friend if you'd stayed close to home like you wanted to do.
Perhaps you lost a loved one, and while your heart was breaking you came to know the God Who Heals Broken Hearts.
Perhaps you still don't know what good will come out of the pain you've experienced. But while it hurts every day you trust God's word, which says that he "causes everything to work together the good of those who love God and are called according to his purpose for them." (Romans 8:28 NLT)
Our pain will change us. But if we walk through the pain with our eyes on God we will find that spiritual fruit in our lives is the reward.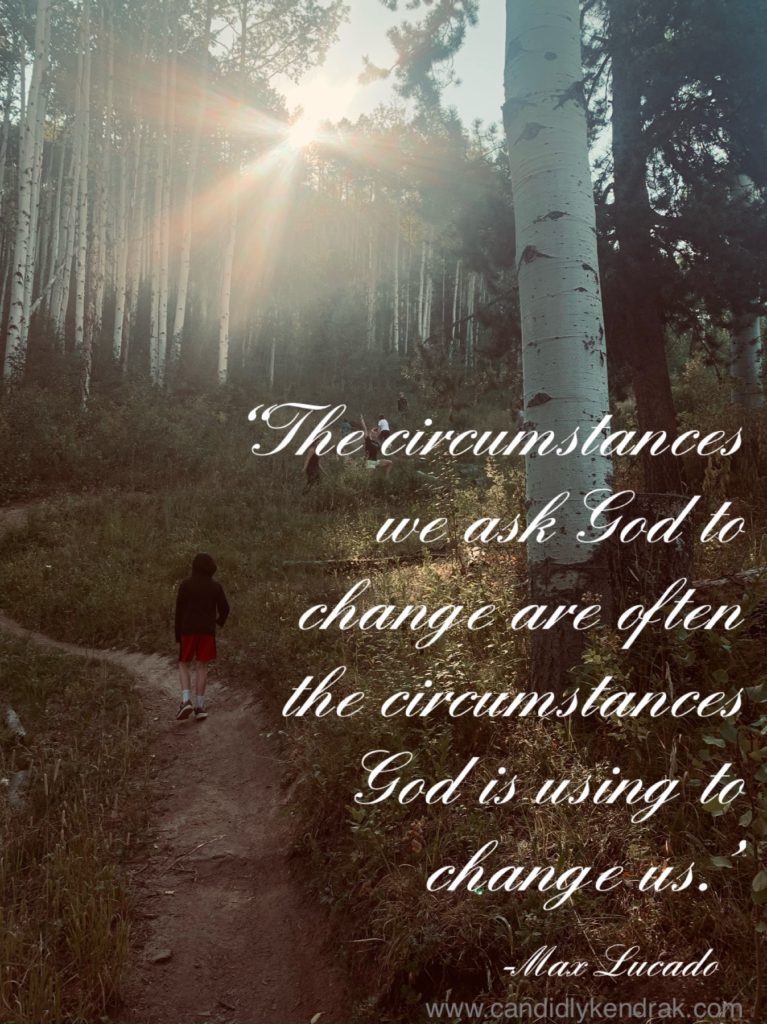 A Road Map for Our Painful Experiences
I take a lot of comfort in knowing what to expect. When I was scheduled for surgery to fix a minor injury a few years ago I read every horror story on the internet about that surgery so that I could have some idea of what to expect. I wanted to know! Was it likely to be successful? How much would it hurt? How long would recovery take? And I wanted to know that I wasn't alone. Others have had this surgery and survived.
That is the reason that I created this roadmap for the Journey of Pain and Growth. I want you to be able to see that you aren't alone when you are experiencing pain. Others have experienced the pain of change like you have and they are okay now.
This roadmap is designed to help you orient yourself, to show you what you can expect, and to give you hope that you will come out the other side.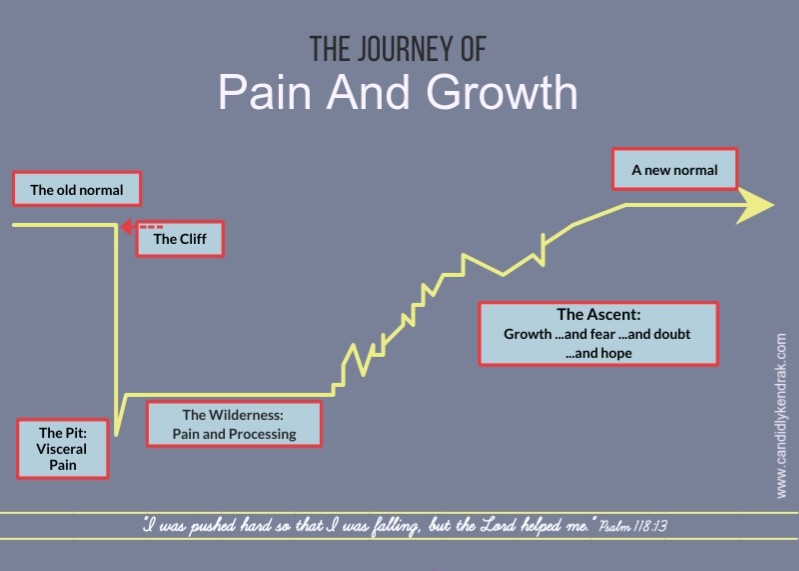 The Cliff
When change comes it can feel like we've fallen off a cliff. It is often sudden, unexpected, and usually brings pain. In fact, the more pain that comes with the change, the longer the Journey of Pain And Growth will take. When the ground drops out from under you, others have gone before you. They've suffered and they've survived.
The Pit
The first thing we will experience after a sudden and painful change is what I call "The Pit." This is our immediate reaction of grief. It may be a visceral reaction, like a stomach ache, or even vomiting. It may feel like you can't breath. It may last a few months. It may last a week. Or maybe just a day. But look at the road map and remember this terrible pain won't last forever.
For the enemy has pursued my soul; he has crushed my life to the ground; he has made me sit in darkness like those long dead.
Psalm 143:3 ESV
The Wilderness
The immediate visceral pain of The Pit doesn't last forever, but it isn't quickly healed either. After we surface from the desperate, clawing pain of The Pit, we find ourselves in The Wilderness. The Wilderness is a place of pain and drought. We find ourselves thirsty but we don't know where to find water.
But God is at work in The Wilderness. Every idol is being burned in the fire. We are left only with the ashes of our expectations…and our God.
And indeed God is there with us at every moment in The Wilderness (as he was in The Pit as well), but our pain looms large, and sometimes its difficult to look around that pain to see God.
O God, you are my God; earnestly I seek you; my soul thirsts for you; my flesh faints for you, as in a dry and weary land where there is no water.
Psalm 63:1 ESV
The Ascent
The Ascent is characterized by new hope. You begin to tentatively believe that you will survive this. There is light at the end of the tunnel.
But, like waves of the ocean, your pain will likely return. And when it does, it will probably hurt as deeply as it did on the first day.
Allow yourself to walk each day according to the strength you have that day. If it is a day when you feel hope, focus on what God is teaching you. Read a book about your struggle. Talk to God and talk to friends.
But if it is a day of aching, take a couple of things off of your to-do list. Cry into your journal, or mourn with a friend. Give yourself space to care for yourself according to each day's strength.
"Though he slay me, I will hope in him; yet I will argue my ways to his face."
Job 13:15 ESV
A New Normal
Then one day, you will find that you are learning how to live in a new normal. God has burned off the dross of your idols in the furnace of suffering. You now cling to Him more firmly because you grasped him so desperately in the Wilderness and the Climb.
"He set my feet on a rock and gave me a firm place to stand. He put a new song in my mouth, a hymn of praise to our God."
Psalm 40:2-3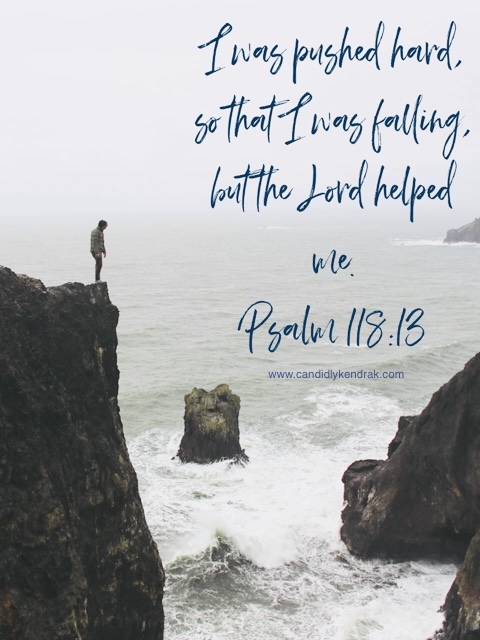 Bring It Home
Where are you on the Journey of Pain And Growth?
What characteristics of God mean the most to you right now?
Does it help you to know that others have gone before you and have come to the light at the end of the tunnel?
What Bible verse gives you hope or makes you feel less alone today?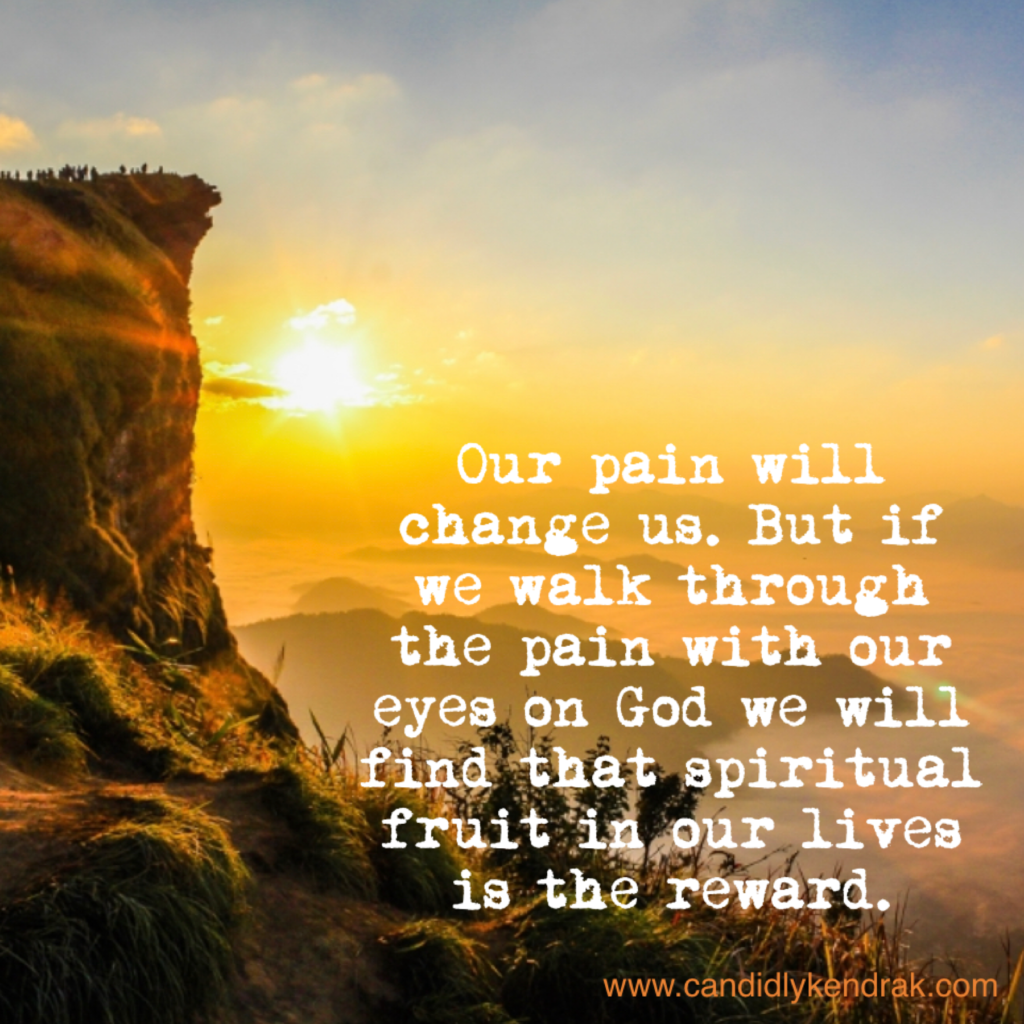 ---
*More recently, a stress scale has been created for youth, which lists their highest stressors as death of a parent (100 pts.), unplanned pregnancy (100 pts.), and divorce of parents (90 pts.). See the list here. (Click "Non-Adults" and scroll down for point values.)