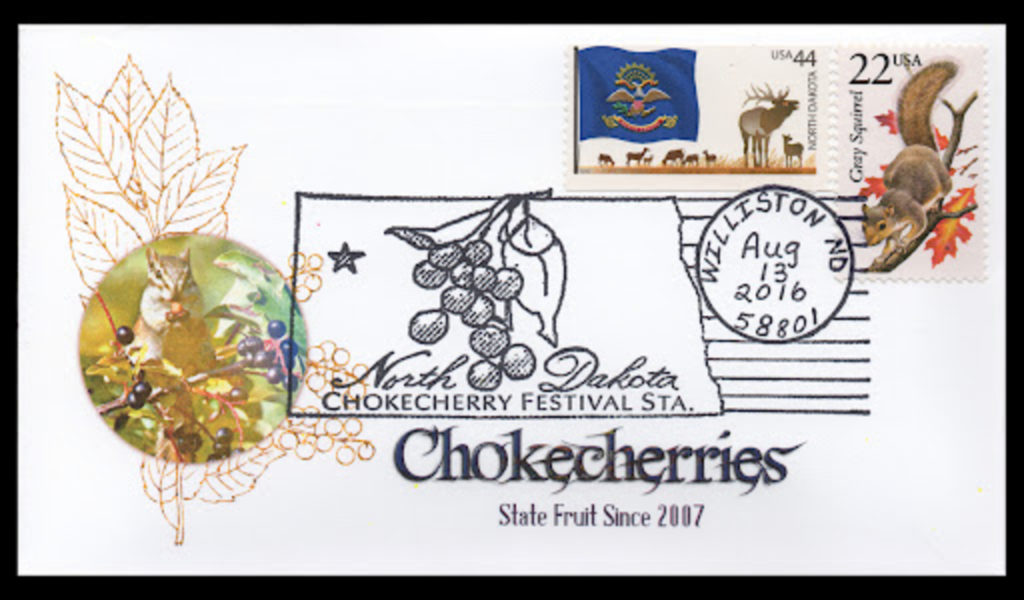 My mom loved chokecherries. I think it was a North Dakota thing, because her sisters seem to love them, too.
Dad told me that one time he wanted to go for a drive into the mountains with Mom. Strangely, she agreed readily. Mom always got carsick on car rides, and typically fell asleep almost as soon as we hit the highway just to avoid the nausea. So Dad thought it was strange that Mom seemed so eager to go for this scenic drive with him.
Mom hummed as she packed up snacks for their drive. Dad, hardly believing his luck, mapped out their route. Mom enthusiastically nodded along with his plans.
Once they got on the road, Mom stayed awake, scanning the mountains, the trees, the beauty that surrounded them. Suddenly, she cried out, "James Darling, I see chokecherry bushes! Pull over!" Dad complied, but he worried aloud that they wouldn't be able to take many chokecherries home, since they didn't have any buckets or bags. But Mom slyly said, "Oh, don't worry, I brought a bunch of bags!"
Mom knew the whole time that there would be chokecherries! Which of her friends had given her the inside scoop?
A chokecherry harvest meant chokecherry jam in the Singleton home. We didn't mind at all when Mom wanted to stop to pick chokecherries, as long as we would get to eat the jam.
Chokecherries Coming Out Our Ears
Six weeks after my mom passed away I glanced out the window and saw a bundle of berries growing in on a bush in our backyard. Wait… could that be? Chokecherries!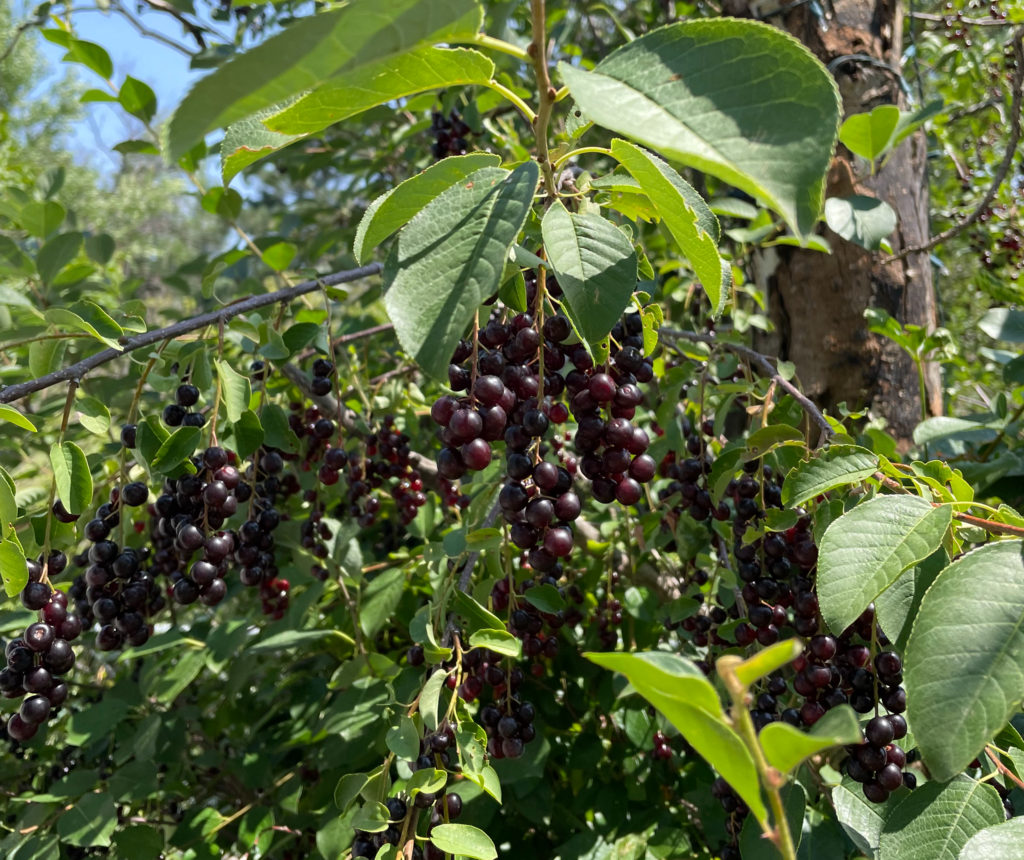 We have lived in this house for sixteen years. How did chokecherries spontaneously grow in my own backyard?
I grabbed a bucket and ran out to spend my Saturday filling up with memories of Mom.
The chokecherries were perfectly ripe, growing abundantly! If Mom had been alive and well, I'd have invited her over for a chokecherry picking, jam-making party (and lesson, since I'd seen her do this a thousand times but never got the full lesson).
She couldn't be here in person, but she was very present in my memories as I soaked in the sunshine, picked bushels of berries and began the chokecherry jam process.
Thank you, Lord, for that gift.
Making Chokecherry…Jam?
With Mom's own recipe in hand, I began the process of making chokecherry jam.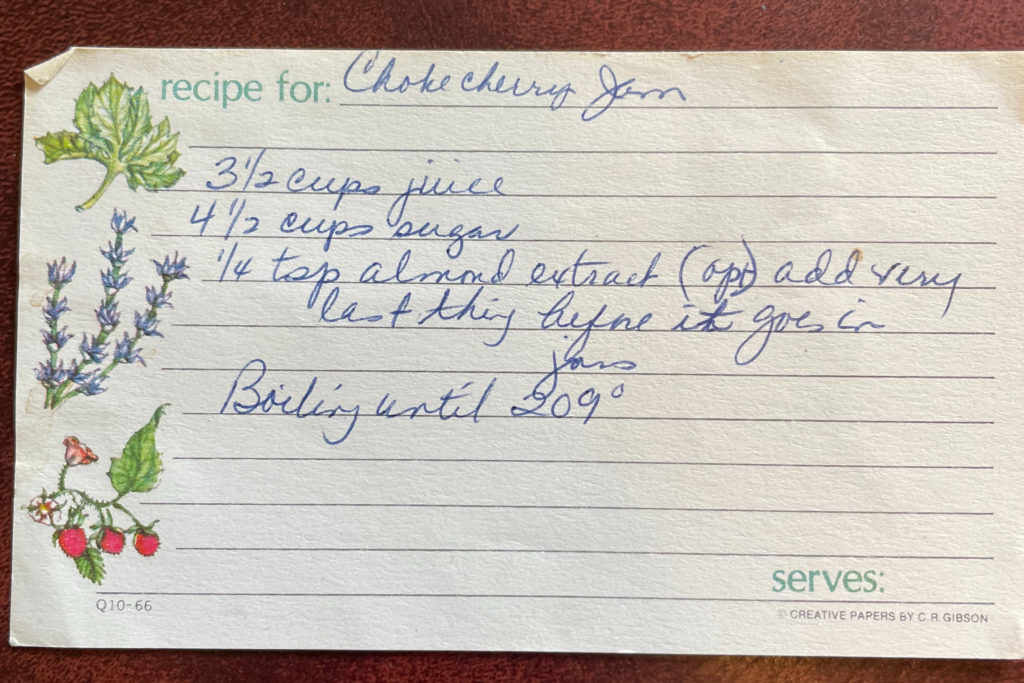 Boom! Perfect! Just like Mom's. Right?
Well, yes and no. My jam never set up.* But I have distinct memories of Mom's chokecherry jam not turning out right several times as she was learning how to make it at this altitude. So the good news is:
I made it wrong, just like Mom
I made very yummy chokecherry syrup, which still goes great on biscuits (and pancakes and bread pudding).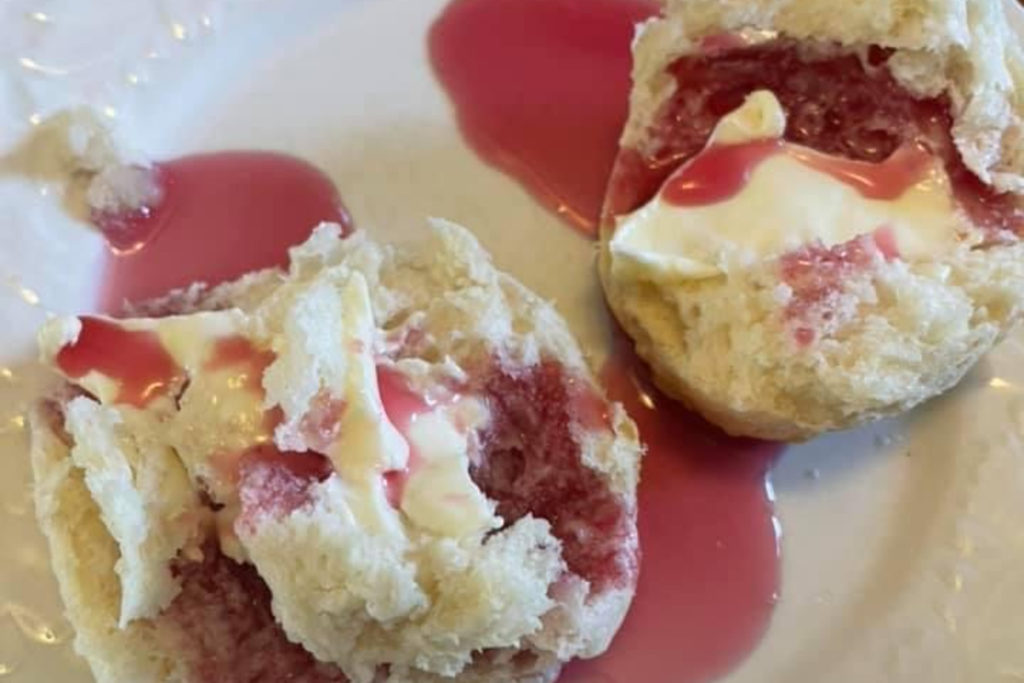 *I believe Mom eventually discovered that she needed to add powdered pectin to get her jam to set correctly. I'll try that next season.
God Is With You In The Kitchen
The thing is, sometimes, the kitchen experience is more important than the dinner-plate results.
As I picked those chokecherries and swam in the memories of my mom, the point was never the jam. Whether or not the jam turned out right was incidental to the good gift of memories that God wanted to give me.
God wanted me to experience the moment and set the rest aside.
We can be in such a rush to reach our goals, to become experts, to accomplish, to finish, that we may miss the whole point of the kitchen experience.
Are you in the kitchen right now? Are you in school, hoping to one day get that job you've always wanted? Are you single, hoping to find your "other half"?
How can you slow down and trust God in this experience?
If your kitchen is a difficult place right now — if you're grieving the loss of a loved on, or a life change you didn't want — God is with you. Even now. He's not only waiting for you to come out well the other end.
Whatever your dinner-plate results turn out to be — perfect jam or a work-in-progress syrup — remember that God is with you in the kitchen.
---
Making Chokecherry Jam…Er, Syrup
First, I soaked the chokecherries. Leaves, bugs, loose stems and dried-out berries floated to the top, so I could scoop them out to throw them away. I picked through the remaining berries, looking for extra stems and leaves to remove.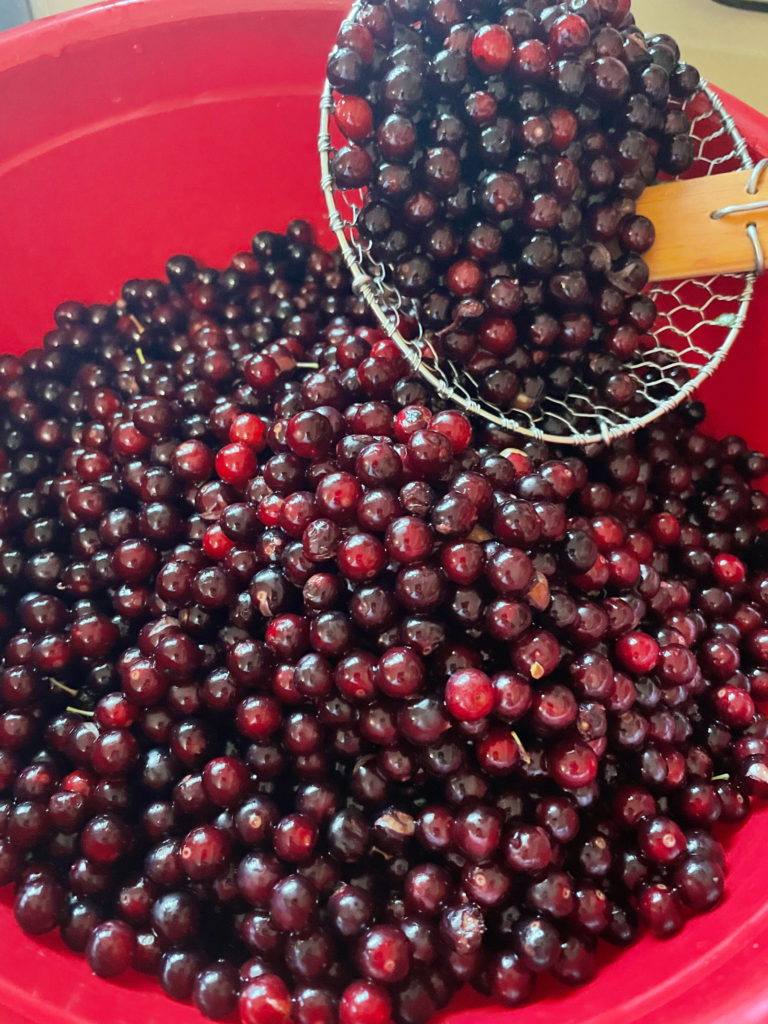 Next I covered the chokecherries in fresh water. I set them on the stove to boil for 20 minutes to extract the bitter chokecherry juice. I used a wooden spoon to mash the berries only slightly to extract the juice.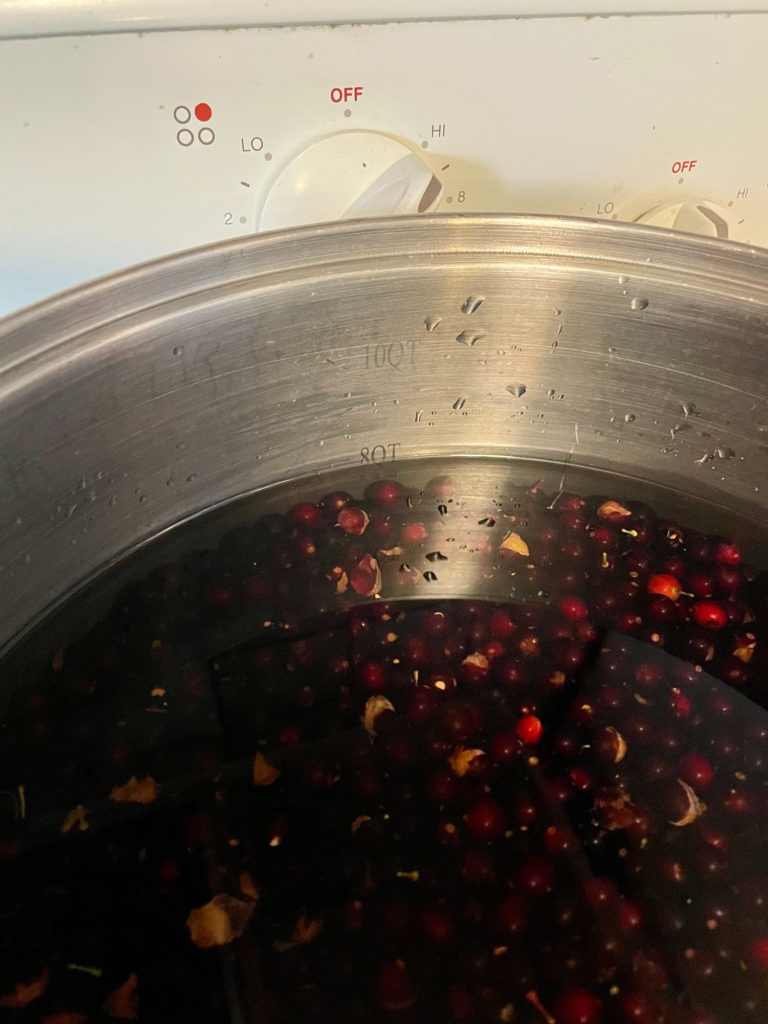 I strained the juice by pouring the chokecherries directly from the stove into a cheesecloth-lined colander.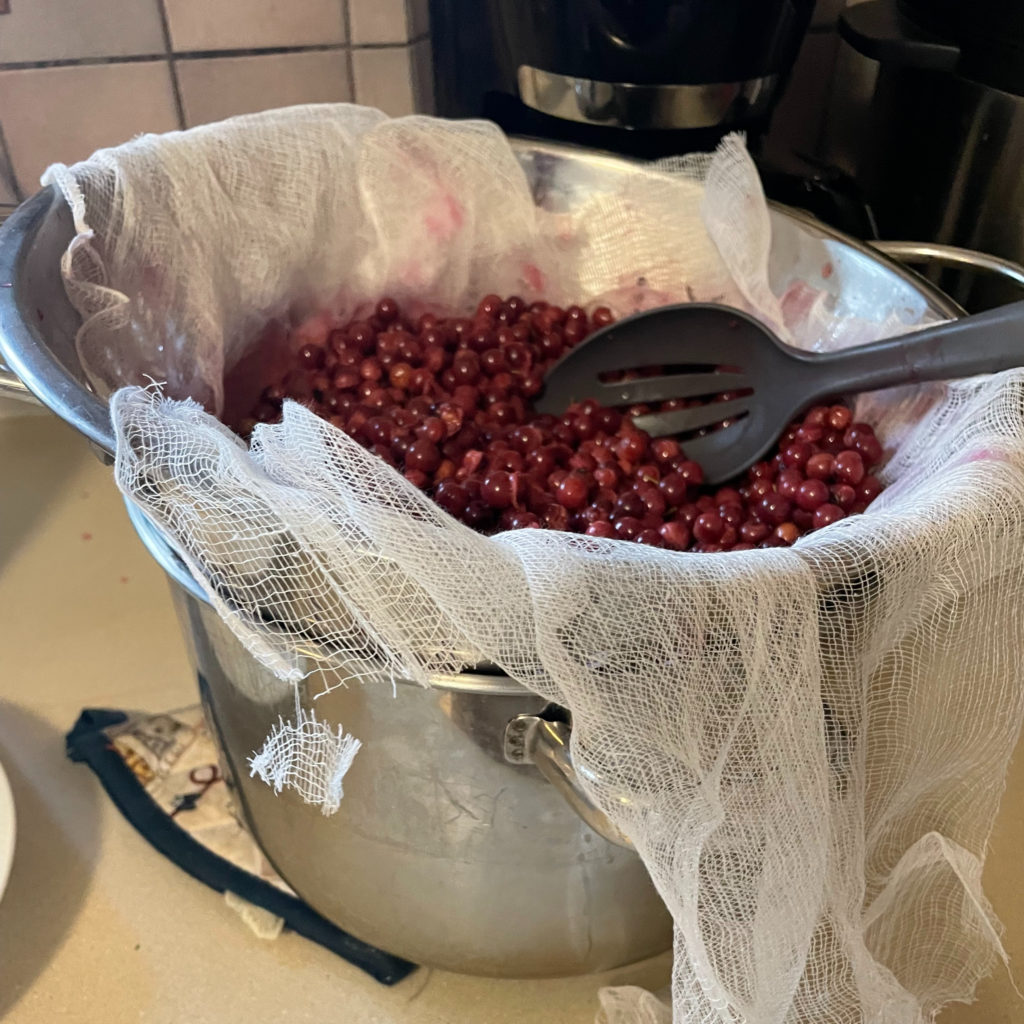 I washed out the pot, and then returned the juice to the pot with a lot of sugar. (The ratio is 4 1/2 cups sugar to 3 1/2 cups chokecherry juice.) I cooked the chokecherry juice and sugar until a candy thermometer reached 209 degrees. Then I cooked it 10 minutes longer.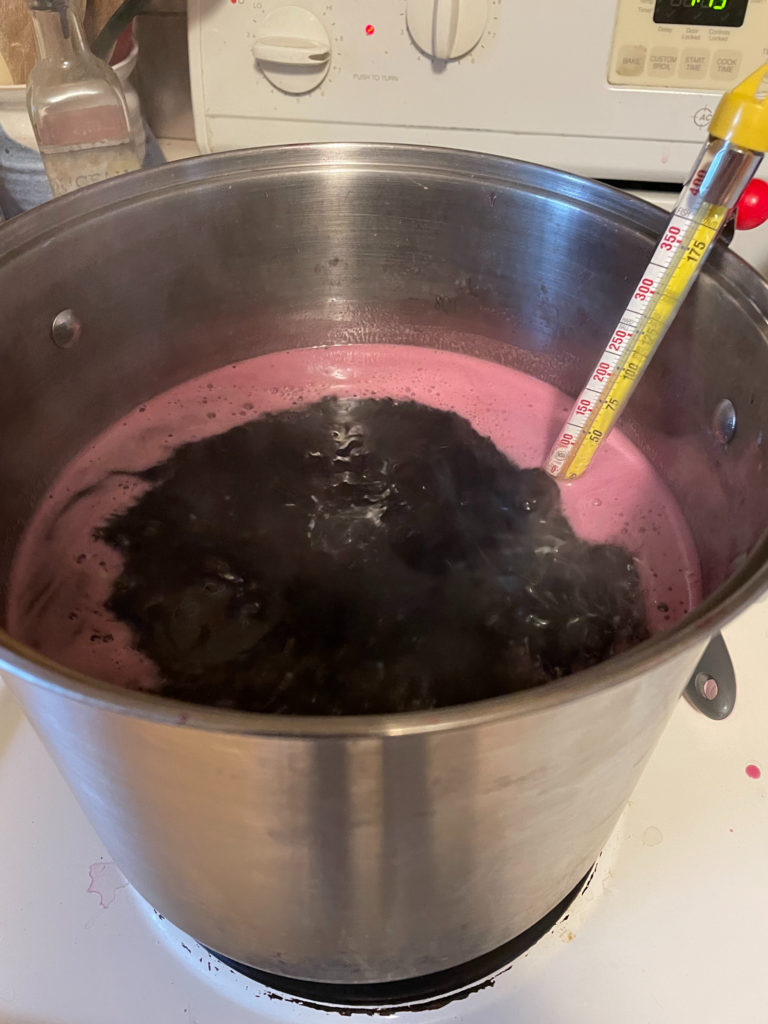 I stirred in a little bit of almond extract (1/4 teaspoon for 3 1/2 cups juice). And then I immediately poured the jam into hot jars.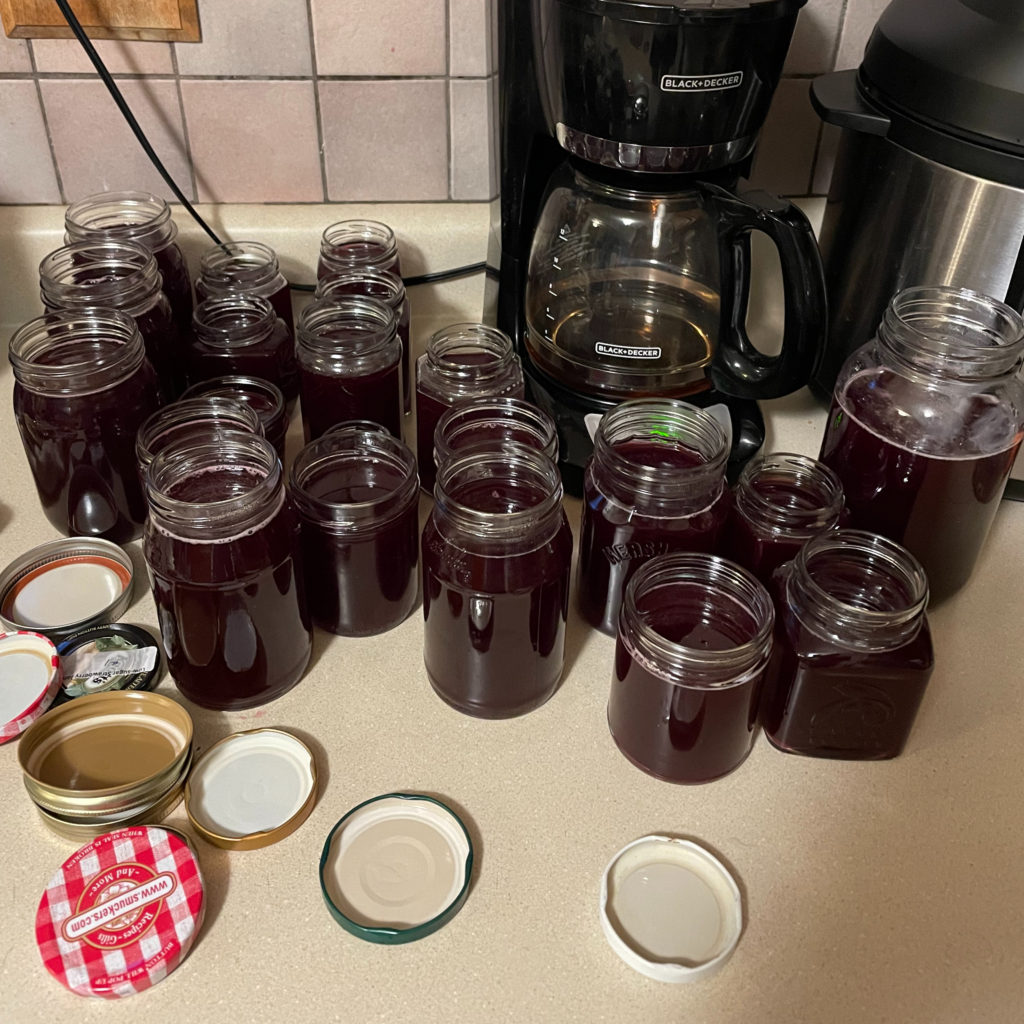 I didn't intend to process the jars for canning. Mom always froze them instead. So I waited until the jam was cooled, refrigerated overnight, and then froze it the next day.