Click below to listen to this post about Sausage Broccoli Manicotti on Candidly Kendra Eats: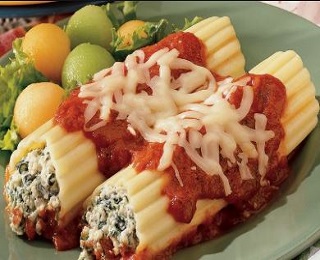 Have you ever tried manicotti? Manicotti is lasagna's underappreciated little sister. In fact, the ingredients are almost identical; it's just all arranged in a new and different way.
But don't get me wrong. I'm not trying to downplay manicotti's…or lasagna's…awesomeness. I think sometimes rearranging things can bring a fresh perspective and make everything feel new.
Lasagna? Been there. Done that. Love it.
Now it's time to give manicotti a try! (Admit it, you've seen the pasta in the store and always wondered what you were supposed to do with it, right?)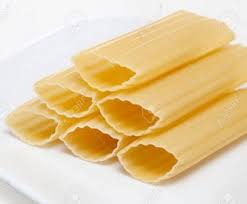 "Manicotti" means "little sleeves." These little sleeves, or tubes, of pasta are stuffed with cheesy deliciousness, topped with a meaty marinara sauce and handfuls of mozzarella, and baked until it's bubbly and cheesy and oh-so-tempting.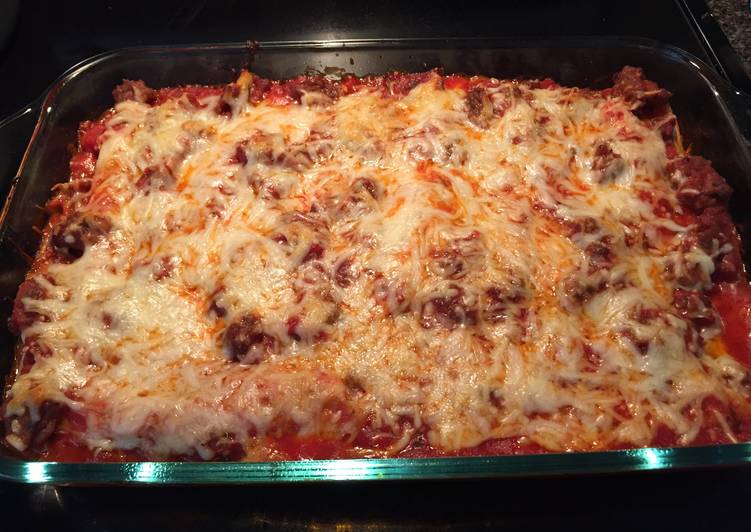 Manicotti continues to be a special occasion meal in our household. When I make it I know the whole family will be happy and look forward to dinner.
I pair it with salad and garlic bread.
Pasta, Salad, and Garlic Bread: The Italian Triumverate (Well, American-Italian)
And good news: The leftovers are great! (To reheat leftovers I add a tiny splash of water and warm individual portions in the microwave.)
Here is the breakdown:
Sausage Broccoli Manicotti Digest:
Boil a large pot of water. Carefully dump in your manicotti shells. Cook, stirring occasionally for the lowest time listed on the box. Don't overcook them, because if you do they will break too easy.
Meanwhile cook 1/2 lb. ground beef and 1/2 lb. mild sausage in a skillet. Add 2 cloves garlic near the end of the cooking time. (Tip: Sometimes I cook 1 lb each of the ground beef and sausage and freeze half of it for later.)
Drain the meats and stir in 4 cups of your favorite marinara or spaghetti sauce. Scoop one cup of this mixture into a greased 9×13 baking dish.
In a medium bowl, combine 2 cups cottage cheese, mozzarella, parmesan, an egg, and a little bit of onion powder, garlic powder, pepper parsley, and 10 oz. frozen, chopped broccoli, thawed.
When the pasta shells are cooked, pour cold water over the top to cool them off. Leave them in the water. Then remove a shell from the water, and, using your hands, stuff the cottage cheese mixture into the shells. I find it easiest to stuff one side, then flip the manicotti over and stuff the other side.
Lay the stuffed manicotti shells in the baking dish.
Top the shells with the meat sauce. Top with 2 cups mozzarella and 1/2 cup parmesan.
Bake the manicotti at 350 degrees for 35-40 minutes until heated through.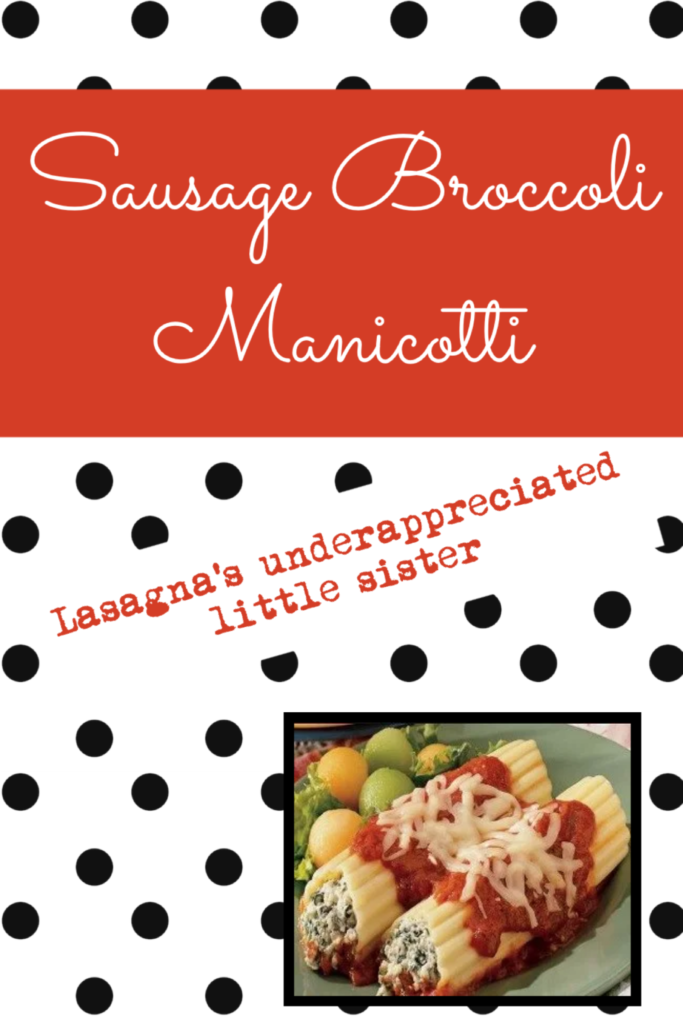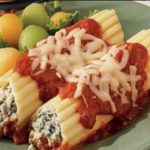 Print Recipe
Sausage Broccoli Manicotti
This underappreciated Italian entree will be a new favorite for you and your family!
Ingredients
1

pkg.

(8 oz.) manicotti shells

½

lb

ground beef

½

lb

ground mild Italian sausage

2

cloves

garlic, minced

4

cups

marinara or spaghetti sauce

2

cups

cottage cheese

10

oz.

frozen, chopped broccoli, thawed and well-drained

3

cups

shredded mozzarella

¾

cup

parmesan

1

egg

½

tsp

parsley

½

tsp

onion powder

½

tsp

pepper

⅛

tsp

garlic powder
Instructions
Preheat the oven to 350°.

In a large pot, boil the manicotti for the lowest time indicated on the package. Drain and pour cold water over the manicotti to stop the cooking and keep them from sticking.

Meanwhile, in a skillet, cook the ground beef and sausage. Crumble the meats and continue cooking until they are no longer pink. Drain. Add the garlic and cook and stir for 1 more minute. Add spaghetti sauce.

In a medium bowl, combine cottage cheese, 1 cup mozzarella, ¼ cup parmesan, egg, parsley, onion powder, pepper, and garlic powder.

To assemble the manicotti, start by scooping one cup of the meat sauce into the bottom of a greased 9×13 baking dish. Stuff the shells with the cottage cheese mixture using your hands. Lay the stuffed shells in the baking dish. (If a shell breaks, don't worry; just reform it into the correct shape and place it in the baking dish.) Top the stuffed manicotti shells with the meat sauce. Then sprinkle with the remaining mozzarella and parmesan.

Bake the manicotti for 35-40 minutes until heated through. Cover with greased foil if the cheese starts to get too brown.
---