Click below to hear about these amazing Rocky Road Cookies on Candidly Kendra Eats: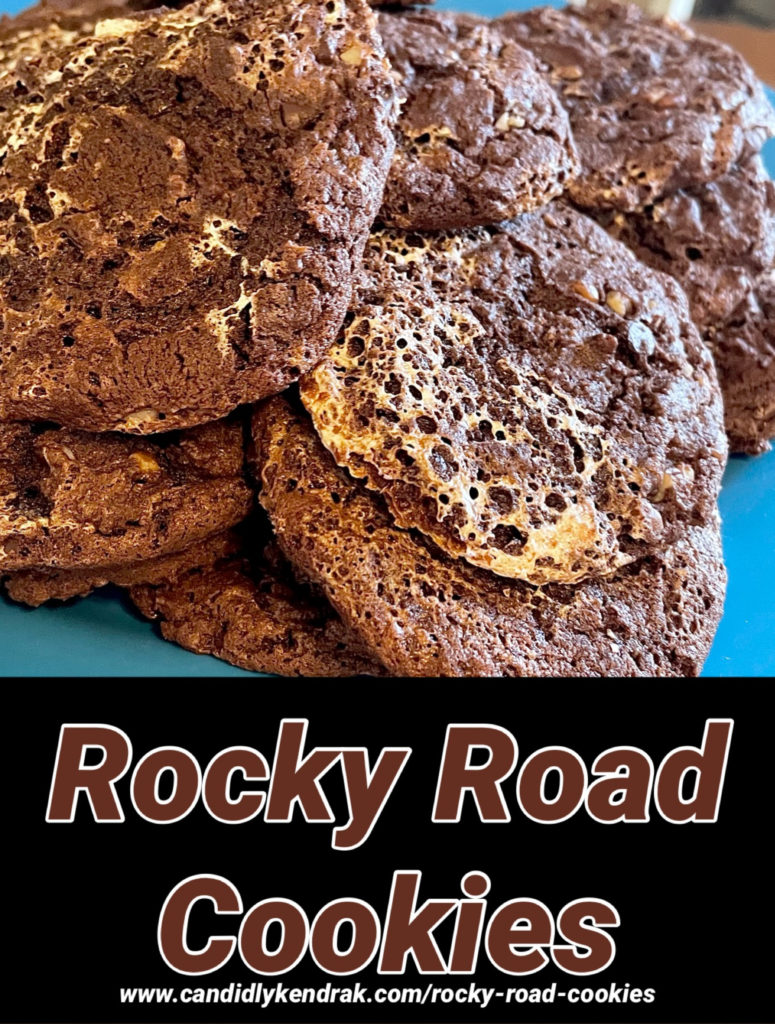 Raise your hand if you're a Gilmore Girls fan.
Arguably the best thing about that show is the food. That show takes its food seriously! You have Lorelai and Rory's movie night junk food, Emily's highbrow canapes, Luke's Diner's burgers, Mrs. Kim's tofu, Miss Patty's Founder's Day Punch (which packs a punch), and even Logan's lobsters.
Well, I watch a show like that and I think, "I want to eat that!"
So you can imagine my delight when I discovered this cookbook.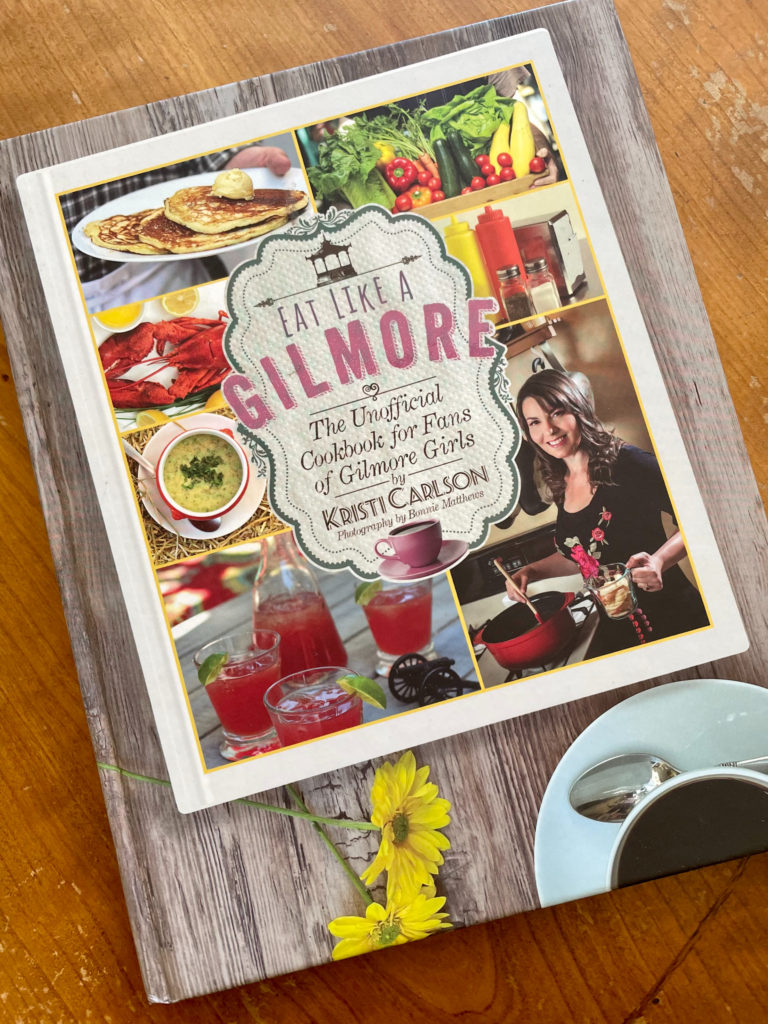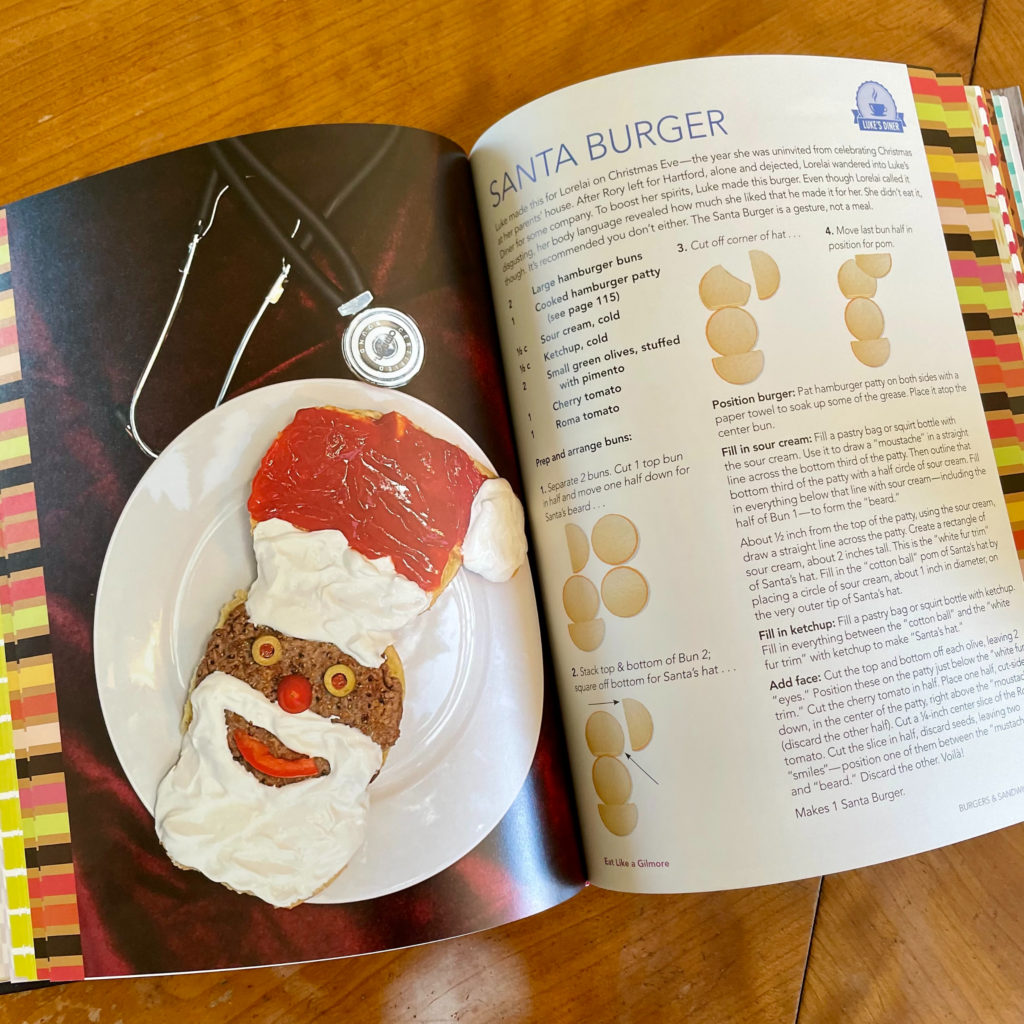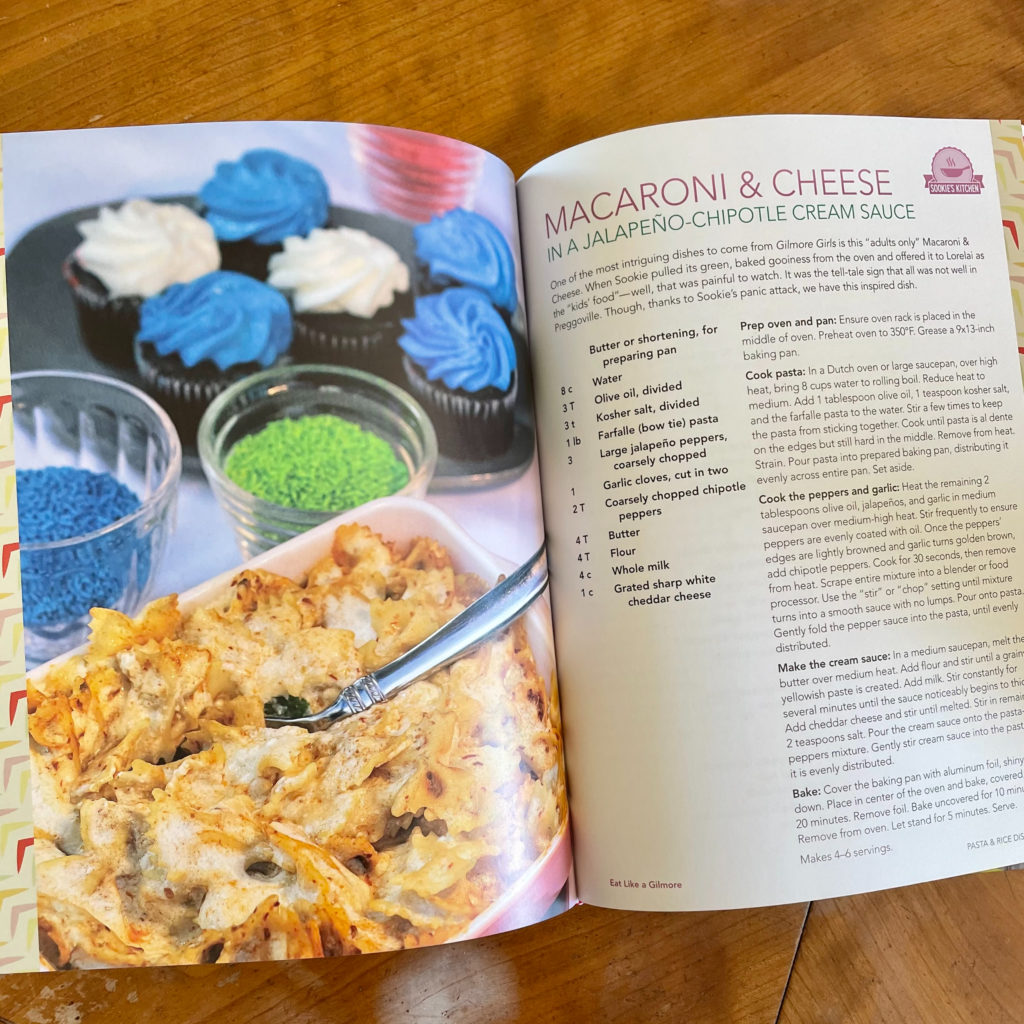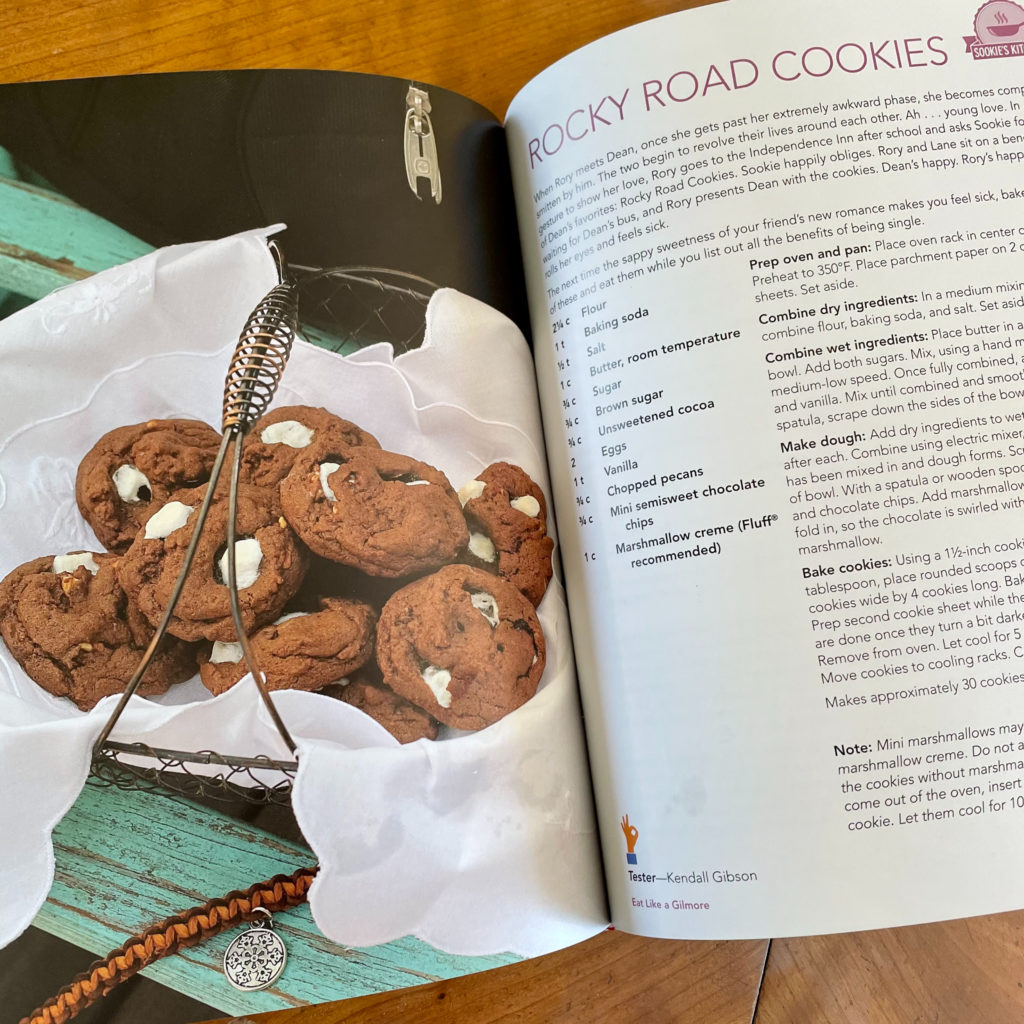 Last weekend I made these Rocky Road Cookies – presumably the same cookies that fictional Rory gave as a gift to her sweet sixteen boyfriend, Dean. He loved them, so maybe I'd love them, too. (Spoiler: I did.)
Now, if you've stuck with me through all this Gilmore Girls talk, now I'll reward you with this cookie recipe. My cookies didn't look this perfect. I didn't make any high altitude adjustments, and they spread out pretty thin. But they were so good.
Rocky Road Cookies are chocolatey cookies, dotted with chopped pecans and chocolate chips, and swirled with marshmallow creme. Chewy and delicious!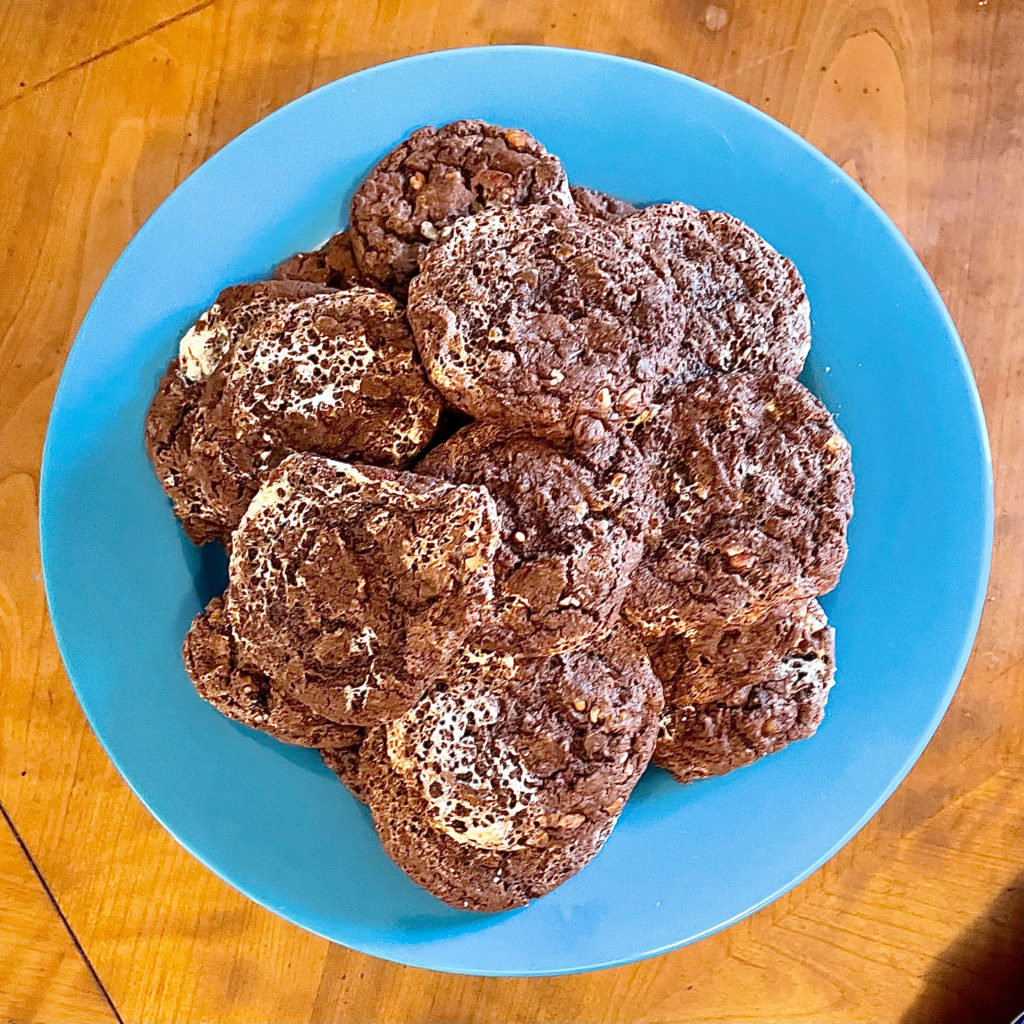 Rocky Road Cookies Digest
Preheat your oven to 350 degrees.
In a mixing bowl, combine 1 cup softened butter, 3/4 cup sugar, and 3/4 cup brown sugar. Mix well until fluffy. Add 2 eggs and 1 teaspoon vanilla and mix well.
Next, add 3/4 cup cocoa powder, 2 1/4 cup flour, 1 teaspoon baking soda, and 1/2 teaspoon salt. Mix well.
Stir in 1/2 cup chopped pecans, and 3/4 cup mini chocolate chips.
Finally, add 1 cup marshmallow creme. Swirl it into the dough, but don't mix it completely. (This was the recommended recipe, but for a more perfect look like the cookbook's picture, you can leave out the marshmallow creme and dot the cookies with 4-5 mini marshmallows each after baking.)
Place small (1 inch) scoops of dough on a parchment-paper-lined baking sheet, about 2 inches apart. Bake for 10 minutes. Remove from oven when they crack and the tops of the cracks look mostly dry. Don't overbake. Cool.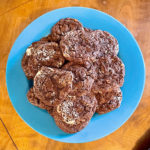 Print Recipe
Rocky Road Cookies
These chocolate cookies are dotted with pecans and chocolate chips and swirled with marshmallow
Ingredients
1

cup

butter, softened

¾

cup

sugar

¾

cup

brown sugar

2

eggs

1

tsp

vanilla

¾

cup

cocoa powder

2 ¼

cup

flour

1

tsp

baking soda

½

tsp

salt

½

cup

chopped pecans

¾

cup

mini chocolate chips

1

cup

marshmallow creme, or 1 cup mini marshmallows
Instructions
In a mixing bowl, cream together the softened butter and sugars. Add eggs and vanilla and mix well.

Add cocoa powder, flour, baking soda, and salt. Mix well.

Stir in pecans and mini chocolate chips.

Swirl in the marshmallow cream but do not mix it in.

Line a baking sheet with parchment paper. Scoop the cookie dough on the baking sheet in 1 inch rounded scoops, 2 inches apart. Bake for 10 minutes until the cookies crack and the tops of the cracks look mostly dry.°
Notes
If using mini marshmallows instead of marshmallow creme, bake the cookies and then place 4-5 marshmallows on each cookie after baking.
High Alititude: Add 1 tbsp. flour. Use 14 tbsp. butter plus 2 tbsp. shortening. Bake at 375 for 8 minutes.
---
Get The Book!
---
More Cookies!