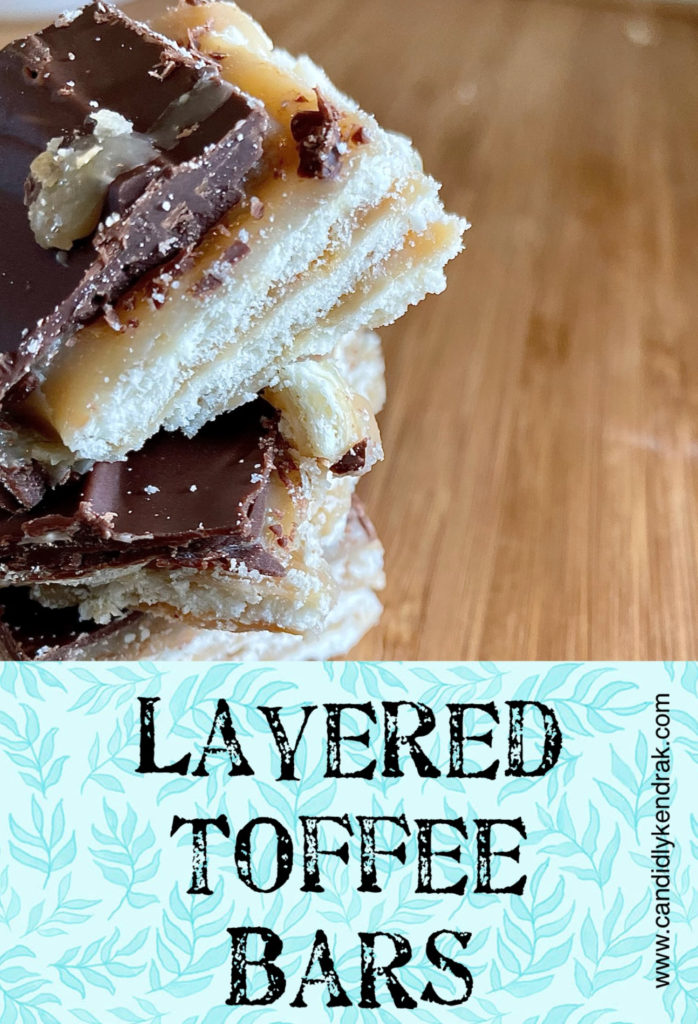 Here's the thing about these layered toffee bars: you think you've tried them before, but you haven't.
Layer after layer after layer of creamy caramel and crispy butter crackers topped with milk chocolate… These bars are rich, but not so rich that you don't find yourself "accidentally" eating six of them in a sitting. (That was a tricky double negative. What I mean is I definitely do eat six of them in a sitting, and often.)
They are bad for the diet, but great for the happiness.
These are very similar to the popular "Christmas Crack," which is made from saltine crackers, caramel, and chocolate. But these bump that recipe up a notch with – count them – six layers of caramel and club crackers.
Here's how you make it!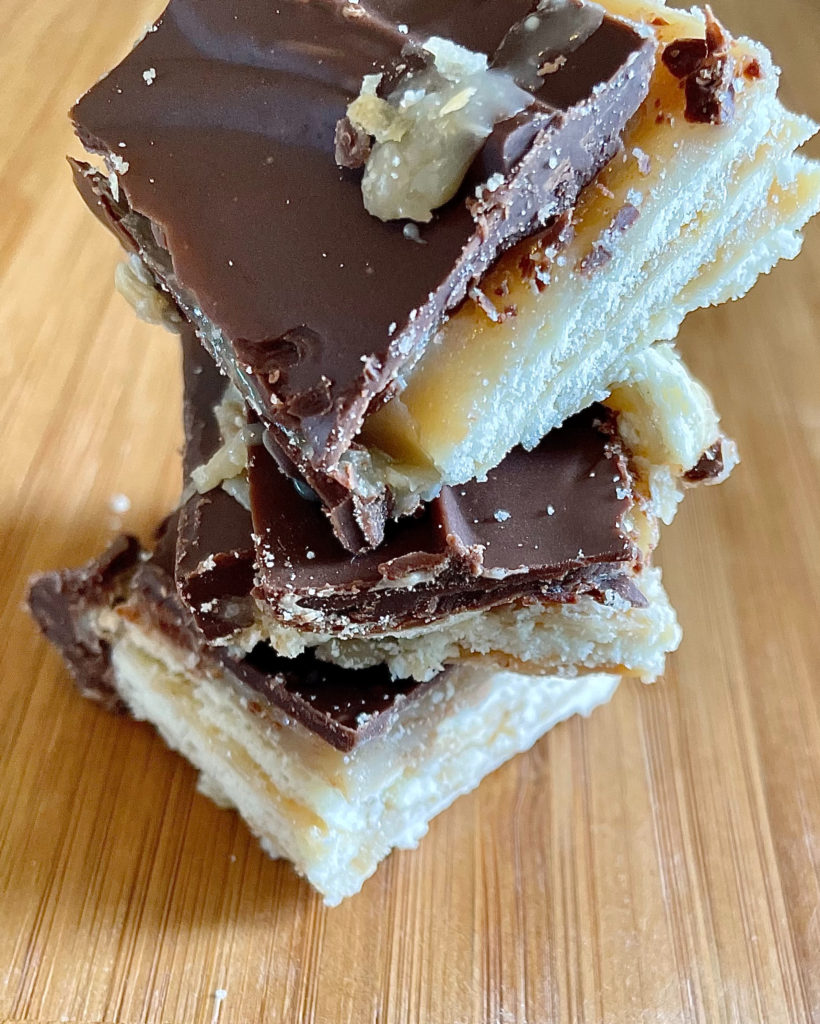 Layered Toffee Bars Digest
Line a 9×13 baking dish with parchment paper.
Place Club crackers over the bottom of the pan, covering it completely. (I used 25-30 crackers. I broke some to fit the small gaps at the ends.
In a saucepan, mix a can of sweetened condensed milk (not the same as evaporated milk, but you know that, right? Unlike the Walmart shopper who thought that was an acceptable substitute…), 1 stick of butter, and 1/4 cup milk. Cook and stir until boiling. Boil 5 minutes, stirring constantly. (Your arm may fall off. Mine did.)
Pour 1/3 of this caramel mixture over the crackers in the pan. (If you measure it poorly it's really not a big deal.) My caramel had little dark bits in it, as though some pieces had burned just a little. So I poured the caramel through a strainer.
Layer more club crackers over the top to cover completely. Cover with half the remaining caramel sauce.
Layer crackers and caramel one more time.
In a microwave-safe bowl, microwave a bag of milk chocoalte chips (12 oz.) at 30 second intervals until they are melted and smooth. Quickly spread the milk chocolate over the top of the caramel bars. Cover tightly and refrigerate for 3-12 hours. They keep for many days in the refrigerator and, like revenge, are best served cold.
Cut into small squares because if you eat six large squares you might feel gross. Also, see if you can make less of a mess when you cut them than I did. (Good luck.)
Enjoy!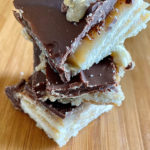 Print Recipe
Layered Toffee Bars
These delectable toffee bars are made with an easy caramel sauce and buttery crackers. I'm sorry to say, one just won't be enough!
Ingredients
90

buttery rectangle crackers (like Club crackers)

1

can

sweetened condensed milk

1

cup

brown sugar

½

cup

butter

¼

cup

milk

1

bag

(12 oz) milk chocolate chips
Instructions
Line 9×13 baking dish with parchment paper.

Layer crackers on the bottom of the pan in a single layer, breaking as necessary to fit.

In a saucepan, combine sweetened condensed milk, brown sugar, butter, and milk. Cook and stir over medium-high heat until boiling. Boil 5 minutes, stirring constantly.*

Pour ⅓ of the caramel mixture over the crackers in the pan.

Repeat cracker and caramel layers two more times.

Melt the chocolate in a microwave-safe bowl at 30 second intervals on high in the microwave until the chocolate is melted and smooth. Pour over the final caramel layer. Spread carefully to cover the caramel completely.

Cover the bars tightly with plastic wrap. Chill in refrigerator for 3 hours. Cut into 48 small squares. Refrigerate and serve within a week. Best served cold.**
Notes
*If you get little browned specks in your caramel, strain it through a strainer to make sure it is smooth
**in our humble opinion.
Wanna Watch The Video?
Watch this video from Pillsbury to see how they're made!