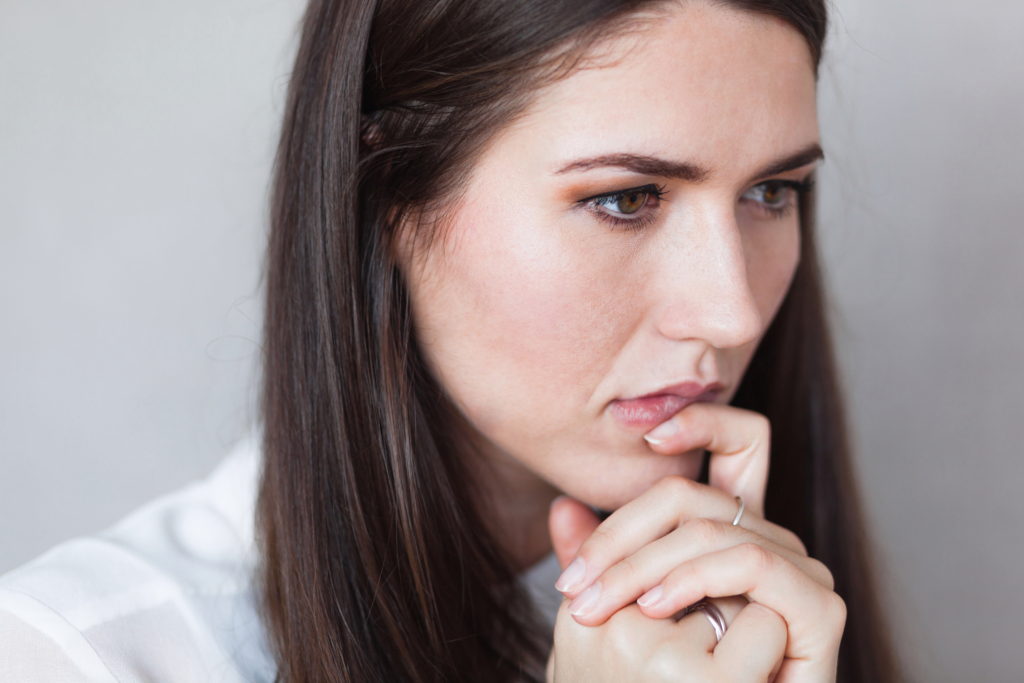 Rubber Ceiling Syndrome. Have you ever experienced that?
Your devotional times feel empty or worse yet, depleting. Your prayers bounce off the ceiling. The Bible feels like it's written in pig latin. Where is God?
Because honestly, if God isn't going to show up I'd rather waste my time on Netflix than waste my time praying, when it comes right down to it.
---
I'd rather waste my time on Netflix than waste my time praying, when it comes right down to it.
---
Is it shocking to read that sentence on Christian blog? Let's be real here. And let's talk it out. What hope is there when God doesn't seem to be listening? How does this fit with what the Bible says about God's character?
When God Feels Absent
A few years ago I went to a retreat and God didn't show up when I looked for him. I had been very busy (welcome to everyone's life, right?) and I was eagerly anticipating this retreat. I kept thinking about how much I couldn't wait to be released by the retreat powers-that-be to go spend time on my own with God. I envisioned hours of Spirit-filled biblical revelation and emotional reconnection with God.
That blessed time came and we were sent out to spend time with God. One hour, uninterrupted! Free from children who need me! Free from a sinkful of dishes! Free from the husband asking if I've seen his keys! Just me and God and my Bible and my journal. Hallelujah.
I practically ran to my cabin, Bible and journal in hand. I climbed up on my top bunk, opened my Bible, and…nothing. Nothing. I prayed, Dear God, please meet with me today, but I almost choked on the words. They felt so empty. I flipped through the Bible, but there was nothing there. What was happening? I sat ready, waiting, and expectant. And God didn't come.
---
I sat ready, waiting, and expectant. And God didn't come.
---
A verse finally jumped into my mind. It had been stored away as an encouragement years before:
"Come near to God and he will come near to you." (James 4:8)
I tried again with this promise in mind. Are you there, God?
Nope.
That promise from the Bible fell flat as God left me hanging. I was deflated. And I was angry. My faith unraveled in the blink of an eye.
I spent the rest of that retreat stewing in my anger that God hadn't upheld his end of the bargain. The retreat group sang songs of praise to God and I sat stonefaced. And then I cried.
If God's promise about being near to me when I come near to him wasn't true, then I had no assurance than anything in the Bible could be trusted. Everything I believed about God was suddenly unreliable. Did he even exist? If he does, do I now have any reason to believe that he cares? If somehow he cares, where was he when I needed him?
Does God Even Exist?
I had to face the possibility that I had believed a lie. So I asked myself honestly, do I believe God exists? Is the whole Bible a lie? Who am I if not a child of God?
In typical Colorado fashion, the retreat took place in the mountains. I looked around at the magnificence of the earth, I gazed at the brilliance of the heavens, I observed the elegance of the wildflowers, and I knew that there could be no explanation for this created world other than a Being who created it. No happy accidents could make this beauty in a world that clearly tends toward chaos not improvement.
There is a God. I believed it anew with all my heart.
But, where was he when I needed him? Maybe this Creator God didn't care about me at all.
Does God Care?
Little by little, as I contemplated the reasons for my previously untested religious beliefs, I found that my unraveled faith began to be mended.
Looking at the beauty that God had created for us I believed in his love.
Looking at my own prideful heart ("How dare you ignore me, God," I had asked in my bunk) I belived in my sin.
And then looking at Jesus, I believed that he was the sacrifice of a loving God who chose to die for his needy people. I knew then that God cares. He loves us so much that he moved Heaven and earth to bring us into his family.
---
My unraveled faith began to be mended. …I knew then that God cares.
---
But one question still nagged at me. If God loves me, where was he when I needed him?
We Can't See Him When We're Not Looking At Him
The summer of 2008 was rough on the Kammer clan. That summer I had a miscarriage, then got pregnant again a month later, and then had another miscarriage. I had whiplash from the grief, and found it easiest to ignore the feelings and go about the business of being mom to my two boys. But then one month after that, on Father's Day, two-year-old Teo fell and hit his head, cutting it open. It was horrifying, gory. We rushed him to the hospital, praying, crying, and wondering where God was during our very difficult summer.
At the hospital, the nurses strapped Teo to a terrible-looking board that was designed to hold him still while they stitched him up. He had straps across his chest, his forehead, and around each leg. Steve sat near Teo's feet, patting his legs, and I sat by his head, smoothing his hair. Sweet, scared Teo was screaming at the top of his lungs, wondering why we would leave him with these terrible nurses who were hurting him. Why weren't we helping?
At that moment it occured to me that that is exactly how I was with God. I was engulfed by the pain and grief of my miscarriages. I cried out, "Where are you, God?," insensible to his hand caressing me, smoothing my hair away from my face. I was unmindful to the comforts of God because the pain was so overwhelming.
Sometimes we can't see God because we aren't looking at him, but he is right there by our side, holding us in his tender arms.
There is Mercy in His Silences
When I look back at that ill-fated retreat when God was silent I can see now that his silence was wrapped up in his love for me and his desire for my good.
Up until that moment I was depending on untested faith that couldn't carry its own weight. I was walking down a path of pride, thinking that I could deign to give God a moment of my time when it suited me and not a moment earlier. But God stepped in in his unexpected way, remaining ever-present but out of sight so I could clutch the pieces of my unraveling faith and mend it again, remaking it stronger than it had been before, unmindful that it was his hands that held the pieces together the whole time. His silence was a mercy, shepherding me into growth.
---
His silence was a mercy, shepherding me into growth.
---
When your prayers are bouncing off the ceiling, when your faith feels dry and your heart feels empty, persevere. Trust that God is always at your side. If the pain is overwhelming, he is smoothing your hair. If he is silent, his mercy is at work for you.
Verses to Reflect On
"I will never leave you nor forsake you." Hebrews 13:5
"Be strong and courageous. Do not be frightened, and do not be dismayed, for the Lord your God is with you wherever you go." Joshua 1:9
"For the eyes of the Lord are on the righteous,
and his ears are open to their prayer." I Peter 3:12
"Let us then with confidence draw near to the throne of grace, that we may receive mercy and find grace to help in time of need." Hebrews 4:16
Your Turn
Have you ever had "rubber ceiling syndrome?"
If so, do you think it was 1) because you weren't looking at God, 2) because God in his mercy was growing your faith, or 3) because of another reason? …Or 4) I have no stinking idea! Remember, we're being honest here.
Have you ever had a time when you knew for sure that God was with you as you prayed to him? Write or reminisce about that experience. What were you praying about? What parts of God's character came to life for you?
I would love if you would share your thoughts in the comments below!