Click here to listen to this post on the Candidly Kendra Eats podcast:
Every time I make my mom's Poppy Seed Chicken someone says, "Oh! My mom makes that!" But trust me when I say that not all Poppy Seed Chicken recipes are the same. Some have cream cheese and parmesan; others include vegetables; and some (gasp!) don't even have poppy seeds.
Alright, yes, you might have noticed mine doesn't have poppy seeds. We gave them up years ago when poppy seeds were selling for $5 a bottle, but we never changed the name. Please don't sue me.
But aside from the misleading name, this recipe is top-notch!
This recipe is the one that I make every June in large batches for all the junior high kids at church. (But not this year – sob!) They look at it warily. They sniff it a little. They look at their friends to see what they are doing. And then they say, "Just a small scoop, please" just to be polite.
But then the come back for seconds…and thirds. Then their moms come to me a week later, asking for the recipe.
Because all told, Poppy Seed Chicken (without the poppy seeds) is really good!
Some things you should know:
First of all, usually those junior high moms have a hard time getting the recipe right, according to their picky junior high kids. The real trick here is that the best poppy seed chicken comes from canned chicken. I use three 10-ounce cans from Walmart, drained. (It's okay if you don't believe me. Do what you want.)
Those same well-meaning moms usually want to add a green vegetable to this casserole. It makes them feel better about the canned chicken. My suggestion is to leave the poppy seed chicken as it is – yellow – and serve the vegetables on the side.
This recipe goes gluten-free very easily, with gluten-free condensed cream of chicken soup, and gluten-free crackers for the top.
Last thing: Make sure you break up the canned chicken pieces before stirring in the rest of the ingredients.
If you're curious, those poppy seeds would theoretically be sprinkled on top of the cracker topping.
Enjoy!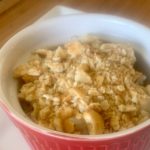 Print Recipe
Poppy Seed Chicken
My childhood favorite…minus the poppy seeds
Ingredients
4

cups

cooked chicken, chopped, or 3 12.5-ounce cans cooked chicken, drained

2

cans

(10.75 oz.) condensed cream of chicken soup

2

cups

(16 oz.) sour cream

1

cup

chicken broth

2

tbsp

sherry cooking wine (optional)

2

tbsp

lemon juice (optional)

2

cups

instant rice, uncooked

1

sleeve

Ritz crackers (appx. 26 crackers), crushed

6

tbsp

butter, melted
Instructions
Preheat the oven to 375°.

In a large bowl, combine cooked chicken, cream soup, sour cream, broth, lemon juice and sherry, if using, and uncooked rice. Pour this mixture into a greased 9×13 inch pan.

In a small bowl, combine the Ritz crackers and butter. Sprinkle over the top of the casserole.

Bake for 45 minutes until heated through. Cover with foil if the crackers start to get too brown.
Notes
I know that canned chicken is generally a no-no, but somehow in this recipe it really works. You'll want to break up the larger pieces of chicken before adding the remaining ingredients. I use my hands.
The lemon juice and sherry give it a sophisticated flavor, but they aren't necessary. Your junior high kids will prefer if you leave them out.
I often leave out the butter in the cracker topping. I can't even tell the difference, honestly.
No, there aren't any poppy seeds in this casserole. Yes, I know that's strange.