Click below to hear this post about Kielbasa and Couscous on Candidly Kendra Eats:
When Steve and I were newlyweds I had a subscription to Taste of Home's Quick Cooking magazine. This was way back when the internet was kind of small and I can't remember if Allrecipes.com was even a thing yet!
But I would comb through that magazine for interesting recipes so that I could be a good wife and feed my husband, and gain 20 more pounds during the first year of our marriage. (Did this happen to anyone else?)
I remember seeing this recipe, called Kielbasa and Kidney Beans, and I thought, "Ew, beans," and then I also thought, "What is kielbasa?" So in the spirit of adventure I decided to make this recipe.
I also asked around at work to see what people thought I should serve on the side of this strange dish, and someone said couscous. I had no idea what couscous was, either, so that sounded like a perfect match.
And here we are, twenty-two years later, and still eating this tasty meal, now with three hungry boys in tow!
Kielbasa and Couscous is a flavorful dish with polish beef sausage, onions and peppers, and white kidney beans over a bed of fluffy couscous. It comes together in just 20 minutes but tastes like you slaved all day!
Kielbasa and Couscous Digest
Slice a pound of polish kielbasa (I use beef kielbasa) into 1/2 inch slices.
In a large skillet, cook the kielbasa over medium-high heat until lightly browned.
Meanwhile, chop half a yellow onion and a red bell pepper.
Add those to the skillet and cook, stirring constantly, until vegetables are tender and the sausage is browned.
Next, add 1/4 cup brown sugar (I often use less sugar), 2 tbsp steak sauce, 1 tbsp. apple cider vinegar, and 1 tsp. Worcestershire sauce.. Stir well.
Finally, add one can of white kidney beans (also called cannelini beans), drained and rinsed. Heat through.
Serve over cooked couscous.
Here is the recipe! Enjoy!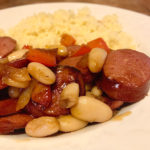 Print Recipe
Kielbasa and Couscous
This flavorful dish has sausage, onions, peppers, and white kidney beans served over couscous. A quick and easy meal!
Ingredients
1

lb

polish kielbasa, sliced into ½ inch pieces

½

medium onion, chopped

1

red bell pepper, seeded and chopped

¼

cup

brown sugar

2

tbsp

steak sauce

1

tbsp

apple cider vinegar

1

tsp

Worcestershire sauce

1

can

white kidney (cannelini) beans, drained and rinsed

3

cups

couscous, cooked
Instructions
In a large skillet, cook kielbasa for 3-5 minutes over medium-high heat until it just begins to brown.

Add onions and peppers and cook 5-10 more minutes until the vegetables are tender and sausage is browned.

Add brown sugar, steak sauce, vinegar, and Worcestershire sauce and stir well. Add beans. Heat through.