Click below to hear this post about three-ingredient alfredo sauce on the Candidly Kendra podcast: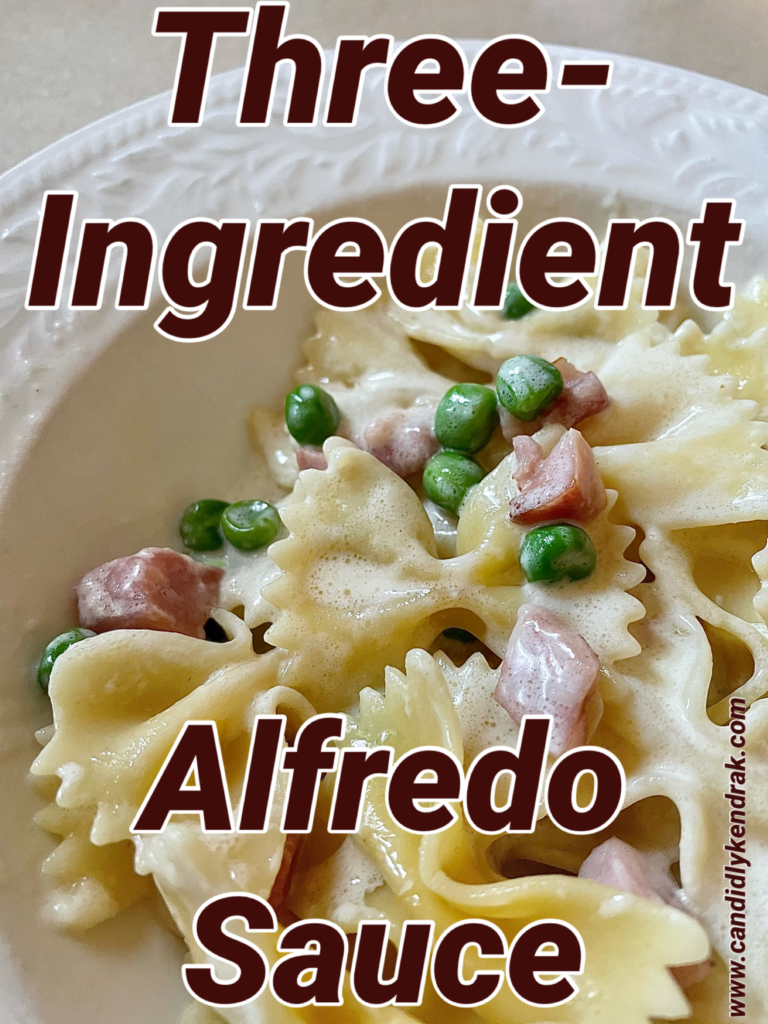 My son Owen loves pasta. We all love pasta, but for Owen it's a love affair that knows no limits. He would eat pasta for every meal if he wasn't (sort of) convinced that the other food groups are important, too.
So when yesterday came around and was just one of those days – you know the type – I was too exhausted to think about dinner. So I took a nap instead.
I awoke with a start when I overheard Teo asking Owen, "What time do we have to be at church for youth group again?"
And that's when I remembered. Wednesday. The day the kids help out in the junior high youth group. They had to leave in 40 minutes, and I was supposed to feed them, being their loving mother and all.
We can do this! 20 minutes for cooking, 20 minutes for eating!
So I threw together this very fast, and extremely tastey meal – in record time!
Water went into the pot to boil for pasta, then the three – I repeat, three – ingredients that make up this delicious alfredo sauce went into their own pot. Steam-in-bag peas were thrown into the microwave. And leftover Easter ham was chopped into small cubes and warmed in a skillet over medium-high heat.
It was an absolutely delicious meal, and we were eating it even before I had cleared the sleep from my eyes!
Three-Ingredient Alfredo Digest
(If you blink you'll miss it.)
In a small saucepan, melt 1 stick of butter.
Stir in 1 pint of heavy cream. Heat it up.
Then add 1 cup grated parmesan and stir to melt.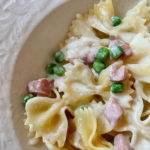 Print Recipe
Three-Ingredient Alfredo Sauce
This rich and delicious sauce comes together incredibly fast for those rushed weeknight meals!
Ingredients
1

stick

butter

1

pint

heavy whipping cream

1

cup

grated parmesan
Instructions
In a small saucepan, melt the butter. Don't brown it!

Pour in the heavy whipping cream and heat and stir over medium-high heat until it is hot and bubbles are forming around the edges of the pot. But don't boil it.

Stir in the parmesan until melted and creamy.

Serve with 12 ounces bowtie pasta, peas, and ham for an incredible meal!
Notes
Grating your own parmesan will result in a creamier sauce. All the same, I often use pre-shredded parmesan because this meal is about speed and ease. I don't mind bits of cheese.